Diana's Desserts - www.dianasdesserts.com
See more recipes in
Quick and Easy
Mixed Berries with Southern Style Biscuits
in Diana's Recipe Book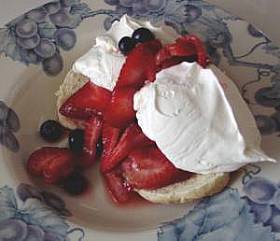 Average Rating:
(total ratings: 2)
[Read reviews]
[Post a review]
Servings: 8
Comments:
The reason I placed this recipe for Mixed Berries with Southern Style Biscuits in the Quick and Easy dessert category is because you can make the biscuits the day before; keep them in an airtight container at room temperature, and then when you're ready to make dessert, all you have to do is prepare the berries and topping which takes just a short amount of time. For an even quicker and easier dessert, use non-dairy whipped topping instead of making the whipped cream topping.

These delicious shortcakes with berries and cream would make a perfect dessert for Mother's Day.
Ingredients:

For the Biscuits:
1 1/4 cups self-rising flour
3/4 cup cake flour
3/4 teaspoon baking powder
1/8 teaspoon baking soda
1/2 teaspoon salt
1 tablespoon granulated sugar
4 tablespoons unsalted butter, plus 2 tablespoons melted
1 1/2 cups heavy cream

1/4 cup all-purpose flour (for sprinkling work surface with and for dusting biscuit cutter with)

For the Berries:
1 pound strawberries
1/2 pound blueberries
2 tablespoons granulated sugar
2 tablespoons Grand Marnier (orange liqueur) or fresh orange juice

Whipped Cream Topping:
1 cup heavy cream (chilled)
2 tablespoons granulated sugar
1 teaspoon vanilla extract
(Non-Dairy frozen whipped topping (thawed), may be substituted for the whipped cream topping)
Instructions:
Preheat oven to 425 degrees F (220 degrees C). Line a medium size baking sheet with parchment baking paper.

For the Biscuits:
In a medium-sized mixing bowl, sift the self-rising flour, cake flour, baking powder, baking soda, salt and the sugar. Using your fingers or a pastry cutter, work the butter into the flour until there are no butter pieces larger than a pea.

Pour the 1 1/2 cups heavy cream over the flour mixture and use your hands or a rubber spatula to stir the cream and flour together to form a dough.

Sprinkle some of the all-purpose flour on your work surface and place the dough on top of work surface. Use your hands to press the dough into a 1/2-inch-thick disc about 8 inches in diameter.

Use a 3-inch round biscuit or cookie cutter dusted in flour to cut the dough. Be sure to press straight and downward when cutting the dough as a twisting motion will prevent the dough from rising. You will need to reform the dough in order to have 8 biscuits. Do this by pushing the scraped pieces together and press to reform into a 1/2-inch-thick disc.

Place the biscuits on the parchment lined baking sheet and brush the tops with the melted butter. Bake in preheated 425 degree (220 degree C) oven until golden brown, 10 to 12 minutes. Allow the biscuits to cool briefly and serve slightly warm or at room temperature with berry mixture and whipped cream topping.

For the Berries:
Rinse, dry and remove stems from strawberries. Quarter the strawberries and place in a mixing bowl. Rinse and dry the blueberries and place in bowl with strawberries. Sprinkle with the 2 tablespoons of sugar and the Grand Marnier (or orange juice, if using). Toss to combine and allow to sit at room temperature for 20 to 30 minutes.

For the Topping:
Place the 1 cup (chilled) heavy cream in a chilled mixing bowl with 2 tablespoons of sugar and the vanilla extract. Use a wire whisk to beat the cream in a back and forth motion until the cream begins to thicken. As the cream thickens, beat the cream more vigorously until it is very thick and holds its shape.

To Serve:
Cut each biscuit in half, spoon about 1/2 cup of the Strawberry/Blueberry mixture on the bottom half of the biscuit, top with 3 to 4 tablespoons of the whipped cream (or thawed frozen non-dairy whipped topping) and top with the upper portion of the biscuit.

Makes 8 servings.

Photograph taken by Diana Baker Woodall© 2004
Source: DianasDesserts.com
Date: April 24, 2004
Reviews
Reviewer:
gayle
Rating:
Review:
excellent
Reviewer:
Emily
Rating:
Review:
This was excellent. I thought that it sounded easy, simple and delicious!!!