Diana's Desserts - www.dianasdesserts.com
See more recipes in
Holidays and Celebrations
Strawberry Shortcakes for a Crowd
in Diana's Recipe Book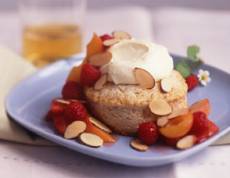 [Be the first to post a review!]
Servings: 24
Comments:
If you are planning a large holiday or special celebration dinner or brunch, here's a recipe for Strawberry Shortcakes that will make a wonderful dessert for a large amount of people.
Ingredients:

For Shortcakes:
12 oz. sliced almonds, toasted
1 lb. Plus 14 ounces all-purpose flour
2 tsp. salt
9 oz. granulated sugar, divided
3 tbsp. Plus 1 tsp. baking powder
12 oz. (3 sticks/1 1/2 cups/339 g) unsalted butter (cold), cubed
2 1/2 cups heavy cream, divided

For Lemon Cream:
24 large egg yolks
8 large eggs
1 lb. Plus 6 oz. sugar, divided
2 2/3 cups lemon juice
5 1/3 cups heavy cream
4 lb. Plus 8 oz. sliced strawberries (or other fresh fruit)

Sugar, as needed
12 oz. sliced almonds, toasted, divided

Instructions:
Preheat oven to 350ºF (180ºC).

In food processor, process almonds until finely ground. In mixer bowl fitted with paddle attachment, combine almonds, flour, salt, 5 ounces of the sugar and baking powder. Add butter; mix on low speed until butter is the size of small peas. Slowly add 2 cups of the cream, mixing until dough just comes together. On lightly floured work surface, roll half of the dough to 3/4-inch thickness. Using a 3-inch biscuit cutter, cut twelve shortcakes. Repeat with remaining dough. Brush tops with remaining 1/2 cup cream; sprinkle with remaining 4 ounces sugar.

Bake on ungreased cookie sheet in preheated 350ºF (180ºC) oven for 25 to 30 minutes or until golden brown.

Makes 24 shortcakes.

To Make Lemon Cream:
In a large stainless steel bowl, whisk together egg yolks, eggs and 1 pound of the sugar. Stir in lemon juice. Place bowl over a pot of simmering water; stir constantly with rubber spatula until mixture begins to thicken. Switching to a wire whisk, cook 5 minutes or until thickened. Strain through fine strainer into non-reactive container; cover surface directly with plastic wrap. Chill completely.

In mixer bowl fitted with whip attachment, beat cream and remaining 6 ounces sugar to soft peaks. Fold in chilled lemon cream. Cover and chill until ready to serve.

Makes about 12 cups lemon cream.

To Assemble Shortcakes:
Warm 1 shortcake in oven. Toss 3 ounces strawberries with sugar, as needed. Spoon 1/2 cup Lemon Cream over shortcake. Top with 1 tablespoon toasted almonds and sweetened strawberries. Garnish with 1 tablespoon toasted almonds.

Date: April 18, 2004