Diana's Desserts - www.dianasdesserts.com
See more recipes in
Holidays and Celebrations
Apricot Hazelnut Cake Roll
in Diana's Recipe Book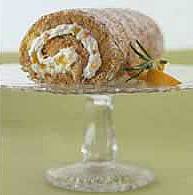 [Be the first to post a review!]
Servings: 10
Comments:
No rushing to make dessert at the last minute, this rich, nut-studded cake can be made up to 24 hours in advance of your gathering.

Ingredients:

1 cup all-purpose flour
1 teaspoon baking powder
1/2 teaspoon salt
1/2 teaspoon apple pie spice
1 (15-1/4-ounce) can unpeeled apricot halves (in syrup)
2 tablespoons granulated sugar
3 eggs
1/2 cup granulated sugar
3/4 cup finely chopped hazelnuts or pecans
2 (3-ounce) packages cream cheese, softened
1/4 cup butter (no substitutes), softened
1/2 teaspoon vanilla extract
1 cup sifted confectioners' (icing) sugar

Garnish (optional)
Fresh apricot quarters
Rosemary sprig
Instructions:
1. Preheat oven to 375 degrees F (190 C). Grease and flour a 15 x 10 x 1-inch baking pan (jellyroll pan). Set aside. Stir together the flour, baking powder, salt, and apple pie spice; set aside.

2. Drain apricots, reserving 1/3 cup of the syrup. Finely chop the apricots. Reserve 1/2 cup of the chopped apricots for the filling. Combine remaining chopped apricots, reserved apricot syrup, and the 2 tablespoons granulated sugar in a small sauepan. Bring apricot mixture to boiling; reduce heat. Cook and stir over low heat about 4 minutes or until thickened, stirring and mashing with a spoon. Remove from heat; cool to room temperature.

3. Beat eggs in a medium mixing bowl with an electric mixer on high speed for 5 minutes. Gradually beat in the 1/2 cup granulated sugar and apricot mixture. Gently fold flour mixture into egg mixture. Spread batter in prepared pan. Sprinkle with nuts.

4. Bake in preheated oven for 10 to 12 minutes or until wooden toothpick inserted near center comes out clean. Turn cake out onto a towel sprinkled with confectioners' sugar. Starting at a short side, roll up cake and towel together; cool.

5. Combine cream cheese, butter, and vanilla in a small mixing bowl. Beat mixture with an electric mixer on medium-high speed until fluffy. Beat in confectioners' sugar. Stir in the reserved 1/2 cup chopped apricots.

6. Unroll cake and spread with cream cheese mixture. Reroll without towel; cover and chill for at least 2 hours or up to 24 hours. Transfer cake roll to serving plate. If desired, garnish with fresh apricot wedges and rosemary sprig.

Makes 10 servings.
Date: April 10, 2004