Diana's Desserts - www.dianasdesserts.com
See more recipes in
Valentine's Day
Chocolate Oatmeal Bars with Hearts
in Diana's Recipe Book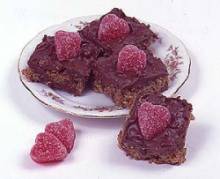 [Be the first to post a review!]
Servings: 2 dozen bars
Comments:
These tasty bars are made with Irish oatmeal, semisweet chocolate chips and raisins. Then they are drizzled with melted semisweet chocolate. Serve these scrumptious bars with coffee or tea or a big glass of milk. For a party, cut them into decorative hearts, diamonds, triangles, or circles, or for St. Patrick's Day, cut them into 4-leaf clover shapes.

Ingredients:

2 cups oatmeal (Irish Oatmeal is best, but any other Oatmeal may be substituted)
2 eggs
1 1/4 cups non-fat milk
1 cup butter, unsalted
1 cup dark brown sugar
1 1/2 cups all-pupose flour
1 teaspoon baking powder
1/2 teaspoon baking soda
1/2 teaspoon ground cinnamon
1 cup raisins
2 cups semisweet chocolate chips
2 ounces semisweet chocolate, chopped
Red heart shaped candies, for decoration

Note: Green candies may be substituted for a St. Patrick's Day theme treat, for decoration
Instructions:
1. Preheat oven to 350° F (180° C). Generously grease a 9 x 13-inch baking pan.

2. In a blender or food processor, combine the oatmeal, eggs, and milk. Process for 1 minute; then let rest for 30 minutes.

3. In a large bowl, cream the butter and sugar until light and fluffy. Add the oat mixture and stir to blend. Sift in the flour, baking powder, baking soda and cinnamon. Stir in the raisins and chocolate chips; stir again to blend.

4. Pour mixture into the prepared pan, and bake until lightly browned and firm to the touch, about 30 minutes. Remove from the oven and let cool in the pan on a wire rack.

5. While the bars are cooling, melt the chocolate in a double boiler over simmering water. Drizzle chocolate over the top of the bars. Let the chocolate set before cutting into 1 x 3-inch pieces. Top each bar with red candy hearts, if desired.

Makes 2 dozen bars.
Date: February 6, 2004