Diana's Desserts - www.dianasdesserts.com
See more recipes in
Easter
Easter Cookies with Royal Icing
in Diana's Recipe Book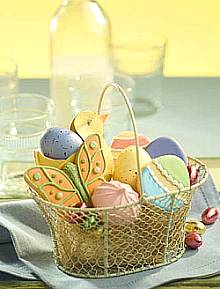 [Be the first to post a review!]
Servings: Makes 4 dozen 3-inch cookies
Comments:
Making these decorated sugar cookies for Easter can be an enjoyable family time experience. Let the kids join in and help decorate these delicious holiday cookies. They'll love it and you'll have happy little kitchen helpers!
Ingredients:

For the Cookies:
3/4 cup (1 1/2 sticks/6 oz./170g) butter, softened
1 cup granulated sugar
2 eggs
1 teaspoon vanilla or 1/2 teaspoon lemon extract
2 1/2 cups all-purpose flour *(See Note below)
1 teaspoon baking powder
1 teaspoon salt

For the Royal Icing:
2 large egg whites (or 5 tablespoons meringue powder mixed with a scant 1/2 cup water* (See Note below)
1 pound (16 oz./453g) confectioners' sugar
2 teaspoons water
Food coloring
Instructions:
For the Cookies:
Mix thoroughly butter, sugar, eggs and flavoring. Blend in flour, baking powder and salt. Cover; chill at least 1 hour.

Preheat oven to 400 degrees F/200 degrees C.

Roll dough 1/8 inch thick on lightly floured, cloth-covered board. Cut into desired shapes. Place on ungreased baking sheet. Bake 6 to 8 minutes or until very light brown.

Makes about 4 dozen 3-inch cookies.

*Note: If using self-rising flour, omit baking powder and salt.

For the Royal Icing

In the bowl of an electric mixer, beat the egg whites, sugar and 2 teaspoons water on low speed for 10 minutes. Add food coloring to achieve the desired color. Icing needs to have different consistencies, depending on how you use it. For piping, the icing should easily pass through a pastry tip and retain its shape. For spreading, the icing should have the consistency of squeeze-bottle mustard. If the icing is too thick, add water a few drops at a time, mixing thoroughly between additions. If the icing is too thin, beat 2 to 3 minutes more.

*Note: Pregnant women, babies, young children, the elderly, or anyone whose health is compromised should use meringue powder or dried egg whites instead of raw egg whites. Meringue powder is dried egg whites with sugar, cream of tartar and cornstarch. Meringue powder and dried egg whites are available in select supermarkets, gourmet shops, health-food stores and cake shops.

Cookie Tips

1. Baking
Don't substitute fats. If the recipe calls for butter, use butter.
When handling chilled dough, roll out only part of it at a time, and keep the remainder chilled.
Dip cookie cutter in flour, shake off excess, then cut dough.
Roll cookie dough lightly and evenly. The thinner the cookie, the crisper it will be.
To maintain shape, always use a spatula when lifting cookies to baking sheet.
Cool your cookie sheets by running tepid water over the back of them before adding more cookies.

2. Decorating
To make background color, use a small whisk to spread white royal icing evenly.
Practice making designs before attempting a cookie. When you find one that works, make a template.
For designs, use a pastry bag fitted with a decorating tube.

3. Storing cookies
Soft cookies, such as bar cookies, are stored in a container with a tight lid. If they dry out, add a slice of apple to the container.
Crisp cookies should be stored in a container with a loose lid, like a cookie jar.

Date: February 27, 2002-Recipe revised on April 7, 2007