Diana's Desserts - www.dianasdesserts.com
See more recipes in
Quick and Easy
Quick and Easy Cream Puffs
in Diana's Recipe Book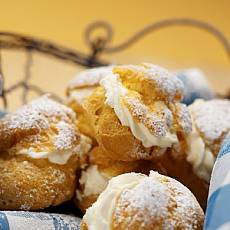 Average Rating:
(total ratings: 17)
[Read reviews]
[Post a review]
Servings: Makes at least 12 cream puffs
Comments:
Cream Puff Pastry or Choux

Definition: [shoo] Also called choux paste, pâte à choux and cream-puff pastry, this special pastry is made by an entirely different method from other pastries. The dough, created by combining flour with boiling water and butter, then beating eggs into the mixture, is very sticky and pastelike. During baking, the eggs make the pastry puff into irregular domes (as with cream puffs). After baking, the puffs are split, hollowed out and filled with a custard, whipped cream or other filling. Besides cream puffs, choux pastry is used to make such specialties as éclairs, gougère and profiteroles.

Traditional cream puffs have sweetened whipped cream in the filling. The cream cheese in this recipe adds a little extra tang. It will be a little less stiff than the traditional filling, but it's worth the compromise. People will ask you what makes your cream puffs so special, and you can decide whether or not you want to tell them that it is so very easy!
Ingredients:

For the Pâte à choux pastry:
3/4 cup water
1/2 cup (1 stick/4 oz./113g) unsalted butter
1 cup all-purpose flour
1/8 tsp. salt
1 1/2 tsp. granulated sugar
3 eggs
1 extra egg mixed with 1 1/2 tsp. water, for the egg wash

Cream Filling:
8 oz. cream cheese, softened
3/4 cup granulated sugar
2 tsp. vanilla extract
2 cups whipping cream, very cold

Garnish:
Confectioners' sugar
Instructions:
Preheat oven to 425 degrees F/220 degrees C. Line a large baking sheet with parchment paper. Set aside.

For the Pâte à choux pastry:
In a medium saucepan bring the water and butter to a boil. Make sure the butter is completely melted. Add the flour, sugar and salt all at once. Stir vigorously until the mixture turns into a ball. Cook 1 minute longer. Remove from the heat. Cool 5 minutes. Add one egg. Beat with an electric beater until the egg is entirely incorporated. Repeat this process with the next two eggs. Using a pastry bag fitted with a large plain tip, pipe the dough onto the baking sheet, in 2-inch diameter rounds or balls. Whisk the remaining egg with 1 1/2 teaspoons water. Brush the surface of the rounds with the egg wash. Make sure you leave 2 inches or so around each dough puff. Bake in preheated oven for about 20 minutes. Puffs should be almost doubled in size, and they should be dry and golden. Cut puffs in half, horizontally, and let cool completely. Fill each puff with cream filling* (see note below) and place the tops back on top. Chill until ready to serve, no more then 4 hours. Sprinkle with confectioners' sugar right before serving.

Makes at least 12 cream puffs, maybe more, depending on what size rounds or balls you pipe out.

Cream Filling
Beat together the softened cream cheese, sugar and vanilla. In a separate bowl, beat the whipping cream until stiff peaks form. Fold the cream into the cheese mixture.

Note:
You may place cream filling in a pastry bag fitted with a medium star or plain tip and pipe the cream filling into the cream puffs if desired.
Date: January 27, 2004
Reviews
Reviewer:
Ayisha Ferhan
Rating:
Review:
Just wondersfull...loved it!
Reviewer:
Salva
Rating:
Review:
Really Excllent! I couldn't believe the taste and appearance! So Nice, So Tasty. Thanks!
Reviewer:
nadia emile
Rating:
Review:
thank u very much all recipes are easy and delicious
Reviewer:
mona
Rating:
Review:
i'm mona from kuwait. i tried to make these but not doubled in size. can i ask you why?
Reviewer:
Sharon
Rating:
Review:
easy and delicious!
Reviewer:
lauren
Rating:
Review:
LOVED IT!!!!!!!!!! quick and easy!
Reviewer:
juLia.S
Rating:
Review:
its delicious and easy to make, turn out very well exactly the same as in the picture
Reviewer:
Erika
Rating:
Review:
They turened out great but they didn't come out like the picture, but they were still gone in two days! Thanks!
Reviewer:
Rahidah
Rating:
Review:
Really quick, easy, simple & yummy!!
Reviewer:
jenna
Rating:
Review:
a little long, but exellent!
Reviewer:
Irina Blokhin
Rating:
Review:
I tried to make these twice. They did not double in size. Such a disappointment!
Reviewer:
Andrew
Rating:
Review:
This recipe is really great! Loved it! Tasted really good.
Reviewer:
Becka
Rating:
Review:
The cream puffs doubled in size but then deflated... I might have undercooked them, but were they supposed to be mushy?
Reviewer:
Sharon
Rating:
Review:
We made it for a dinner party last night and everyone loved them. We put some ganache on top and strawberries on the side. Our cream puffs deflated but if you turn the oven down to 200* after they brown and then let them dry out they will keep their heighth. We just didn't have time. They were still amazing!
Reviewer:
Amy
Rating:
Review:
Loved the cream puffs.....people ask me to make them all the time. I found that first when I made them they didn't double in size, then I realized, I didn't beat the eggs enough. Try that next time! I works for me now!
Reviewer:
ferdy
Rating:
Review:
I made them twice and they turned out just like the picture. If they didn't double in size it was because of the eggs weren't mixed well. If it deflated, it's because they were still undercooked. I baked mine for 40 minutes (10 minutes at medium heat and the rest on low). Perfect!
Reviewer:
Esther
Rating:
Review:
Made these today. Easy, I baked 40 minutes and opened oven door w/ oven off for an hour..2 inches makes a nice size..