Diana's Desserts - www.dianasdesserts.com
See more recipes in
Holidays and Celebrations
German Chocolate Cake
in Diana's Recipe Book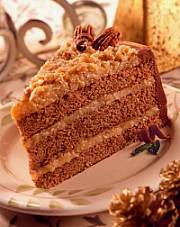 Average Rating:
(total ratings: 8)
[Read reviews]
[Post a review]
Servings: 12
Comments:
A lovely and delicious chocolate layer cake you'll want to serve at almost any holiday or celebration. If desired, place pecan halves around cake edges for a decorative touch.
Ingredients:

1/2 cup boiling water
4 ounces German's Chocolate or Milk chocolate, coarsely chopped
2 cups all-purpose flour
1/4 cup unsweetened cocoa
1 teaspoon baking soda
1 teaspoon salt
2 cups granulated sugar
1 cup (2 sticks/8oz/226gm) unsalted butter, softened
4 large eggs, separated
1 teaspoon vanilla extract
1 cup fresh buttermilk

Coconut-Pecan Filling and Frosting (see recipe below)

Chocolate Buttercream Frosting (see recipe below) optional

Pecan Halves, for decoration (optional)
Instructions:
To Make Cake:
Preheat oven to 350 degrees F (180 degrees C). Using a small brush, lightly coat three 8-inch round cake pans with softened butter or nonstick vegetable cooking spray. Dust with flour and tap out any excess. Set aside.

In a medium heat-proof bowl, pour the boiling water over the German's Chocolate (or milk chocolate, if using). Stir until smooth and set aside. In another medium bowl, combine the flour,
cocoa, baking soda, and salt. Set aside. In a large bowl, using a mixer set on medium-high speed, beat the sugar and butter until very light,1 to 2 minutes. Add the egg yolks, one at a time,
until well incorporated. Reduce mixer speed to low and add the chocolate mixture and vanilla. Add the flour mixture by thirds, alternating with the buttermilk and ending with the dry ingredients.

Thoroughly clean the mixer beaters. In a medium bowl, beat the egg whites to soft peaks. Use a rubber spatula to gently stir a half cup of the beaten whites into the batter. Fold the remaining whites into the batter.

Divide the batter equally between the pans and spread evenly. Bake on the middle rack of the oven until a tester inserted in the center of each cake layer comes out clean, 30 to 35 minutes.
Cool in the pans on a wire rack for 15 minutes. Use a knife to loosen the cake from the sides of the pan and invert onto the wire rack to cool completely.

To Fill, Frost and Assemble Cake
Place one layer on a cake plate and top with one third of the Coconut-Pecan Filling. Repeat with second and third layers and remaining filling, leaving sides of cake unfrosted, OR as an option, just fill cake layers with Coconut-Pecan Filling and frost the top of cake with the Coconut-Pecan Frosting (not the sides of cake); then spread the Chocolate Buttercream Frosting on sides of cake. If desired, place pecan halves around top edges of cake for a decorative touch. Serve or store cake in an airtight container at room temperature.

Makes 12 servings.

Coconut-Pecan Filling

Makes 3 1/2 cups

Ingredients:
1 cup granulated sugar
1 (12 oz.) can evaporated milk
1/2 cup (1 stick/4 oz./113g) unsalted butter
3 large egg yolks
1 teaspoon vanilla extract
2 1/3 cups flaked coconut
1 1/2 cups chopped pecans

Instructions:
Make the filling: In a medium saucepan, combine the sugar, milk, butter, egg yolks, and vanilla. Cook over medium heat, stirring constantly, until thickened, about 10 minutes. Stir in coconut and pecans. Transfer to a bowl and, stirring occasionally, allow to cool to room temperature before filling and frosting the cake.

Chocolate Buttercream Frosting (optional)

Makes about 2 cups frosting

Ingredients:
6 tablespoons unsalted butter, softened
2 2/3 cups confectioners' sugar
1/2 cup unsweetened cocoa powder
1/3 cup milk
1 teaspoon vanilla extract

Instructions
Beat butter in small bowl. Add confectioners' sugar and cocoa alternately with milk; beat to spreading consistency, (additional milk may be needed). Stir in vanilla.
Date: January 20, 2004
Reviews
Reviewer:
Dena Kay
Rating:
Review:
I have been trying to tweak my German Chocolate Cake recipe. In the past, the layers would be tasty but gummy and crumbly when sliced. This one is different. It not only tastes absolutely delicious but slices well too. This is a keeper! I toasted the nuts prior to adding them to the filling for an enhanced pecan flavor. Also, three 9" cake pans would be better to use. The height of the 8" version is too high. My sister took the cake to work to share with her coworkers and it received rave reviews. I've finally found my German Chocolate cake. Thank you!
Reviewer:
Elizabeth Weirick
Rating:
Review:
I made your other German Chocolate Cake (located under 'Cakes') and wanted to compare the two realizing that the recipes were slightly different. My compliments. This cake was divine. Moist and sweet with a lovely texture. Thank you, I will be making this one again.
Reviewer:
Billy
Rating:
Review:
GOOD!!!
Reviewer:
rob stinson
Rating:
Review:
An extremely moist and yummy cake making a towering impression. I adjusted the ingredients for 9 inch cake pans. The result was a cake almost too high. Next time I will use the unadjusted recipe with 9 inch pans. The cake was so moist it was tricky to extract the layers from the pans despite spraying and flouring. Also, the cake was so fragile it was difficult to apply the rather chunky frosting. It seems it would be better to make the layers a day ahead and let them age a day before applying the frosting. The outer chocolate buttercream frosting seemed way over the top so I omitted it. I used Trader Joe's milk chocolate instead of the Germans sweetened chocolate and it worked fine. I heartily suggest trying this cake. YUM!
Reviewer:
Beth Dumas
Rating:
Review:
Question for you- does frosting use unsalted butter? I look forward to making this for upcoming dinner party.
Reviewer:
Diana, Diana's Desserts
Rating:
Review:
Beth, yes, use unsalted butter when making the frosting for the cake. Good luck with the recipe. It should turn out lovely....Diana, Diana's Desserts
Reviewer:
Michelle
Rating:
Review:
Absolutely an excellent quality of cake. Can be customized with different fillings and still taste lovely. Thank you!
Reviewer:
lisa
Rating:
Review:
This cake is delicious. I used 1 1/2 cups of whole wheat pastry flour & 1/2 cup all purpose flour. Dagoba 100% cacao unsweetened chocolate instead of the German chocolate. I only used 1/2 cup sugar in the frosting. Since the coconut is sweet enough. I baked it in 3 9" pans instead of 3 8" pans since the batter was so fluffy. The cake was still high, but maybe not as high as it could have been using an 8" pan. After the cake cooled & was frosted, I covered it in saran wrap & put it in my Tupperware cake taker. It has stayed moist & delicious. Next I will try a devils food cake using this coconut frosting recipe, as I love dark chocolate. I would highly recommend making this cake. Try the whole wheat pastry flour. It makes the cake a little healthier.