Diana's Desserts - www.dianasdesserts.com
See more recipes in
Quick Breads
Zucchini Bread
in Diana's Recipe Book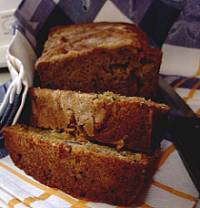 Average Rating:
(total ratings: 9)
[Read reviews]
[Post a review]
Servings: Makes 2 loaves or 1 tube or bundt cake
Comments:
This Zucchini Bread recipe is written especially for those of you who like the wonderful taste of spices in your breads like I do; the super taste and aromas of ginger, allspice and cloves. If you like, add the optional chopped pecans or walnuts to this marvelous bread, and you'll have one of the best "tasting" breads for you and your family to enjoy for breakfast, brunch, or as a snack or even for dessert. Serve with a spoonful of whipped cream, or for something a little bit different, try it with a dollop of lovely crème fraîche. You'll love this one!!......Diana
Ingredients:

1 1/4 cups white whole wheat flour
1 1/4 cups all-purpose flour
1 teaspoon salt
1 teaspoon baking soda
1 teaspoon baking powder
1/2 teaspoon ground ginger
1/4 teaspoon ground allspice
1/4 teaspoon ground cloves
2 1/2 cups unpeeled grated zucchini (approximately 3 medium size zucchini)
1 cup chopped pecans or walnuts (optional)
4 large eggs
1 1/2 cups granulated sugar
1/2 cup dark brown sugar
1 cup vegetable oil
2 teaspoons vanilla extract
2 (extra) tablespoons granulated sugar

For Serving (optional)
Whipped Cream or Crème Fraîche
Instructions:
1). Preheat oven to 350°F (180°C). Spray two 8 or 9-inch loaf pans or one 9 or 10-inch tube or bundt style pan with non-stick cooking spray, or grease with butter. If using loaf pans, line bottom of pans with parchment or waxed paper. Spray or grease parchment or waxed paper also. Set pan (s) aside.

2). In a medium size mixing bowl, combine the first 8 dry ingredients (wheat flour through ground cloves). Stir to combine well. Set aside.

3). Grate or shred zucchini using a food processor or a hand-held grater (I don't peel the zucchini, I leave the skin on). Place grated zucchini on several layers of paper towels to drain; cover with additional paper towels and set aside.

4). In a small bowl, toss together chopped nuts with about 1 to 2 tablespoons flour (This helps to prevent nuts from dropping to the bottom of loaves while baking).

Note: Using nuts in this recipe is optional.

5). In a large mixing bowl, or bowl of an electric stand mixer, combine eggs, sugar, oil and vanilla. Blend ingredients by hand thoroughly, OR beat on medium speed with a hand held mixer, OR beat on medium speed with an electric stand mixer. Mix thoroughly. Add dry ingredients to mixture and blend until combined. Do NOT over mix or texture of bread will be tough. With a rubber spatula, scrape down sides of bowl; then fold in grated zucchini and nuts (if using). Mix thoroughly.

6). Pour batter into prepared loaf pans or tube or bundt style pan, if using. Sprinkle the 2 extra tablespoons sugar over the loaves or over batter in tube or bundt pan. Bake in preheated 350°F (180°C) oven for 50 to 60 minutes. Zucchini bread is done when toothpick or cake tester is inserted in center of bread and comes out clean, with no moist crumbs attached.

7). Remove from oven and let cool in pan (s) for 15 minutes; then invert onto wire rack and let cool completely. If desired, serve with a spoonful of whipped cream or for something a little different, a dollop of crème fraîche.

Makes 2 (8 or 9-inch) loaves or 1 tube or bundt cake.

Photograph taken by Diana Baker Woodall© 2004
Source: DianasDesserts.com
Date: January 10, 2004
Reviews
Reviewer:
Shoshana
Rating:
Review:
Just made this recipe last night... mmmh, amazing! Takes a little bit of time but definitely worth it. Very moist and full of flavor, family and friends enjoyed it as well. Thank you, your website is wonderful, been using it for a few years now!
Reviewer:
SC
Rating:
Review:
Delicious! I halved the recipe and made only 1 loaf, it worked perfectly well. Used whole wheat flour exclusively, and it was still light and tasty. Great recipe!
Reviewer:
MICHELLE
Rating:
Review:
My family loves it!! DELICIOUS.....I also add a little bit of semi-sweet chips too it. I make this all the time THANKS!
Reviewer:
Holly
Rating:
Review:
Wonderful, moist and delicious! Plus it was really easy to make, thank you!
Reviewer:
Donna
Rating:
Review:
Very delicious and no trouble at all to make. Everyone enjoyed it and we eat it twice a month. Thank you
Reviewer:
sheena
Rating:
Review:
It was really good. My family loves your recipes. I was looking for jelly slice and peppermint slice. I would appreciate if you had one of these recipes if you could pass them on. Thank you.
Reviewer:
Diana, Diana's Desserts
Rating:
Review:
Sheena,
I have posted recipes for Jelly Slice and Chocolate Peppermint Slice on my website. The recipes are located in My Recipe Book, under the Brownies and Bar Dessert Category. Enjoy!.....Diana, Diana's Desserts
Reviewer:
June
Rating:
Review:
Yummy!
Reviewer:
Glo
Rating:
Review:
I would like to make this, but I'm not sure what the 1 1/4 cups white whole wheat flour is supposed to be. Is it white or whole wheat, or some hybrid of the two?