Diana's Desserts - www.dianasdesserts.com
See more recipes in
Vegetarian
Fresh Blueberry Pie
in Diana's Recipe Book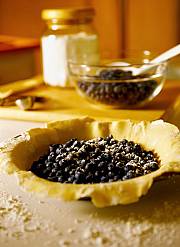 [Be the first to post a review!]
Servings: 8
Ingredients:

2 1/4 cups all-purpose flour
1 teaspoon salt
1/2 cup canola oil (or other vegetable oil)
3 tablespoons cold water
2/3 cup granulated sugar
1/2 teaspoon ground cinnamon
3 cups fresh blueberries

Instructions:
1). Preheat oven to 400 degrees F (200 degrees C).

2). Mix together 2 cups flour and salt in a medium mixing bowl. Make a well in the center, pour in the oil and water and stir together.

3). Separate the dough into two balls, using 3/4 of the dough for the first ball and 1/4 of the dough for the second. Place a sheet of wax paper over the bigger ball of dough, and roll it out; the dough can be crumbly, and the wax paper will help keep the dough in one large piece. Line an 8 or 9-inch pie dish with dough. Roll out the small ball of dough similarly, and set aside.

4). In a small bowl, mix together sugar, 1/4 cup flour, and cinnamon. Place berries in a large bowl, and sprinkle sugar mixture over the berries. Gently stir to coat. Spread filling into the dough lined pie pan. Cover with top crust, and pinch the crusts together. With a knife, make about 3 to 5 slits in the top to allow steam to escape during baking. Line the edges of the crust with aluminum foil to prevent edges from becomming too brown. Place pie dish (or pan) on a baking sheet and place in preheated oven (baking sheet will catch any drippings from the pie filling).

5). Bake in preheated 400 degree F oven (200 C) for 30 to 45 minutes, or until crust is lightly browned and filling is hot and bubbly.

Makes 8 servings.
Source: DianasDesserts.com
Date: December 30, 2003