Diana's Desserts - www.dianasdesserts.com
See more recipes in
Christmas
Cranberry Upside-Down Cake
in Diana's Recipe Book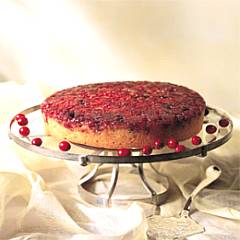 [Be the first to post a review!]
Servings: 8-10
Comments:
This festive holiday cake is inspired by a recipe from Lindsey Shere, former longtime pastry chef at Chez Panisse restaurant in Berkeley, California. It makes a delightful dessert for a New Year's Eve party, celebration or get together.

Tip:
Fresh cranberries are abundant in winter, although frozen ones will also work fine in this recipe.
Ingredients:

For the Topping:
1/4 cup (1/2 stick/2 oz./56g) unsalted butter
3/4 cup firmly packed brown sugar
3/4 pound fresh or frozen cranberries

For the Cake:
1 1/2 cups all-purpose flour
2 tsp. baking powder
1/4 tsp. salt
1/2 cup (1 stick/4 oz.) unsalted butter
1 cup granulated sugar
2 eggs, separated
1 tsp. vanilla extract
1/2 cup milk
1/8 tsp. cream of tartar

For the Whipped Cream:
1 cup heavy cream
1/4 tsp. vanilla extract
1 tbsp. confectioners' sugar
Instructions:
To Make the Topping:
Butter a 9-inch (23cm) round cake pan. Put the butter and brown sugar in the prepared pan and place the pan over medium heat. Heat, stirring occasionally, until the butter is melted and the sugar has dissolved. Scatter the cranberries over the butter-sugar mixture. Set aside.

Preheat oven to 350°F (180°C).

To Make the Cake:
In a bowl, mix together the flour, baking powder and salt. In another bowl, using an electric mixer, beat the butter and granulated sugar on medium-high speed until light and fluffy, 2 to 3 minutes. Add the egg yolks one at a time, beating well after each addition. Add the vanilla and mix well. Using a silicone or rubber spatula, fold in the flour mixture in three additions, alternating with the milk.

In a bowl, using a whisk or an electric mixer, beat the egg whites until soft peaks form. Add the cream of tartar and continue to beat until stiff peaks form. Using the spatula, fold the whites into the batter.

Spoon the batter over the cranberries in the cake pan, spreading it evenly. Bake until a skewer inserted into the center comes out clean, 55 to 60 minutes. Remove from the oven and let cool on a rack for 15 minutes. Run a knife around the edges of the pan to loosen the cake. Invert onto a serving plate, let stand for 5 minutes, then lift off the pan.

To Make the Whipped Cream:
In a bowl, using a whisk or an electric mixer, whip the cream until soft peaks form. Stir in the vanilla and confectioners' sugar.

To serve, cut the cake into wedges and top with the whipped cream.

Makes one 9-inch cake; serves 8 to 10.

Recipe adapted from Williams-Sonoma Seasonal Celebration Series, Winter, by Joanne Weir (Time-Life Books, 1997).
Date: November 24, 2003