Diana's Desserts - www.dianasdesserts.com
See more recipes in
Halloween
Meringue Ghosts
in Diana's Recipe Book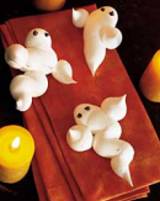 Average Rating:
(total ratings: 6)
[Read reviews]
[Post a review]
Servings: 8 to 12
Comments:
These "Ghostly" little meringues are just the right "Treat" to make for a Halloween goodie. Let the kids help decorate, but make sure they are gentle with them as they are quite fragile.
Ingredients:

3 large egg whites
1/2 teaspoon cream of tartar
3/4 cup granulated sugar
1/2 teaspoon vanilla extract
16 to 24 miniature semisweet chocolate chips or pieces of semisweet chocolate

Instructions:
1. Line 2 baking sheets (each 14 x 17 inch) with cooking parchment, or butter sheets and dust with flour.

2. In a deep bowl, with a mixer at high speed, whip egg whites and cream of tartar to a thick foam. Continuing to beat, add sugar, 1 tablespoon every 30 seconds, then whip until meringue holds very stiff peaks.

3. Beat in vanilla. If using cooking parchment, smear a little meringue on the underside of each corner to make it stick to baking sheets.

4. Spoon meringue into a pastry bag fitted with a 1/2-inch plain tip (or spoon into a gallon-size heavy plastic food bag, then cut off 1 corner to make a 1/2-inch-wide opening). Pipe meringue onto baking sheets into ghostly shapes about 1/4 to 1/2 inch thick, 2 to 4 inches wide, and 4 to 6 inches long, spacing about 2 inches apart. To make eyes (noses and mouths, if desired) press chocolate chips lightly into meringue.

5. Bake in a 200° F (93° C) oven until meringues begin to turn pale gold and are firm to touch, 1 1/4 to 1 1/2 hours (1 to 1 1/4 hours in a convection oven); switch pan positions halfway through baking. Turn off heat and leave meringues in closed oven for 1 hour.

6. Slide a spatula under meringues to release.

NOTE:
If making up to 1 week ahead, cool, then store airtight at room temperature. Handle gently, ghosts are fragile.

Makes 8 to 12 ghosts.

Nutritional Information
Per ghost: 59 cal., 4.6% (2.7 cal.) from fat; 0.9 g protein; 0.3 g fat (0.2 g sat.); 13 g carbohydrates (0 g fiber); 14 mg sodium; 0 mg cholesterol
Source: Sunset Magazine
Date: October 10, 2003
Reviews
Reviewer:
Cassy Junk
Rating:
Review:
I loved it and my family loved it too. They say thank you for that!!!!!
Reviewer:
Arrryn & Ckehlllie
Rating:
Review:
We thought it was really fun to make but it didn't make just 8 ghosts. It made about 30. It tasted pretty good. Great Recipe!!!!
Reviewer:
sorcha keane-breslin
Rating:
Review:
Tasty treats like these are my favorite and are so easy to make once you get the hang of it. They are just fab!
Reviewer:
Trish
Rating:
Review:
I have never had any lucky making meringue. These turned out perfectly! Thanks so much. They taste great and the kids loved them!
Reviewer:
cheryl
Rating:
Review:
So cute! Very fragile but adorable and quite a hit at the Halloween party.
Reviewer:
Christine
Rating:
Review:
Made these adorable and delicious treats for my Halloween party fully intending to take some pics...they disappeared to quickly!!! Huge success!