Diana's Desserts - www.dianasdesserts.com
See more recipes in
Cheesecakes
Classic No-Bake Lemon Cheesecake
in Diana's Recipe Book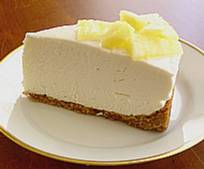 Average Rating:
(total ratings: 18)
[Read reviews]
[Post a review]
Servings: 12
Comments:
Cheesecake in it's classic form consists of a rich, smooth filling of cream cheese, eggs, and other enrichments or flavorings, baked inside a deep shell made from crushed graham crackers or cookies. In this no-bake version, you need only to bake the graham cracker crumb crust.

For a fancier dessert, top this delicious cheesecake with your favorite tropical fruits such as sliced pineapple. Sliced and peeled mango, papaya and pineapple are a winning trio. Once the cheesecake has been topped with fruit, it should be stored in the refrigerator for no more than 4 hours.
Ingredients:

For the Crust:
1 3/4 cups (5 1/2 oz./170g) graham cracker crumbs
1/4 cup (2 oz./60g) firmly packed dark brown sugar
1 tsp. grated lemon zest
1/2 cup (4 oz./125g) unsalted butter, melted and cooled

For the Filling:
2 lb. (1kg) cream cheese, at room temperature
1 cup (8 oz./250g) granulated sugar
1 cup (8 fl oz./250ml) heavy (double) cream
3 tbsp. fresh lemon juice
2 tsp. grated lemon zest
1 tbsp. water
1 tsp. unflavored gelatin

Garnish: (optional)
3 thin lemon slices
OR:
Pineapple slices
OR:
A combination of sliced mango, papaya and pineapple
Instructions:
Preheat oven to 350°F (180°C).

To Make the Crust:
In a food processor fitted with the metal blade, combine the graham cracker crumbs, brown sugar and lemon zest, and process to mix well. Add the butter and process until the crumbs begin to stick together. Drape your hand with plastic wrap to form a glove, and press the crumbs evenly and firmly over the bottom and 1 inch up the sides of a round 9-inch x 2 1/2-inch deep springform pan. Bake the crust 10 minutes. Remove from the oven and cool to room temperature, about 30 minutes.

To Make the Filling:
In a large bowl, combine the cream cheese and granulated sugar. Using an electric mixer, beat on medium speed until well blended. Beat in 1/2 cup (4 fl.oz./125ml) of the cream, the lemon juice and lemon zest until incorporated.

Place the water in a small saucepan. Sprinkle the gelatin over the water and let soften for 5 minutes. Place the saucepan over low heat and stir until the gelatin is dissolved, then gradually whisk in the remaining 1/2 (4 fl oz./125ml) cup cream. Add the gelatin mixture to the cream cheese mixture and beat until fluffy, about 1 minute. Spoon the filling into the cooled crust. Cover with aluminum foil and refrigerate overnight or up to 2 days.

To Serve:
Remove cheesecake from refrigerator. Release the pan sides and place the cake on a serving plate. Overlap the lemon slices atop the center of the cake, or garnish cheesecake with sliced tropical fruit. Cut into wedges to serve.

Makes one 9-inch (23cm) cheesecake; 12 servings.

Photograph taken by Diana Baker Woodall© 2003
Source: DianasDesserts.com
Date: October 10, 2003
Reviews
Reviewer:
Emma
Rating:
Reviewer:
Clarke
Rating:
Review:
Made this for school food tech coursework brilliant best one i made, very very tasty
Reviewer:
Lakisha
Rating:
Review:
Well i've been making no bake cheesecakes for years and a lot of people tell me i have a wonderful pie but i want to try somthing diffrent so i'm going to try your's
Reviewer:
Christian
Rating:
Review:
very delicious
Reviewer:
Bev
Rating:
Review:
I keep coming back to this site just for this cheesecake....and everyone loves it too.... please don't remove it EVER!
Reviewer:
Angie
Rating:
Review:
This turned out marvellous.. used digestive biscuits instead of graham cracker crumbs, delicious, would add a tad more lemon juice next time, but otherwise great!
Reviewer:
Sharon
Rating:
Review:
It was fabulous. My husband and I just loved it.
Reviewer:
looloo
Rating:
Review:
This was an amazing cheescake. It was so tasty!!
Reviewer:
ChaCha Lynne
Rating:
Review:
Very yummy and delicious, a delight!
Reviewer:
yogeswari
Rating:
Review:
I'hv tried out your non-baked cheese cake. Very delicious! My family really enjoyed it.
Reviewer:
manja
Rating:
Review:
I have to say its a great recipe.. could have more lemon zest but otherwise great.
Reviewer:
Arica
Rating:
Review:
May I know what the gelatin is for? Is it alright if I don't add that?
Reviewer:
yh
Rating:
Review:
I have never tried this recipe. Anyway, I'll try to make it this weekend for my friend's birthday. Gelatin is to firm the cake. You can use gelatin or either jello pack for the same function.
Reviewer:
lezzeduragi
Rating:
Reviewer:
priyanka
Rating:
Reviewer:
Lisa Powell
Rating:
Review:
Made the best cheesecake we've ever had but I did put a thin layer of melted down lemon curd on the top when it was set.
Reviewer:
Selene
Rating:
Review:
How do I add the melted down lemon curd?
Reviewer:
aarti
Rating:
Review:
I have tried many recipes for cheesecake, this one came out really good...