Diana's Desserts - www.dianasdesserts.com
See more recipes in
Holidays and Celebrations
Majestic & Moist New Year's Honey Cake
in Diana's Recipe Book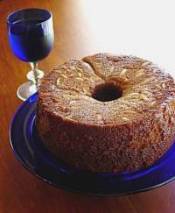 Average Rating:
(total ratings: 8)
[Read reviews]
[Post a review]
Servings: 8-10
Comments:
Rosh Hashanah - Jewish New Years

Celebrated this year (2010) from sundown Wednesday night September 8th through sundown Friday night September 10th.

Rosh Hashanah is observed the first and second day of the seventh month of the Jewish calender, Tishri. Coming in the Fall season of the western calendar, usually in September.

The Jewish Holiday of Rosh Hashanah is widely known and celebrated as the New Years Day of the Jewish calendar, but actually Rosh Hashanah has a fourfold meaning - It is the Jewish New Year, the Day of Judgement, the Day of Remembrance, and the Day of Shofar Blowing.

Rosh Hashanah is celebrated with it's holiday greeting cards, special prayers, and festive and sweet foods (to ensure sweetness in the New Year).

On Rosh Hashanah it is customary for families to gather together for the holiday meal. Traditional foods sweetened with honey, apples and carrots are served, symbolizing sweetness, blessings, abundance and the hope for a sweet year ahead.

The first night's meal begins with apple dipped in honey. Challah, the bread usually eaten on the Sabbath (not braided as at regular meals but instead baked in a circle - a wish that the coming year will roll around smoothly without unhappiness or sorrow) is also dipped in honey before eating.

Here is Marcy Goldman's "sweet" honey cake (from her book, A Treasury of Jewish Holiday Baking) to serve for your Rosh Hashanah dessert.

Majestic and Moist New Year's Honey Cake

Ms. Goldman writes:
"I like a New Year's honey cake to be extra moist and sweet, as good on the day of baking as it is days later: This one is queen of the realm--rich, nicely spiced, in a word, majestic in taste and stature. I went through many variations and tasting sessions until I was satisfied with this definitive cake. One taster gave the ultimate compliment, saying, "This one is worth the price of the book." Like most honey cakes, it is a good keeper and can be made a couple of days ahead."
Ingredients:

3 1/2 cups all-purpose flour
1 tablespoon baking powder
1 teaspoon baking soda
1/2 teaspoon salt
4 teaspoons ground cinnamon
1/2 teaspoon ground cloves
1/2 teaspoon ground allspice
1 cup vegetable oil
1 cup honey
1 1/2 cups granulated sugar
1/2 cup brown sugar
3 eggs
1 teaspoon vanilla extract
1 cup warm coffee or strong tea
1/2 cup fresh orange juice
1/4 cup rye or whiskey (see Note)
1/2 cup slivered or sliced almonds (optional)

Instructions:
I like this cake best baked in a 9-inch angel food cake pan, but you can also make it in a 10-inch tube or bundt cake pan, a 9 by 13-inch sheetpan, or three 8 by 4 1/2-inch loaf pans.

Preheat the oven to 350°F (180°C). Lightly grease the pan (s). For tube and angel food pans, line the bottom with lightly greased parchment paper. For gift honey cakes, I use "cake collars" (available from Sweet Celebrations) designed to fit a specific loaf pan. These give the cakes an appealing, professional look.

In a large bowl, whisk together the flour, baking powder, baking soda, salt, and spices. Make a well in the center and add the oil, honey, sugars, eggs, vanilla, coffee, orange juice, and rye or whiskey.

Using a strong wire whisk or an electric mixer on slow speed, combine the ingredients well to make a thick batter, making sure that no ingredients are stuck to the bottom of the bowl.

Spoon the batter into the prepared pan (s) and sprinkle the top of the cake (s) evenly with the almonds. Place the cake pan (s) on 2 baking sheets stacked together (this will ensure the cakes bake properly with the bottom baking faster than the cake interior and top), and bake until the cake springs back when you touch it gently in the center. For angel and tube cake pans, bake for 60 to 70 minutes; loaf cakes, 45 to 55 minutes. For sheet-style cakes, the baking time is 40 to 45 minutes. This is a liquidy batter and, depending on your oven, it may need extra time. Cake should spring back when gently pressed.

Let the cake stand for 15 minutes before removing it from the pan. Then invert it onto a wire rack to cool completely.

Note: If you prefer to not use the whiskey, replace it with orange juice or coffee.

Serves 8-10

Source: Recipe adapted (with permission) from, A Treasury of Jewish Holiday Baking by Marcy Goldman
Publisher: Doubleday; (October 1998)

Photograph taken by Diana Baker Woodall© 2003
Date: September 11, 2003-Updated on Sept. 26, 2003
Reviews
Reviewer:
miriam kachenko
Rating:
Reviewer:
Hillary Torchin
Rating:
Review:
Everyone in my family is addicted to this honey cake. I made it on Thursday because I forgot to order one from the bakery - I'm already getting requests to bake one again next year. What a great way to start off the New Year!
Reviewer:
stephen jay fromme
Rating:
Review:
I am a great baker and chef ; this cake is GREAT and healthy
Reviewer:
waseem
Rating:
Review:
Thanks!
Reviewer:
Renee
Rating:
Review:
Love it, Love it, Love it!!! This is one of the best honey cakes of all time! Thank you Diana. I wish everyone a very happy new year!
Reviewer:
Jonathan Dexter
Rating:
Review:
Brilliant recipe! Totally foolproof. I like to make it with a jar of applesauce which makes it even more moist.
Reviewer:
Rob Miller
Rating:
Reviewer:
zahava
Rating:
Review:
i've been using this recipe for years now and it just doesn't fail! shana tova u'metuka!