Diana's Desserts - www.dianasdesserts.com
See more recipes in
Jams - Jellies - Preserves - Spreads
Dapple Dandy Pluot or Plum Jam
in Diana's Recipe Book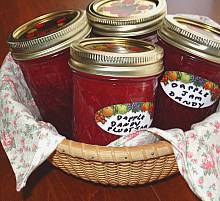 Average Rating:
(total ratings: 7)
[Read reviews]
[Post a review]
Servings: Yield: 8 (8 oz./half pint) jars of jam
Comments:
What are Pluots?

Pluots
The latest high-flavor stone fruit attracting "oohs and aahs" from consumers is the Pluot. If that sounds like a cross between a plum and an apricot it should. Geneticists call it an interspecific plum, a complex hybrid of plum and apricot.

The largest volume of these hybrids is in Pluots and Plumcots. Pluots have predominantly plum parentage and resemble plums with generally smooth skin and have a plum shape. Plumcots generally have equal parentage of plum and apricot and resemble plums in shape but can have the skin of an apricot.

In general, all of these hybrid varieties have an intense flavor, much like a blend of fruit juices where the mixture of taste is an improvement over any of the separate ingredients. Additionally, the sugar content of these varieties is much higher than in standard plums or apricots, yielding fruit of incomparable sweetness.

From time to time, when all conditions are just right, nature can produce truly unique treasures. Such is the case with Pluots, with a sweet and savory blend of plum and apricot flavor.

Source of Information on Pluots: Produce Pete's

From Diana's Desserts:
Pluots, especially the large Dapple Dandy variety, may be called "Dinasaur Plums" or Dinasaur Eggs" when you find them in the produce section of your supermarket.
Ingredients:

3 to 3-1/2 pounds (approximately 3-4 cups of prepared fruit for canning with pits removed) overripe plums or Pluots, washed, dried, cut in half, pits removed (do not peel), and chopped into 1-inch pieces
1/2 cup water
4 1/2 cups sugar* (see notes below)
1 1/2 tsp. lemon juice* (see notes below) optional
1 (3-ounce) package powdered fruit pectin (such as Sure-Jell)
1 tsp. butter* (see notes below) optional

Instructions:
In a large pot, combine chopped plums (or Pluots), water, and lemon juice (lemon juice is optional). Bring mixture to a boil over high heat, stirring constantly. Reduce heat to low and cook, covered, 10 minutes or until plums (or Pluots) have softened and mixture has reduced, stirring occasionally.

Add the pectin to plums (or Pluots) in pot; stir well and heat to a full rapid boil over high heat, stirring constantly. Add the 1 tsp. butter (optional), and the 4 1/2 cups sugar. Boil exactly 1 minute, stirring constantly. Remove from heat. Set aside for 1 minute and skim off any foam that has formed.

Meanwhile, sterilize 8 half-pint (8 oz.) mason jars or jelly glasses and the necessary lids and bands, according to manufacturer's directions. Divide jam among sterilized jars, leaving 1/8 to 1/4-inch space at top of each jar. Wipe rims and threads of jars to remove any jam and seal with lids and bands.

Fill canning pot half full with water. Bring water to a boil. Place rack inside pot.

Place jars on elevated rack in canning pot* (see note below) in boiling water; covering jars with water and allowing 1 to 2 inches of water to cover jars (you may need to add extra water for this). Cover and gently boil for 10 minutes.

After processing, remove jars and set them upright on a towel to cool 12 to 24 hours. Do not retighten bands. Once jars are cool, test each one for a seal by pressing the center of the lid. The lid should not flex up and down (if it does, immediately refrigerate or reprocess with a new lid for the full length of time).

Label, and store jars in a cool (50° - 70° F/10° - 20°C), dry, dark place for up to one year. Once jam has been opened, refrigerate, and use within one month.

Yields: 8 (8 oz./half pint) jars of jam

*Notes From Diana's Desserts

On Amount of Sugar To Use In Recipe:
If you plan to make Pluot Jam, my suggestion would be to not use as much sugar as you would for traditional plum jam. When ripe, Pluots are very very sweet; much sweeter then other types of plums. Test for sweetness while cooking plums; adding sugar one cup at a time until you have reached the point where the mixture is sweet enough for your taste.

On Using Butter:
Adding the 1 teaspoon of butter to the plum (or Pluot) mixture in this recipe is optional. The reason butter is often used in making jams and jellies is because it tends to cut down on the amount of foam that forms when cooking plums or other fruit.

On Using Lemon Juice:
Using lemon juice inhibits the oxidation of cut fruits and vegetables as well as controls discoloration. When making Pluot or plum jam, I do not suggest using lemon juice. If you feel you must use lemon juice, use sparingly, and add more sugar to the plum mixture.

High and Low Acid Foods
Because Plums and Pluots and other fruits are high in acid, a Boiling Water Canning pot is required for preparing the jars of fruit. Low acid foods require Steam Pressure Canners.

High Acid Foods
Canning of High-Acid Foods
Because they are relatively easy to preserve, foods containing high amounts of acid are a popular choice for home canners. These foods provide you with the opportunity to prepare and enjoy a wide array of creative recipes, from excellent side dishes, jams and jellies to delectable desserts.

High-acid foods include fruits, fruit juices, jams, jellies and other fruit spreads, tomatoes with added acid, pickles, relishes, and chutneys, sauces, vinegars and condiments.

Low Acid Foods
Vegetables, meats, poultry and seafoods are such a natural part of family meal planning that canning these low-acid foods ensures an economical and well-balanced diet throughout the year. Low-acid foods are easy to preserve, yet require special handling to eliminate the risk of spoilage due to botulism. In order to prevent this type of spoilage, low-acid foods MUST be heat processed using a steam-pressure canner.

Low-acid foods include vegetables, soups, stews and ragouts, meats, poultry and seafoods. Recipes that combine high-acid foods, such as tomatoes, with low-acid foods, such as vegetables or meats, are considered low-acid foods.

Where to Purchase Canning Pots and Steam Pressure Canners, Jelly Jars and Accessories :
Canning pots, steam pressure canners, mason jars, jelly glasses, and canning accessories may be purchased online at Cooking.com, or at SurLaTable.com, and at several other online stores.

Canning pots, steam pressure canners, jars, jelly glasses and accessories for canning may be purchased at some supermarkets, and at hardware, cooking, or garden and nursery supply stores.
Source: DianasDesserts.com
Date: September 8, 2003
Reviews
Reviewer:
chelsea peterson
Rating:
Review:
It was absolutly grand but... it needed to be more tart. Thats only my opinion. I like things tart!
Reviewer:
Jenn
Rating:
Review:
Very informative. Have not tried the recipe so I can't tell if it is great but it sounds wonderful and I can't wait to try it.
Reviewer:
Cindy Warren
Rating:
Review:
Made it today turned out perfect!
Reviewer:
Sal
Rating:
Review:
First time canning Pluot Jam. Used less sugar 8 cups for triple recipe. Awesome flavor, excellent recipe. Just the right amount of tartness. Canning more tomorrow. Looking forward to trying more of your recipes. Muchas Gracias!
Reviewer:
Caroline
Rating:
Review:
I added cranberries to make my jam more tart. Excellent, especially on pork, or sourdough hotcakes!
Reviewer:
Virginia Nufer
Rating:
Review:
One question. Sure Jell only comes in 1.75 oz packages. It's sister product, MCP, comes in 2.0 oz, but there are no 3 oz packages of powdered pectin. What to do?
Reviewer:
Eva Cohn
Rating:
Review:
Have made cases of this jam, absolutely wonderful on a toasted everything bagel topped with cream cheese