Diana's Desserts - www.dianasdesserts.com
See more recipes in
Passover
Pavlova's with Orange Sorbet for Passover
in Diana's Recipe Book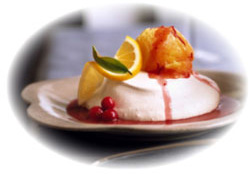 [Be the first to post a review!]
Servings: 6
Comments:
"These little pavlova's would make a truly spectacular dessert for Passover"....Diana's Desserts

Ingredients:

For the Pavlova Meringue Clouds:
1/2 cup egg whites, (4 large)
Pinch of cream of tartar
1/4 tsp. salt (kosher salt if possible)
1 1/4 cups superfine sugar
1 tsp. pumpkin pie spice

For The Cranberry Vinaigrette Dessert Sauce:
1/4 cup fresh cranberries
1/2 cup water
1/2 cup superfine sugar
1/4 cup fresh orange juice
Pinch of salt
1/2 cup canola oil

Serve Pavlova with:
Orange or Lemon Sorbet

Garnish: (optional)
Orange or lemon slices
Cranberries
Mint sprigs

Instructions:
For the Pavlova Meringue Clouds:
Preheat oven to 250°F (120°C). Cover large baking sheet with parchment paper. Beat egg whites, cream of tartar and salt in bowl of heavy-duty electric mixer fitted with whip attachment. (or, place ingredients in large bowl and beat with hand-held electric mixer; this will take a little longer). Beat at medium-high speed until egg whites form very stiff peaks (do not under whip, or whites will lose their volume when you beat in sugar). Add sugar, one tablespoon at a time, beating constantly at high speed. Beat in pumpkin pie spice. The mixture should be stiff and billowy.

Note: If you prefer a hard meringue that cuts smoothly: Add 1 tablespoon of dry cornstarch to 1/3 cup of water and heat until it forms a thick paste. Add the cornstarch paste, one teaspoon full at a time to the firmly whipped egg whites.

To Form Meringue Clouds:
With a rubber spatula, and using 3/4 -1 cup of meringue mixture per mound, spoon mixture on baking sheet into 6, large over-sized dollops. Smooth them slightly with the back of spoon, if necessary, to make them about 3-4 inches across.

Bake for 1 1/2 hours, or until meringues are ivory in color and look completely dry. They should not brown. Turn oven off and leave meringues in it for 6-8 hours to dry thoroughly. Do not open oven during this time. Transfer dried meringues to cooling rack to cool completely.

For The Cranberry Vinaigrette Dessert Sauce:
Combine cranberries, water and sugar in small saucepan. Bring just to a boil over medium heat, until you hear the cranberries starting to pop. Cool completely. Scrape mixture into blender; add orange juice and salt and blend until smooth. With motor running, slowly add oil in a thin stream, and continue to blend until sauce is smooth and emulsified. Refrigerate in tightly capped jar until ready to serve.

To Assemble Pavlova:
Place a meringue cloud on each serving plate. Place a scoop of orange or lemon sorbet on top and spoon Cranberry Vinaigrette Dessert Sauce over sorbet. If desired, garnish each mernigue cloud with orange or lemon slices, a few cranberries, and a mint sprig.

Makes 6 servings.

Source: C&H Sugar
Date: September 3, 2003