Diana's Desserts - www.dianasdesserts.com
See more recipes in
Autumn - Winter
Apple Brown Betty
in Diana's Recipe Book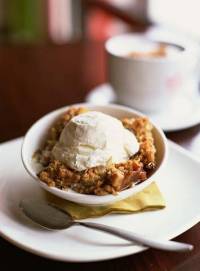 [Be the first to post a review!]
Servings: 6-8 servings
Comments:
Apple Brown Betty

A Betty is a baked dessert dating to Colonial America, It is a baked pudding made with layers of spiced sweetened fruit (usually apples) and buttered bread crumbs. Apple Brown Betty is made with brown sugar and sliced apples, or in this recipe's case, apples that are made into an applesauce.
Ingredients:

2 1/2 lb. Golden Delicious or Granny Smith apples, peeled, cored and cut into slices 1/4 inch thick
3/4 cup granulated sugar
1 tsp. ground cinnamon
1/4 tsp. freshly grated nutmeg
2 cups dried white bread crumbs or graham cracker crumbs
4 tbsp. (1/2 stick/2 oz./56g) unsalted butter, melted
Hard sauce (see recipe below), vanilla ice cream or sweetened whipped cream for serving
Instructions:
Preheat an oven to 400°F/200°C.

In a large bowl, toss the apples with the granulated sugar, cinnamon and nutmeg. Mound the apples in a roasting pan just large enough to hold them comfortably.

Roast, turning twice, until fork-tender, about 1 hour. Drain the apples, reserving the liquid. Let cool. In a food processor, puree the apples, adding the reserved liquid as needed to make a thick applesauce.

Reduce the oven temperature to 375°F/190°C. In a bowl, toss the bread crumbs with the melted butter. Sprinkle half of the crumbs over the bottom of an 8-inch round or square baking pan. Pour the applesauce over the crumbs and sprinkle the remaining crumbs on top. Bake for 20 minutes.

To serve, spoon into shallow bowls and top with the hard sauce, whipped cream or vanilla ice cream.

Makes 6-8 servings.

Hard Sauce
The traditional accompaniment to plum pudding, hard sauce pairs well with any hearty autumn or winter dessert, such as this apple brown betty. To make hard sauce, combine 8 tbsp. (1 stick) unsalted butter, at room temperature, with 1 cup sifted confectioners' sugar, 1 tbsp. dark rum or brandy or 1 tsp. vanilla extract, and 1/8 tsp. freshly grated nutmeg. Mix well to blend. If desired, refrigerate before serving.

Source: Recipe adapted from Williams-Sonoma Collection Series, Roasting, by Barbara Grunes (Simon & Schuster, 2002 ).
Date: August 17, 2003