Diana's Desserts - www.dianasdesserts.com
See more recipes in
Pies and Tarts
Shoofly Pie
in Diana's Recipe Book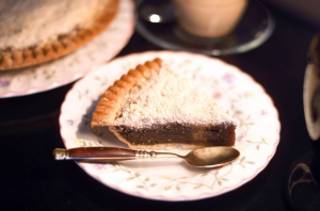 [Be the first to post a review!]
Servings: Makes 1 (9-inch) pie, about 8 servings
Comments:
Shoo-Fly Pie
This is a Pennsylvania Dutch pie with a molasses and/or brown sugar filling. The name supposedly comes from having to shoo the flys away from this very sweet pie.
Ingredients:

Pastry:
1 1/4 cups all-purpose flour, plus more for dusting
1 tablespoon granulated sugar
Pinch salt
1/2 cup (1 stick/4 oz./113g) unsalted butter, cold and cut into small chunks
2 tablespoons ice water, plus more if needed

Filling:
1 cup unsulphured molasses or Pennsylvania Dutch Table Syrup
3/4 cup hot water
1 teaspoon baking soda
2 large eggs, lightly beaten
1 teaspoon ground cinnamon
1/2 teaspoon ground cloves

Crumb Topping:
1 cup all-purpose flour
1/2 cup brown sugar
2 tablespoons (1/4 stick/1 oz./28g) unsalted butter

Garnish:
Whipped cream, for serving
Instructions:
To Make the Pastry:
Combine the flour, sugar, and salt in a large mixing bowl. Add the butter and mix with a pastry blender or your hands until the mixture resembles coarse crumbs. Pour in the ice water and work it in to bind the dough until it holds together without being too wet or sticky. Squeeze a small amount together, if it is crumbly, add more ice water, 1 tablespoon at a time. Wrap the dough in plastic wrap and refrigerate for at least 30 minutes.

Sprinkle the counter and a rolling pin lightly with flour. Roll the dough out into a 10-inch circle; to check the size, put the 9-inch pie pan upside down over the dough. Carefully roll the dough up onto the pin (this may take a little practice) and lay it inside the pie pan. Press the dough firmly into the bottom and sides so it fits tightly. Trim the excess dough around the rim. Place the pie pan on a sturdy cookie sheet so it can prevent spills from burning in the bottom of the oven.

Preheat oven to 350 degrees F/180 degrees C.

To Make the Filling:
In medium-size mixing bowl, combine the molasses and water; stir in baking soda, eggs, and spices.

To Make the Crumb Topping:
With a pastry blender, mix together the flour, brown sugar, and butter, until it is the texture of coarse crumbs. Take 1/2 cup of the crumb mixture and put it in the bottom of the pie shell, pour in the molasses filling, and scatter the remaining crumbs on top.

Bake for 30 minutes, until the filling jiggles slightly and the top is firm. Let cool to room temperature before cutting. Serve with whipped cream.

Makes 1 (9-inch) pie, about 8 servings.

Source: Recipe adapted from Food TV. Recipe author is Tyler Florence.
Date: August 17, 2003