Diana's Desserts - www.dianasdesserts.com
See more recipes in
Passover
Passover Cake by Marcy Goldman
in Diana's Recipe Book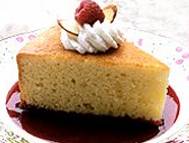 Average Rating:
(total ratings: 2)
[Read reviews]
[Post a review]
Servings: 8-10
Comments:
From Diana's Desserts:
Actually, the name of this cake is "I Can't Believe This Is a Passover Cake" Yellow Cake, but it has such a long name, I decided to call it Passover Cake by Marcy Goldman for my website purposes.

From Marcy Goldman,
This recipe is a cross between a true sponge cake, a classic genoise and a chiffon cake. I like it because I do not have to separate the eggs and yet I get a well- textured cake. It keeps well, and is a good foundation for fresh fruit, pareve Passover Mousse, or a chocolate ganache topping. Although the eggs are not separated, you must treat them with care. Another must is a good, stationary, electric mixer ( such as a Kitchenaid, Rival or Sunbeam) with a whisk or whip attachment that will properly mount the warmed, whole eggs. For people who loathe dry cakes and think Passover cakes are suspect at best, this is a must.

Ingredients:

8 large eggs, warmed
1/3 cup matzoh cake meal
1/3 cup potato starch, not packed, plus extra for dusting
1 tablespoon lemon juice
3 tablespoons unsalted Passover margarine, melted, or kosher for Passover oil
3/4 cup granulated sugar
1 tablespoon Passover vanilla sugar
1/2 teaspoon salt, divided
1 tablespoon finely minced lemon or orange zest

Instructions:
Preheat the oven to 350°F (180°C). Generously grease a 10-inch (25cm) springform pan or a 9 by 13-inch (23 x 33cm) rectangular pan. Dust it with potato starch and line the bottom with parchment paper.

Warm the eggs (still in their shells) by placing them in a bowl and covering them with very hot water for 1-2 minutes ( the water should be hot enough to warm them up, but not so hot as to crack the eggs and cook them. Do not leave eggs in water longer than 1-2 minutes).

This is the most important step. Do not omit it. Heat mixing bowl by filling with very hot water and then dry completely.

Meanwhile, sift together the cake meal, potato starch, and 1/4 teaspoon salt. Combine the lemon juice and melted margarine or oil in a small bowl. Set these ingredients aside.

Break the warmed eggs into the bowl of an electric mixer along with granulated sugar, vanilla sugar, 1/4 teaspoon salt, and citrus zest. Using whip attachment, beat on low speed very briefly just to combine ingredients. Then increase to high speed and beat for 12 minutes. The batter will be extremely voluminous.

Pour the batter into a very large mixing bowl. Stir in the potato starch/matzo cake meal mixture, then gently fold this mixture into the egg batter, taking care not to deflate the mixture too much (some deflation is impossible to avoid). Gently drizzle and fold in the lemon juice and melted margarine or oil. Pour the batter into the prepared pan and bake for 30 to 35 minutes, until the cake is set in the center or until it seems just firm when lightly touched. Cool well before removing from the pan.

Variations:
For Marble Cake, omit the lemon juice. Mix 2 tablespoons unsweetened cocoa powder with 2-3 tablespoons water. Stir this into 1/3 of the vanilla batter. Spoon alternating dollops of white and chocolate batter into the pan.

For Strawberry or Raspberry Cake, prepare fresh berries by mashing and mixing them with abit of sugar. Serve in dollops over a slice of cake.

For Dairy occassions, serve with whipped cream.

For Double Lemon Cake, add 1/2 teaspoon citric acid (usually available for Passover in the kosher foods section) along with the juice. This gives an extra lemony kick without upsetting the liquid balance in the recipe. Garnish with lemon zest threads. Serve the cake with prepared passover lemon curd and fresh raspberries.

For Cinnamon Nut Cake, place the matzo meal with 1/3 cup ground toasted nuts and add 1 teaspoon ground cinnamon. Garnish the top of the cake with 1 tablespoon ground nuts before baking.

For Spice Cake, add 1/2 teaspoon ground cinnamon and up to 1/4 teaspoon ground cloves, allspice, and grated nutmeg along with the cake meal and potato starch.

For Jelly Roll Yellow Cake, you can also bake this cake in a jelly roll pan or on a small cookie sheet. Roll into a log while the cake is warm, using a clean tea towel as an aid (dust the towel first with potato starch). Once the cake is set into a roll shape, gently unroll it. Fill it with lemon curd, passover mousse or jam or whipped cream as desired. You can also drizzle melted semisweet chocolate on it to dress it up.

Serves 8-10

Source: A Treasury of Jewish Holiday Baking by Marcy Goldman.
Recipe is on pages 283-284.

Source: A Treasury of Jewish Holiday Baking
Date: August 4, 2003
Reviews
Reviewer:
Kate
Rating:
Review:
Amazing texture! Something you must make! My family loved it! It was a delight.
Reviewer:
Alisoni
Rating:
Review:
I actually haven't tried this, but I wanted to ask a question, and the site requires me to review it. I'm giving it 5 stars because it LOOKS amazing. My question: we have gluten allergies in my family. Can I substitute almond meal for matzoh cake meal? If it weren't Passover, I'd do ground Rice Chex, but I can't use them for Passover. Suggestions? I'd really like to make this.