Diana's Desserts - www.dianasdesserts.com
See more recipes in
Cake and Cookie Decoration
Rolled Fondant
in Diana's Recipe Book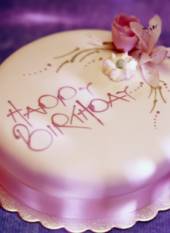 Average Rating:
(total ratings: 35)
[Read reviews]
[Post a review]
Servings: Makes icing for 1 (9-inch) cake
Comments:
What is Fondant?

Fondant
Definition: [FAHN-duhnt] Used as both candy and icing, fondant is a simple sugar-water-cream of tartar mixture cooked to the soft- ball stage. After cooling, the mixture is beaten and kneaded until extremely pliable. It can be formed into decorations or candy, which can be dipped in chocolate.

Heating fondant makes it soft enough to be used as an icing to coat large and small cakes such as petit fours. Food coloring and a variety of flavorings can be added to fondant for visual and taste appeal. It can be refrigerated, tightly wrapped, for up to 3 months.

Copyright (c) 1995 by Barron's Educational Series, from The New Food Lover's Companion, Second Edition, by Sharon Tyler Herbst

Ingredients:

2 pounds confectioners' sugar, sifted
1/4 cup cold water
1 tablespoon unflavored gelatin
1/2 cup glucose* see note below (found in cake decorating stores) or white corn syrup
1 1/2 tablespoons glycerine (found in cake decorating stores)* see note below
1 teaspoon desired flavoring (vanilla will give the fondant an off-white color)
Cornstarch

*Note: Glucose and glycerine can be purchased online at: http://www.sugarcraft.com, and at other cake supply stores.
Instructions:
In a large bowl (do not use metal), sift the sugar and make a well in the center. In a small saucepan, add the water and sprinkle the gelatin on top to soften for about 5 minutes. Begin to heat the gelatin and stir until the gelatin is dissolved and clear. Do not boil. Turn off the heat and add the glucose and glycerine, stirring until well blended. Add the flavoring. Pour into the well of sugar, and mix until all of the sugar is blended. Use hands to knead icing until it becomes stiff. Add small amounts of confectioner's sugar if the mixture is sticky.

Form the mixture into a ball and wrap tightly in plastic wrap. Place in an airtight container. This icing works best if allowed to rest at room temperature for about eight hours before using, particularly if the weather is humid. Do not refrigerate.

To Cover a Cake with Fondant:
Dust a clean pastry cloth, or a smooth, clean surface, with cornstarch and roll the fondant with a rolling pin until it is approximately 1/4 inch thick. Make sure that the fondant is large enough to fit over the top and sides of the cake. Slide both hands under the fondant and carefully center it on top of a cake that has been freshly iced with buttercream. (The icing makes the fondant adhere to the cake.)

Dust your hands with cornstarch and smooth the fondant, starting at the top and working down the sides until the entire surface is even and flat. Cut off the excess icing around the bottom of the cake with a pizza cutter or sharp knife. Decorate the cake with buttercream or royal icing. This fondant keeps a cake fresh for two days at room temperature. Do not refrigerate a cake with fondant icing.

Makes icing for a 9-inch cake.

Source: Colette's Birthday Cakes
by Colette Peters*.

*Colette's Birthday Cakes book may be purchased "used" at Amazon.com
Source: Source: Colette's Birthday Cakes
Date: August 3, 2003
Reviews
Reviewer:
Elaine Scott
Rating:
Review:
Easy to make and taste great! I use 1 tsp clear vanilla and 1 tsp cream bouquet. Rolls out beautifully. Drapes over cake like fabric. Smooths beautifully. Inexpensive to make. It just doesn't get better than this!
Reviewer:
Sharlene Frazier
Rating:
Review:
I'm complimenting you, not because I've yet tried it--I'll do that sometime in the near future--but, because after all the cake baking/decorating shows and bakers' interviews I've seen on a popular cable food-oriented network, I was led to believe that the typical fondant was not all that good-tasting; and it makes no sense to me to put something in/on food (and then charge folks up the wazoo for it) that you know people are not going to eat or like! This recipe and the Fondant Icing recipe both show that, with a little effort put into it, not only can fondant taste good, it can taste good any way you want it! Thanks so much for putting this here for me to find! I'll be glad to come back and post another review after I've actually tried it :-).
Reviewer:
Kelley Kuhlman
Rating:
Review:
This is so great. I used this for a cooking class with kids. We formed it like clay and dipped the creations in Chocolate. What a fun activity. I used corn syrup as it was too expensive to use in a youth center. It worked great. but I would use chocolate bark or chocolate melts because the details were covered up by the thick chocolate.
Reviewer:
Danica Ponce
Rating:
Review:
You tried to make a secret to you're recipe, you should cited all of the possible questions and answer to it. Fondant making will test you're patience.
Reviewer:
jayme
Rating:
Review:
i havent used it yet but it sounds great....do i need to decorate with buttercream/royal icing or can it be used alone for decorating to look like like the picture above? do i need to do anything different with a square shaped cake?
Reviewer:
Caroline
Rating:
Review:
Hi, how would I I color this fondant in blue?
Reviewer:
Marta
Rating:
Review:
i tried to make it and somehow it turned out weird! please help me, the taste and everything is great but its crumbly when it should be like plasteline... thank u!
Reviewer:
Reinaldo Motta
Rating:
Review:
It works well, thanks for your tips, because I used light corn syrup instead of glucose, because it was difficult to find glucose in stores.
Reviewer:
luisa kendrick
Rating:
Review:
I haven't tried this interesting fondant icing yet and i hope it will turn out good, and I believe this will work for me. Thanks for adding my review. Good luck to all.
Reviewer:
myra
Rating:
Review:
I'm from Italy and I want to know what is the substitute for glucose?
Reviewer:
Diana, Diana's Desserts
Rating:
Review:
Hi Myra, If you can get Golden Syrup or Light Corn Syrup you could substitute either of these. Use the same amount as stated in the recipe for the liquid glucose. You may also be able to get liquid glucose at the pharmacy or chemist. Also, some people in Europe can find liquid glucose at cake baking shops or cake supply stores, and even in some supermarkets in the baking ingredients aisle. Good luck!.....Diana, Diana's Desserts
Reviewer:
Heather
Rating:
Review:
Wonderful! Now - how would you go about making a chocolate or white chocolate fondant?
Reviewer:
Tammy
Rating:
Review:
Hi. this is for Sara, you can use another form of gelatin. Usually I use it if a client asks me for something vegetarian so if this is the reason for you, you can try Agar Agar. It is Chinese and you can only find it in your city's chinatown or at a Chinese specialty store. It's very good and works the same way as regular gelatin. You can get it in dry strips or in powder form. Check it out! By the Diana, I love your site. I have used this recipe and it works great! Pastry Chef Tammy.
Reviewer:
Sara
Rating:
Review:
Hello, I haven't tried this recipe yet but I have a question about the use of gelatin. I cannot eat gelatin so what is a substitute for it? Can I use vegetable shortening instead?
Reviewer:
maria
Rating:
Review:
i'm glade been found your site Di,i want to know the exact amount of agar-agar for geletin subtitution if you please, thanks
Reviewer:
Laurene
Rating:
Review:
Is the glycerine the same pure glycerine that you can buy at a pharmacy?
Reviewer:
Diana, Diana's Desserts
Rating:
Review:
Hi Laurene,
As long as the glycerine is food grade glycerine and is edible, and if that is what you can find at your pharmacy, then it should be perfectly fine for the fondant. Otherwise, you can find food grade/edible glycerine at cake or candy supply stores, or even some bakeries or cake shops may sell you some. You can also find food grade/edible glycerine at Sweet Celebrations in Minnesota or at www.sugarcraft.com. You can check out their website. Good luck!...Diana, Diana's Desserts
Reviewer:
yasmeen
Rating:
Review:
I haven't tried this yet, but i was wondering if i can substitute the gelatin or just leave it out because i do not eat pork and most gelatin is made with pork.
Reviewer:
Helene
Rating:
Review:
Hi! I haven't made the recipe yet(sounds easy and delicious though), and I've never actually used rolled fondant to cover a cake, but I heard that with some fondants adding too much color will dry it out and crack it. The cake I'm making takes darker colors, not pastels. So I'm wondering what to do if it does this? Thank you!
Reviewer:
Salem Thorup
Rating:
Review:
I haven't tried this yet, but I wanted to know what the best techniques are for smoothing the corners and edges once you put the fondant on the cake. And should I put the fondant on right after the buttercream or let it dry a little? Also, I am doing a crisscross quilted looking pattern on one of the layers, is there any specific method you suggest for going about this without cutting into the fondant too much, but also making it even? Oh, and I am trying to create a stencil so I can paint a lacy pattern on the other layers, what material do you suggest for the pattern (parchment paper, regular paper, something else?)
Reviewer:
Cincopil
Rating:
Review:
I have used this recipe many times and it is great!! Love it! Now, how can I turn this recipe into a chocolate flavor one? I still want to have same texture to decorate my cakes. Thanks!!
Reviewer:
Joye
Rating:
Review:
This sounds easy enough, however, I'm with Heather and want to know how to make it White Chocolate Fondant. How much White Chocolate to add, and process by which to incorporate.
Reviewer:
Gina
Rating:
Review:
I live in India And I have been looking high and low for Fondant .... I cannot wait to try this. It looks fantastic!! Wish me luck.
Reviewer:
Josie
Rating:
Review:
I was wondering.. is there a substitute for gelatin?
Reviewer:
Heather
Rating:
Review:
I have made this fondant several times and it is terrific! Tastes great. I make it, then to colour it, I chop it into cubes and bit by bit, add it into the food processor. Don't over process it or it will become 'gummy' (and you will take a chance overheating your machine), but instead, pulse slowly. The friction of the heat will soften the fondant making it lovely to work with. Good luck!
Reviewer:
evelyn
Rating:
Review:
I learned fondant long ago and now there is a new ingredient called CMC and it makes the fondant like a chewing gum and i don't know how to use it. Can you please give me the tips for applying it?
Reviewer:
temichelle
Rating:
Review:
It sounds easy. I've not tried it yet but will get around to. Will let you know the outcome.
Reviewer:
areej
Rating:
Review:
i was wondering if there is any substitute for gelatin and glycerin? thanks.
Reviewer:
somtochukwu
Rating:
Review:
Hi Diana, I quiet agree with Evelyn, how do i use CMC and is there possibly a newer recipe for fondant? Please, am expecting your reply soon as I have been looking for the perfect recipe for my fondant.
Reviewer:
Jeri Green
Rating:
Review:
Great recipe, for a first time fondant person. What do I add to make chocolate fondant?
Reviewer:
Salem Thorup
Rating:
Review:
Ok. Still haven't been able to try it yet, but I was wondering if fructose could be a viable substitute for glucose. Please someone let me know asap! Thanks
Reviewer:
Tracy Kay
Rating:
Review:
Hello, Today I made the fondant using beef gelatin from the health food store. It worked just fine. I know agar agar is a good substitute as well. I used glucose from Wilton, but next time I plan to use white corn syrup. I believe it will work the same and maybe better. This was my first experiment making fondant. It went ok...but I think it would be easier if I had a piece of clear vinyl to put the fondant on and another piece to put over top and roll it out. I saw this done on a video online. Either way, I'm sure it gets easier as you give it a couple of tries. Also...I will add my color next time at the point of adding the glycerine. Good Luck! Tracy
Reviewer:
koko
Rating:
Review:
Please, your recipe sounds great but I cannot find any glucose or any glycerine. What is the substitute?
Reviewer:
azlan
Rating:
Review:
verrrrrrry goooood!
Reviewer:
aditi
Rating:
Review:
I live in India and cant find all the ingredients.............how will i find them?