Diana's Desserts - www.dianasdesserts.com
See more recipes in
Quick and Easy
Simple Chocolate Cake
in Diana's Recipe Book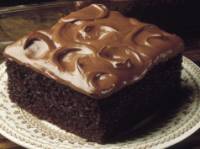 Average Rating:
(total ratings: 9)
[Read reviews]
[Post a review]
Servings: 16
Comments:
"I adore every one of Dinah Shore's cookbooks. Did you know that she was an excellent cook and loved to entertain? Her three books are all out of print, but if you find them, snatch them up. This perfect cake recipe is from her first book Someone's In The Kitchen With Dinah. She says it comes from Fanny Brice.".......From cookbook article

Ingredients:

4 squares (4 ounces) unsweetened chocolate
1 stick (4 ounces/1/2 cup) unsalted butter
1 cup hot water
2 cups all-purpose flour
2 cups granulated sugar
pinch of salt
1/3 cup buttermilk
1 1/4 tsp. baking soda
2 eggs, beaten
1 tsp. vanilla extract

For Chocolate Frosting
2 squares (2 ounces) unsweetened chocolate
1/4 cup butter
8 tbsp. milk
4 cups confectioners' sugar
1 tbsp. vanilla extract

Instructions:
Preheat oven to 350 degrees F (180 C). Grease and flour a 9 x 13-inch baking pan.

In a large saucepan, melt the chocolate and butter in the hot water and bring to a boil. Remove from heat and add flour, sugar and salt. Mix well with a wire whisk or eggbeater. Then stir in buttermilk, baking soda, eggs and vanilla and beat until smooth. Pour into prepared baking pan and bake at 350 degrees F (180 C) for 25-30 minutes, until the top springs back when touched with a fingertip. Make the frosting while the cake is in the oven.

While the cake is baking, make the frosting. In a heavy saucepan, melt the chocolate and butter together. Add remaining ingredients and beat well. You may need to add more milk or confectioners' sugar to reach the desired consistency: the frosting should be pourable.

When the cake comes out of the oven, let cool for 15 minutes, then pour the frosting over. Spread if necessary, and let the cake cool.

Makes 16 servings.
Source: Adapted from: Someone's In the Kitchen With Dinah
Date: August 2, 2003
Reviews
Reviewer:
This looks yummy!
Rating:
Review:
I give this recipe a thumbs up! (By the way, I see it's from Dinah Shore's cookbook...this is not a dessert question, but I wonder if you might be able to pass along Dinah's recipe for Tennessee Lasagna?) my email address: bonlee@amtelecom.net
Reviewer:
maria
Rating:
Review:
LET THEM EAT CAKE!!!its awesome.....mmm, goood...made me gain 5kg..but it's good!!
Reviewer:
k00kie
Rating:
Review:
looks yummy~ and im making this for my mom... and im 13... so i hope this works!!
Reviewer:
Heather Peskin
Rating:
Review:
What a lovely chocolate sheet cake. I have just sampled it to see if it's good to go to the Sunday morning coffee hour - it is soft and choclatey and so easy to make. I now have the confidence to try more sheet cakes.
Reviewer:
KIKI
Rating:
Review:
yum! im just lovin' the taste of it!
Reviewer:
Roshni Dookhy
Rating:
Review:
My first impression was WOW, simply delicious. In addition to that its easy to prepare. A GIFT FROM HEAVEN!
Reviewer:
Kat
Rating:
Review:
I was given this recipe 23 years ago from a friend. It was entitled "Fanny Brice's Chocolate Cake" so it looks like Dinah Shore was correct, that it did come originally from Fanny Brice who was the original "Funny Girl". It's pretty neat when a recipe has some history behind it. My recipe matches this one exactly except mine calls for 1 1/2 cups of buttermilk, not a 1/3. I think you'll find adding that extra will make it more moist and yummy, if that's even possible. This has been my "go to" recipe for almost 25 years now. Whenever I need a great tasting, easy chocolate cake this is the one I use. Enjoy!
Reviewer:
Sally
Rating:
Review:
I'm a terrible cook, (I'd probably burn a salad) but I've got to say, this recipe was really easy and tasted great when I made this!!"
Reviewer:
Debbie
Rating:
Review:
This is a wonderfully moist and delicious chocolate cake and so easy to make. I loved the fact that I did not have to drag out my mixer - I made both the cake and the frosting in the same pan on the stove. It was so easy and I could not believe how good it turned out! This will be my go to chocolate sheet cake from now on - no need to use a cake mix any more when I want a quick chocolate cake because the flavor of this cake trumps any cake mix by far and the ease in preparation will keep me coming back again and again. Thanks for providing such a great recipe.