Diana's Desserts - www.dianasdesserts.com
See more recipes in
Pies and Tarts
Southern Fried Fruit Pies
in Diana's Recipe Book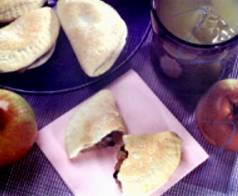 Average Rating:
(total ratings: 10)
[Read reviews]
[Post a review]
Servings: Makes 1 dozen pies
Comments:
These little goodies originated in the southern part of the United States. Several other countries have their variations of fruit pies such as Mexico. Their's are called Empanadas, and can be either savory or sweet.
Ingredients:

2 cups all-purpose flour
1/2 teaspoon salt
1/2 teaspoon granulated sugar
1 teaspoon baking powder
3/4 cup heavy cream, room temperature
1 egg, separated
1/3 cup vegetable shortening, melted
1 can (16 ounces) fruit pie filling (any fruit pie filling of your choice, such as peach, apricot, apple, blueberry, etc.)
Chopped nuts, (optional)
Additional shortening or vegetable oil for frying

Garnish: (optional)
Confectioners' sugar
Instructions:
1). In a medium bowl, combine flour, salt, sugar and baking powder. In a small bowl, mix cream, egg yolk and melted shortening. Add liquid ingredients to the dry to make a soft dough. Cover and refrigerate 2 hours.

2). Remove half of the dough from the refrigerator; keep the remainder chilled. Lightly flour a board. Divide the dough into 6 parts and form balls. Flatten one with your hands, then roll out to the size of a saucer. Place 2 tablespoons filling in center of the dough. Fold over until the edges meet. Press edges with a fork to seal. Repeat with remaining dough to make 1 dozen pies.

3). Beat egg white until frothy, adding a teaspoon of water. Brush edges of pies with egg white mixture to seal. Place pies in the refrigerator and chill for 30 minutes to 1 hour.

4). In a large, deep skillet, melt enough shortening or use enough oil to reach a depth of about 2 inches. Heat to 375° F (190° C). Add pies, no more than 2 or 3 at a time, and fry until golden. Turn once and cook until golden on the other side, about 3 to 5 minutes total. Drain well on absorbent paper. If desired, sprinkle with confectioners' sugar.

Notes:
1). If you do not want to fry your pies, they may be baked on lightly greased baking sheets at 425° (220° C) for 12 minutes.

2). 1 (15-ounce) package refrigerated piecrusts may be used instead of making the pie dough from scratch, or you can also substitute with ready-made store bought refrigerated biscuit dough.

3). Coarsely chopped nuts, such as walnuts or pecans, can be mixed in with the fruit pie filling giving these fried pies an extra crunch.

Makes 1 dozen fried fruit pies.

Date: June 30, 2003
Reviews
Reviewer:
Lisa
Rating:
Review:
Just like Mom used to make! I was searching for a way to bake vs fry her southern fried pies, and I found it. Thank you.
Reviewer:
Linda
Rating:
Review:
My grandmother use to make these for all the grandchildren...now I'm making them for mine!
Reviewer:
Jim
Rating:
Review:
Brings back good memories. Mom fried these for us kids back in the early 1950's... Thanks
Reviewer:
Penelope
Rating:
Review:
A TRUE southern fried fruit pie uses dried fruit not CANNED (bleh) fruit pie filling. You should be ashamed...
Reviewer:
Brett
Rating:
Review:
A TRUE southern fried fruit pie or in the case of a fig pie called a "fig tart" in southeast Alabama and north Florida, uses fig preserves or other fruit preserves instead of dried or canned pie filling.
Reviewer:
Faith
Rating:
Review:
I have yet to make these but thank you for sharing this. I love old recipes, 'cause they're the BEST!, and I love cooking. I do agree with Penelope that canned fruit is 'bleh' but Penelope I have learned to use any recipe and substitute certain items with healthier things and adjust amounts to make it come out right. Thank you again! -Faith
Reviewer:
Katherine
Rating:
Review:
Made the pie filling and the crust from scratch. They were awesome - my husband said it's the best thing we've ever done with cherries.
Reviewer:
Claire
Rating:
Review:
Penelope, your editorial comments (bleh) can and should be kept to yourself. If you want to review the recipe, then do so. Bless your heart!
Reviewer:
Joyce
Rating:
Review:
I cant WAIT to try these! I crave the old McDonald's fried pies, this looks like it would taste the same, thank you!
Reviewer:
shelly
Rating:
Review:
I am grateful you posted this recipe. I am a lifelong resident of the South and although I have never had a fried pie made with preserves. I wouldn't be opposed to trying something new. You know life sure is a lot better for everyone when we use our manners, it's free people.