Diana's Desserts - www.dianasdesserts.com
See more recipes in
Pies and Tarts
Mississippi Mud Pie
in Diana's Recipe Book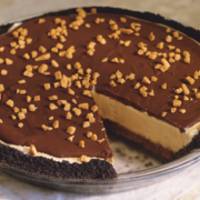 Average Rating:
(total ratings: 5)
[Read reviews]
[Post a review]
Servings: 8
Ingredients:

1 Chocolate Cookie Crumb Crust (see below)
1 cup semisweet chocolate chips
4 tbsp. (1/2 stick/2 oz./56g) unsalted butter
1/4 cup heavy cream
2 tbsp. light corn syrup
1 cup confectioners' sugar, sifted
1 tsp. vanilla extract
1/2 cup toffee bits or coarsely chopped toasted almonds *(See Note)
1 quart premium coffee ice cream, softened

Instructions:
Chocolate Cookie Crumb Crust

1 1/4 cups chocolate wafer cookie crumbs
5 tbsp. unsalted butter, melted
3 tbsp. granulated sugar

Instructions for making the crust:
Position a rack in the middle of an oven and preheat to 350°F (180°C).

In a bowl, combine the cookie crumbs, butter and sugar and stir until the crumbs are well moistened. Pat the mixture firmly and evenly into the bottom and all the way up the sides of a 9-inch (23cm) pie pan or dish.

Bake until the crust is firm, about 5 minutes. For a firmer, crunchier crust, bake for 5 minutes more. Remove from oven, and let cool.

Instructions for making the pie:
In the top pan of a double boiler, combine the chocolate chips, butter, cream and corn syrup. Set over but not touching barely simmering water in the bottom pan until the chocolate is melted, stirring occasionally. Alternatively, in a microwaveproof bowl, combine the chocolate, butter, cream and corn syrup and melt in the microwave for 30-second intervals. Remove from the microwave and stir until smooth.

Add the confectioners' sugar and vanilla to the chocolate mixture and mix well. Reserve 1/2 cup of the chocolate mixture for the top of the pie. Spread the remaining mixture evenly in the bottom of the cookie crust. Sprinkle with half of the toffee bits. Refrigerate until well chilled, about 1 hour.

In a large bowl, using an electric mixer, beat the ice cream on medium speed until it is spreadable but not runny. Immediately mound into the pie shell and spread evenly. Freeze until the ice cream is firm, at least 2 hours or up to overnight.

Reheat the reserved chocolate mixture in the top of the double boiler over barely simmering water, or in the microwave for 30-second intervals, until it is spreadable but not hot. Using a spatula, spread it over the ice cream. Sprinkle with the remaining toffee bits and return the pie to the freezer until it is completely firm before serving, 3 to 4 hours.

To slice, run a knife under hot water, then dry it off. If frozen overnight, the pie may need to stand at room temperature for a few minutes before it is soft enough to slice easily.

Makes 8 servings.

*Note: You can find packaged toffee bits in the baking section of well-stocked markets, or chop up a toffee candy bar. The toffee bits make this pie a special treat, especially for children. For a more sophisticated version, use toasted almonds.

Adapted from Williams-Sonoma Collection Series,Pie & Tart,by Carolyn Beth Weil (Simon & Schuster, 2003).
Date: June 18, 2003
Reviews
Reviewer:
ally
Rating:
Review:
It's very yummy! Definitely one of my favourite desserts! This is a wonderful recipe that is absolutely delicious!
Reviewer:
shireen dyers
Rating:
Review:
The best recipe yet
Reviewer:
Linda Dion
Rating:
Review:
This is my daughter's favorite dessert for her birthday each year since she became an adult...this is the best one yet!! Thanks
Reviewer:
Chocolate_Freak
Rating:
Review:
It is a rather exquisite dessert and although rather rich, exceedingly good, Beats Kipling anytime!
Reviewer:
Pierre
Rating:
Review:
Best Pie Ever!