Diana's Desserts - www.dianasdesserts.com
See more recipes in
Treats For Kids
Honey Bunnies
in Diana's Recipe Book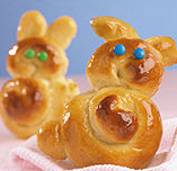 [Be the first to post a review!]
Servings: 15 bunnies
Comments:
Perfect for Easter, have the kid's help shape and decorate the bunnies.

Ingredients:

4 1/2 - 5 cups all-purpose flour
2 envelopes (1/2 oz./14 grams total) quick rise yeast
1 tsp. salt
2/3 cup evaporated milk
1 cup clear honey, divided
3/4 cup butter or margarine, divided
1/2 cup water
2 eggs
Raisin or candy, for decoration

Instructions:
Reserve 1 cup flour. In large bowl, mix remaining flour, yeast and salt. Heat evaporated milk, 1/2 cup honey, 1/2 cup butter and water until 125°F (50°C). Stir into dry ingredients. Mix in eggs and enough reserved flour to make soft dough that does not stick to bowl.

Knead until smooth and elastic, about 8 minutes. Place in greased bowl. Grease top, cover tightly and refrigerate for 2 hours (or up to 24 hours).

Punch dough down. Divide into 15 pieces; ran each to 20 inch (50 cm) rope. Divide each rope into: 1-12 inch (30 cm), 1 - 5 inch (13 cm) and 3 -1 inch (2.5 cm) strips. Coil 12-inch (30 cm) strip to make body; coil 5-inch (13 on) strip to make head; shape remaining strips into ears and tail and attach to the body and head

Place bunnies on greased baking sheets. Cover; let rise until double in size, about 25 minutes. Bake at 375°F (190°C) for 12-15 minutes.

Honey Glaze:
Stir remaining 1/2 cup honey and 1/4 cup butter over low heat until melted. Brush each bunny with glaze while warm. Decorate with raisins or candies, etc. Brush again with honey before serving.

Makes 15 bunnies.

Date: June 9, 2003