Diana's Desserts - www.dianasdesserts.com
See more recipes in
Quick and Easy
Quick and Easy Boston Cream Pie
in Diana's Recipe Book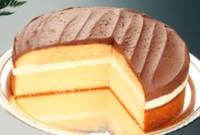 Average Rating:
(total ratings: 7)
[Read reviews]
[Post a review]
Servings: 8
Comments:
Here's an easy recipe for Boston Cream Pie (really a cake) that everyone will enjoy, and will get you out of the kitchen quick!
Ingredients:

For the Cake:
1 package yellow cake mix (single layer size)
1/2 tsp. orange extract

For the Filling:
1 (4 ounce size) instant vanilla pudding
1 tsp. vanilla extract

For the Icing:
1 cup confectioners' sugar
1/4 cup baking cocoa
1/8 tsp. salt
1 tbsp. butter or margarine, softened
3 tbsp. hot water

Instructions:
For Cake:
Prepare the cake mix according to package instructions, adding the orange extract to the batter. Pour into a greased and floured 8-inch round cake pan. Bake according to package instructions, until a toothpick or cake tester inserted into center of cake comes out clean. Cool cake in pan on wire rack for 10 minutes, then remove from pan and cool completely on wire rack.

For Filling:
Prepare pudding mix according to package instructions, adding vanilla extract to the mix. Place in a bowl and cover with plastic wrap touching the surface of the pudding to prevent skin from forming on top. Cool pudding in refrigerator until completely set.

For Icing:
Mix confectioners' sugar and cocoa together, blend in softened butter. Add hot water and stir until smooth. Cool until it reaches a consistency of frosting, about 15 to 30 minutes.

To Assemble:
With a serrated knife, cut cake horizantally into 2 even layers. Spread pudding mixture over bottom layer and cover with top layer. Frost with icing to cover only the top of cake. Allow cake to chill at least 2 to 4 hours before slicing. Store any leftovers in the refrigerator.

Makes 8 servings.

Note:
The custard filling and the icing may be made a day ahead of time and stored in the refrigerator. the cake can also be prepared a day ahead of time if wrapped well after it cools.

If the icing hardens, bring it to room temperature on your kitchen counter or warm it gently for a few seconds in the microwave oven and stir until smooth. If icing is heated too much, allow it to cool before using.
Source: DianasDesserts.com
Date: June 6, 2003
Reviews
Reviewer:
Ivy
Rating:
Review:
Wow!!! It was so easy and everyone loves it!!!
Reviewer:
ME
Rating:
Review:
Quick, easy and delicious!!!
Reviewer:
Rocky
Rating:
Review:
THE QUICKEST AND BEST TASTING PIE EVER!!!!
Reviewer:
Linda Winklerq
Rating:
Review:
Boston Cream pie isn't supposed to be have icing. It is supposed to have a chocolate glaze that runs down the sides. Today it's usually called a ganache.
Reviewer:
nana
Rating:
Review:
I understand this is a quick version but it is not authentic at all. The filling should be cooked pudding or custard. The topping should be a ganache, not a frosting and I have never heard of adding an orange flavoring to the cake. I think you might rename this to Faked Boston Cream Pie. My family would turn up their noses at this.
Reviewer:
kelli
Rating:
Review:
I modified this to make cupcakes for my friend's wedding and did indeed use ganache instead of chocolate frosting (that was the one thing the bride was very specific about). Everyone enjoyed them, thanks for the recipe. And nana, if you don't have anything nice to say don't bother saying anything at all. Thanks Diana, good night!
Reviewer:
kathy
Rating:
Review:
I absolutely love this cake/pie recipe .And by the way Linda- the frosting can be made thin enough to "run down the sides"..It's quick and delicious just the way it is..If you want "real" boston creme pie- then make it!!!!!