Diana's Desserts - www.dianasdesserts.com
See more recipes in
Quick and Easy
Easy Fruit Cobbler
in Diana's Recipe Book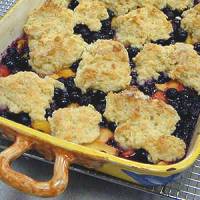 [Be the first to post a review!]
Servings: 8
Comments:
This fruit cobbler can still go from your imagination to the table in less than 20 minutes. I used (at different times) frozen blackberries, blueberries, and strawberries, and each version was loved.

Ingredients:

For the Fruit:
3 cups berries or diced peaches, fresh or frozen
1/2 cup granulated sugar
Pinch of salt
1 tablespoon lemon juice

For the Cobbler Crust:
3/4 cup granulated sugar
1 cup unbleached all-purpose flour
3/4 teaspoon baking powder
1/4 teaspoon salt
2 large eggs
1 teaspoon vanilla extract
3 tablespoons butter, melted
Instructions:
Lightly grease a 9-inch microwave-safe pie pan (glass or ceramic), or a microwave-safe 9-inch round or 8-inch square cake pan.

For the Fruit:
Toss the berries or peaches with the sugar, salt, and lemon juice. Spoon the berries into the prepared pan; if they're frozen, microwave them on regular power for 2 minutes, to thaw.

For the Crust:
In a medium-sized bowl, whisk together the sugar, flour, baking powder, and salt. Add the eggs, vanilla, and melted butter, beating till smooth; the batter will be quite stiff, somewhere between cake batter and cookie dough.

Spoon the batter over the fruit in the pan, spreading it to cover as much as possible. If the batter doesn't cover the fruit entirely, it's not critical. Cover the baking dish, and microwave on regular power for 5 minutes. Remove the cover, and microwave for an additional 7 to 10 minutes, or until the batter is set and dry at the edges, and set and moist in the center. Remove the cobbler from the oven, and allow it to rest at room temperature for 10 minutes before serving. Serve with ice cream, if desired.

Makes 8 servings.

Date: May 26, 2003