Diana's Desserts - www.dianasdesserts.com
See more recipes in
Christmas
Turkish Delight
in Diana's Recipe Book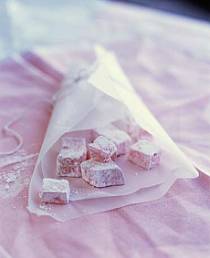 Average Rating:
(total ratings: 10)
[Read reviews]
[Post a review]
Servings: Makes approximately 80 pieces
Comments:
A NOTE FOR THIS HOLIDAY SEASON,

A well-known baker, chef, cookbook author, etc. is recommending some wonderful "perfumes" and other "beauty" items for this holiday season and I thought to myself, "sweets are the loveliest perfumes of all", so here is a recipe for Turkish Delight, which is "perfumed" with the most wonderful and natural scent of "rosewater". Enjoy the fragrance this holiday season and all through the coming year!

About Turkish Delight
Turkish towns are lined with sweet stalls selling unbelievable arrays of these aromatic treats and a relaxing hour spent acquiring each flavor is a traveler's essential.

A British man must have been doing just that when he labeled them Turkish Delight, but their true name is Rahat Lokum, which means 'little bite of contentment'.

These blissful sweets are usually served on birthdays or other special occasions and because they last for up to six months, most Turkish households have them on hand. Allow their soft texture and exotic taste to bring a sigh to someone's lips. Place the pretty bites in a box amid dustings of confectioners' sugar and finish with an organza ribbon for a truly lovely and different gift for the holidays.

This appealing candy is easy to make at home. Rosewater can be found at specialty food stores* (See note below on Where to Buy Rose Water online). When the sugar syrup boils, coat the inside of the saucepan with a brush dipped in water to prevent sugar crystals from forming.
Ingredients:

4 cups granulated sugar
4 1/2 cups water
2 teaspoons lemon juice
1 1/4 cups cornstarch
1 teaspoon cream of tartar
1 1/2 tablespoons Rosewater* (see note)
Red or yellow food coloring (optional)
1 cup confectioners' sugar

Instructions:
Oil a 9-inch square pan. Line with plastic wrap and oil the plastic wrap.

In a heavy saucepan over medium heat, combine the sugar, 1 1/2 cups of the water, and the lemon juice. Stir until the sugar dissolves and the mixture boils. Reduce the heat and simmer gently, without stirring, until the mixture reaches the soft-ball stage (240 degrees F/115 degrees C at sea level, or 28 degrees F/-2.2 degrees C above the boiling point of water as measured on your candy thermometer). Remove the pan from the heat.

In a second large heavy saucepan over medium heat, stir together 1 cup cornstarch and the cream of tartar. Gradually stir in the remaining 3 cups of water until no lumps remain. Stir constantly, until the mixture boils and is a thick, gluey paste.

Slowly pour the hot sugar, water, and lemon juice syrup into the cornstarch mixture, stirring constantly. Reduce the heat and simmer, stirring often to prevent sticking, for about 1 hour, or until the mixture has become a pale golden color.

Stir in the rosewater and tint as desired with food coloring. Pour the mixture into the prepared pan and spread evenly. Cool to room temperature and let stand, uncovered, overnight to set.

Sift the confectioners' sugar and the remaining 1/4 cup cornstarch onto a large cutting board. Turn the Turkish Delight out and cut into 1-inch squares with an oiled knife. Roll pieces in the sugar mixture to coat well. Store in an airtight container with sheets of waxed paper, dusted with the sugar mixture, separating every layer.

*Note
Rosewater can be purchased at some upscale gourmet food or cooking stores, at middle-eatern markets and online at: Amazon.com, kingarthurflour.com, gourmetsleuth.com, fancyflours.com, farawayfoods.com and at many other stores online.

Makes approximately 80 pieces.
Date: May 26, 2003
Reviews
Reviewer:
Olivia
Rating:
Review:
A tasty treat that melts in your mouth.
Reviewer:
Goargie
Rating:
Review:
It was so easy to make and was beautiful,everybody who tried it said it was the best they had ever had!
Reviewer:
Holly
Rating:
Review:
It was fantastic. Everyone loved it!
Reviewer:
Jessica
Rating:
Review:
It was fabbo!! You should make way more recipes for other things cause we will all love it!! everyone that tried it said it was the best turkish delight eva and think you should advertise it on tv or actually make the stuff and sell it in stores!!! Cheers!
Reviewer:
L-Man
Rating:
Reviewer:
lisa
Rating:
Review:
easy to make. love the treat. need help! I can not keep the sugar coating stay on the turkish delight. it seems to evalporate. please if someone can help. thanks
Reviewer:
Khaleefah
Rating:
Review:
I'ts so tasty and easy to make. I call it the master of all sweets.
Reviewer:
Lucy
Rating:
Review:
How is the consistancy supposed to be? mine is so goooy its not like other turkish delight i've had.
Reviewer:
Elamx
Rating:
Review:
very well done- good job!
Reviewer:
carlie
Rating:
Review:
it was very good. i just love turkish delight, yum!