Diana's Desserts - www.dianasdesserts.com
See more recipes in
Miscellaneous Desserts, Etc.
Ladyfingers or Sponge Fingers
in Diana's Recipe Book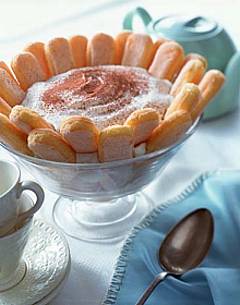 [Be the first to post a review!]
Servings: Makes 24 ladyfingers
Comments:
Ladyfingers (known in Italy as "savoiardi") are small, delicate sponge cakes that are shaped like large, rather fat fingers. Their light texture results from the small proportion of flour to sugar and the large number of eggs used in their production. These little cakes can also be soaked in liqueur to be used in charlottes and and other desserts, or for their most famous usage, used in tiramisu (which means "pick me up"). Tiramisu is a sinfully rich dessert made of ladyfingers soaked in coffee and layered with a mascarpone-liqueur filling.

Ladyfingers are also very nice served by themselves with coffee or tea.
Ingredients:

2 tablespoons (1/4 stick/1oz/28g) butter
3/4 cup plus 2 tablespoons sifted flour
4 egg yolks
1/2 cup superfine or granulated sugar
4 egg whites, beaten until stiff
Pinch of salt
1 teaspoon vanilla extract
Confectioners' sugar for dusting (optional)


Instructions:
Preheat oven to 350 degrees F/180 degrees C. Grease and flour 2 baking sheets with 2 tablespoons butter and 2 tablespoons of flour. Mark parallel lines in the flour across the width of the tray about 4 inches apart.

Put the eggs and sugar in a large mixing bowl, and with an electric mixer fitted with a wire whisk beat on medium-high speed until the mixture is pale yellow, thick, and has tripled in volume, about 8 minutes, using the mixer. Add the egg whites, remaining 3/4 cup flour, salt and vanilla, fold to mix thoroughly so the mixture is smooth.

Fill a large pastry bag with a 3/4-inch plain tube with the mixture. Pipe fingers about 4 1/2-inches in length on to the baking sheet, using the lines as a guide. Dust the ladyfingers with confectioners' sugar (optional). Bake for 15 to 18 minutes, or until just firm on the outside and soft in the center.

Makes 24 ladyfingers.
Source: DianasDesserts.com
Date: February 10, 2002