Diana's Desserts - www.dianasdesserts.com
See more recipes in
Miscellaneous Desserts, Etc.
Tiramisu-Mascarpone Fondue
in Diana's Recipe Book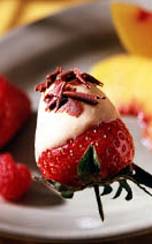 [Be the first to post a review!]
Servings: 4 - 6 servings
Comments:
This fondue recipe is one I found in the newspaper, and it is definitely a pleasant change from the "traditional" chocolate fondue we are used to having. Not everyone likes chocolate! So, try this Italian inspired tiramisu-mascarpone fondue for a nice change.
Ingredients:

1 tsp. instant espresso powder (available at Italian food stores and supermarkets; or substitute 1 1/2 tsp. instant coffee powder)
1 tbsp. boiling water
17 oz. mascarpone cheese
1/4 cup confectioners' sugar
2 tbsp. sweet (not dry) Marsala wine
2 tsps. cornstarch
3 large egg yolks, at room temperature
Finely chopped bittersweet chocolate, for serving

For Dipping:
Crisp Italian ladyfingers
Large whole strawberries with stems attached
Peaches cut in wedges

Instructions:
In a small bowl, dissolve espresso powder in boiling water. In the top part of a double boiler over simmering water, combine the espresso liquid, mascarpone, confectioners' sugar, Marsala and cornstarch, mashing with a rubber spatula until the mascarpone has melted and the mixture is smooth.

In a medium bowl, whisk the egg yolks to combine. Gradually whisk in about 1/2 cup of the warm mascarpone mixture. Whisk the egg yolk mixture into the mascarpone mixture. Whisking constantly, cook until the fondue is hot and thickened (an instant-read thermometer will read 180 degrees F (82 degrees C), about 2 minutes.

Transfer to a ceramic fondue pot or chafing dish and keep warm over a burner. Place the chopped chocolate in small, individual bowls. Serve immediately, with the dipping ingredients of your choice, allowing guests to dip their fondue-covered food into the chocolate before eating.

Makes 4 - 6 servings.

Date: May 17, 2003