Diana's Desserts - www.dianasdesserts.com
See more recipes in
Tea Time
Raisin Nut Savarin
in Diana's Recipe Book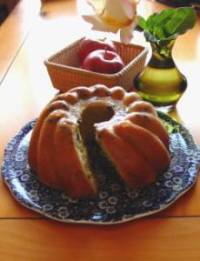 [Be the first to post a review!]
Servings: 12 slices
Comments:
Savarin

Definition: [SAV-uh-rihn; sa-va-RAN] This variation on the baba* (definition of baba follows) is made without raisins and baked in a large ring mold. Named after Brillat-Savarin, a famous 18th-century food writer, this rich yeast cake is soaked with rum-flavored syrup and filled with pastry cream, crème chantilly or fresh fruit.

Baba

Definition: [BAH-bah] Also called baba au rhum, this rich, light currant- or raisin-studded yeast cake is soaked in a rum or kirsch syrup. It's said to have been invented in the 1600s by Polish King Lesczyinski, who soaked his stale kugelhopf in rum and named the dessert after the storybook hero Ali Baba. The classic baba is baked in a tall, cylindrical mold but the cake can be made in a variety of shapes, including small individual rounds. When the cake is baked in a large ring mold it's known as a savarin.

Source: The New Food Lover's Companion, Second Edition, 1995 by Sharon Tyler Herbst.

Slice this rich and tasty raisin-nut savarin in small pieces and serve with coffee or tea. Makes a lovely "tea time" cake, or very nice served warm at breakfast time.
Ingredients:

The Cake:
2 cups all-purpose flour
1/4 cup granulated sugar
1 package (1/4oz./7 grams) active dry yeast
1/2 teaspoon salt
1/2 cup (4oz./1 stick) butter
1/3 cup skim or low-fat milk
6 eggs
3/4 cup raisins or currants
1/2 cup chopped walnuts (or any other nuts of your choice)

The Orange Syrup:
1/2 cup granulated sugar
1/4 cup orange juice
1/2 teaspoon rum flavoring (optional)

Instructions:
For the Cake:
In large mixing bowl, stir together flour, the 1/4 cup sugar, the yeast and the salt. Set aside. In small saucepan over medium heat, heat butter and milk until warm (120º to 130ºF/48º to 54ºC). Add to dry ingredients. Add eggs, one at a time, beating at low speed until blended. At high speed, beat 3 minutes more. Stir in raisins and nuts. Cover and let rise in warm place until doubled in size, about 1 to 1 1/2 hours. Stir down. Spoon into greased 9-cup (2.16 litre) fluted tube pan. Cover and let rise in warm place until doubled, about 45 minutes. Bake in preheated 350ºF (180ºC) oven until lightly browned, and cake tester inserted near center comes out clean, about 20 to 25 minutes. Cool in pan 10 minutes. Invert onto serving platter.

For the Orange Syrup:
In small saucepan, stir together the 1/2 cup sugar and orange juice. Cook over medium-high heat, stirring constantly, until mixture boils. Remove from heat. Stir in rum flavoring (optional). With fork, pierce cake at 1-inch intervals. Slowly spoon orange syrup over cake until absorbed. Serve at room temperature.

Tip: If desired, serve savarin with fresh fruit, whipped cream, pastry cream, or chantilly cream. If you like, fill up the hole in center of cake with fruit or pastry cream or combination of both. Doing this makes a very colorful and attractive presentation, and tastes "yummy" too!

Makes 12 servings.

Photograph taken by Diana Baker Woodall
Source: DianasDesserts.com
Date: May 17, 2003