Diana's Desserts - www.dianasdesserts.com
See more recipes in
Holidays and Celebrations
Mocha Tiramisu Trifle
in Diana's Recipe Book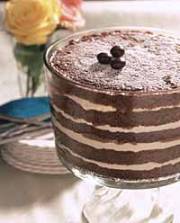 Average Rating:
(total ratings: 2)
[Read reviews]
[Post a review]
Servings: 12
Comments:
Here's a trifle for the coffee and chocolate lover's. A beautiful and delightful dessert for any special holiday or celebration.
Ingredients:

1 (14 oz.) can sweetened condensed milk, divided
1 package chocolate cake mix with pudding
1 cup water
2 large eggs
1/2 cup vegetable oil
1/2 cup coffee liqueur
Creamy Coffee Filling (see recipe below)
Espresso Sauce (see recipe below)
Chocolate-covered coffee beans (optional)

Instructions:
Preheat oven to 350°F (180°C). Grease five (8-inch) round cake pans. Reserve 1/4 cup sweetened condensed milk for Creamy Coffee filling.

In large mixing bowl, beat 3/4 cup sweetened condensed milk, cake mix, water, eggs and oil until blended. Pour 1 cup batter into each prepared pan.

Bake 13 to 14 minutes. Cool in pans on wire racks 10 minutes. Remove from pans; cool completely on wire racks. Prepare Creamy Coffee Filling and Espresso Sauce.

Brush each cake layer evenly with liqueur. Place 1 cake layer in 4-quart trifle dish or bowl; top with 1-1/2 cups Creamy Coffee Filling. Drizzle with 1/2 cup Espresso Sauce. Repeat procedure with remaining cake layers, 1 cup chocolate filling, and 1/4 cup sauce, ending with cake layer. Garnish with chocolate-covered coffee beans. Chill. Store covered in refrigerator.

Creamy Coffee Filling:
Makes 4-1/2 cups filling

Ingredients
1/4 cup reserved sweetened condensed milk
1 (8 oz.) package cream cheese, softened
2 tablespoons coffee liqueur
1-1/2 cups whipping cream

In large mixing bowl, beat first 3 ingredients until blended, about 4 minutes. Add whipping cream and beat until stiff peaks form. Chill, if desired.

Espresso Sauce
Makes 1-1/4 cups sauce

Ingredients
1 cup water
1/2 cup ground espresso
1 (14 oz.) can sweetened condensed milk
1/4 cup (1/2 stick) butter or margarine

In small saucepan over medium heat, bring 1 cup water and ground espresso to a boil. Remove from heat and let stand 5 minutes. Pour mixture through fine wire-mesh strainer; discard grounds. In small saucepan over medium heat, combine espresso and sweetened condensed milk. Bring to a boil. Remove from heat, stir in butter. Cool.

Servings: Trifle makes 12 servings.
Date: May 7, 2003
Reviews
Reviewer:
Susan Weiss
Rating:
Review:
Yum, mine did not look as good as this (didn't have a proper dish) - but it passed the trifle test from my British boyfriend. I didn't make the cake with pudding (couldn't find a pudding mix in the grocery store, wonder if they still sell them). British boyfriend, said the cake soaked in the Espresso sauce and the kahlua syrup (or coffee liquor if you're using that). I used a kahlua syrup from DiVinci). This was all he wanted. I however ate the rest of it. If I were to make it again (and I will), I would double the cream amount.
Mine didn't stretch as far as it should have.
Reviewer:
Nancy Duggan
Rating:
Review:
I made this as dessert for a dinner party and everyone loved it! I will definitely make it again. I used 4 (8-inch) round cake pans instead of 5 and doubled the Creamy Coffee Filling so as to have some to "top" the dessert with. Instead of using 1 c. of water to make espresso, I used 1 cup of cold, strong coffee. I also substituted shaved choc. for the choc.-covered coffee beans.