Diana's Desserts - www.dianasdesserts.com
See more recipes in
Treats For Kids
Brown Sugar-Raisin Bread
in Diana's Recipe Book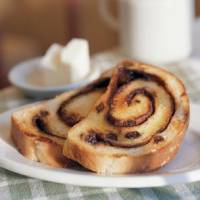 [Be the first to post a review!]
Servings: Makes two (9 x 5-inch) loaves
Comments:
Brown sugar is granulated sugar combined with molasses to make a soft, richly flavored sweetener. Two main types are available, light and dark. Light brown sugar, also called golden, contains a relatively small amount of molasses and gives a delicate yet distinctive flavor to breads. Dark brown sugar has a higher molasses content and is moister with a more assertive flavor. Measure brown sugar by firmly packing it into a measuring cup. It should retain the shape of the cup when tapped out.

A treat not just for the kids, everyone in your house will love it.
Ingredients:

1 tbsp. active dry yeast
3 tbsp. granulated sugar
1 1/4 cups warm water (105°F-115°F/40°C-46°C)
1 cup warm milk (105°F-115°F/40°C-46°C)
3 tbsp. unsalted butter, melted
1 tbsp. salt
1 egg, lightly beaten
6 to 6 1/4 cups bread flour, plus more
as needed
3/4 cup golden raisins
3/4 cup dark raisins

For The Filling:
2/3 cup firmly packed light brown sugar
mixed with 4 1/2 tsp. ground cinnamon

Instructions:
In a bowl, sprinkle the yeast and a pinch of the granulated sugar over 1/2 cup of the water and stir to dissolve. Let stand until foamy, about 10 minutes.

In the bowl of an electric mixer fitted with the flat beater, combine the remaining 3/4 cup water, the milk, butter, the remaining granulated sugar, salt, egg and 2 cups of the flour. Beat on medium speed until creamy, about 1 minute. Add the yeast mixture and 1/2 cup of the flour and beat for 1 minute. Add the raisins, then beat in the remaining flour, 1/2 cup at a time, until the dough pulls away from the sides of the bowl.

Switch to the dough hook. Knead on medium-low speed, adding flour 1 tbsp. at a time if the dough sticks, until smooth and elastic, about 4 minutes. Transfer the dough to a greased deep bowl and turn to coat it. Cover loosely with plastic wrap and let rise at room temperature until doubled in bulk, 1 to 1 1/2 hours.

Lightly grease two 9 x 5-inch loaf pans.

Turn the dough out onto a lightly floured board. Divide the dough in half and roll or pat each half into an 8 x 12-inch rectangle. Lightly sprinkle each rectangle with half of the filling, leaving a 1-inch border on all sides. Beginning at a narrow end, tightly roll up each rectangle into a compact log. Pinch the ends and the long seam to seal in the filling. Place each log, seam side down, in a prepared pan. Cover loosely with plastic wrap and let rise at room temperature until the dough is about 1 inch above the rim of each pan, 1 to 1 1/2 hours.

Preheat an oven to 350°F (180°C). Bake until the loaves are golden brown and pull away from the sides of the pan, 35 to 40 minutes. Turn the loaves out onto wire racks and let cool completely.

Makes two (9 x 5-inch) loaves.

Adapted from Williams-Sonoma Collection Series,Bread,by Beth Hensperger (Simon & Schuster, 2002 ).
Date: April 5, 2003