Diana's Desserts - www.dianasdesserts.com
See more recipes in
Easter
Easter Simnel Cake
in Diana's Recipe Book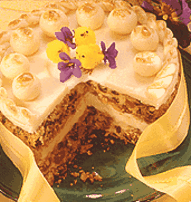 Average Rating:
(total ratings: 2)
[Read reviews]
[Post a review]
Servings: Makes 1 (8-inch) cake, 8-10 servings
Comments:
This is a classic Easter cake moistened by a layer of marzipan or almond paste in the center and lightly "browned" on the top.

In England a Simnel Cake, with a baked almond or marzipan topping, often graces the table during Easter. However, this particular cake actually owes its origins to Mothering Sunday which takes place on the fourth Sunday in Lent.

Mothering Sunday was once the day when young girls in service and working away from home were given the day off to visit their parents, taking with them a simnel cake that they had made themselves. This rich fruit cake was said to test the girl's skills as a cook. If it remained moist and maintained its taste until Easter Sunday, she was seen as a good cook.

The word "simnel" comes from the Latin "simila" which means fine flour, although its flavor is derived mostly from the generous addition of spices and fruits, most particularly the layer of almond paste or marzipan that runs through the center of the cake and the bitter-sweet taste of roasted almond paste or marzipan. It is decorated with eleven small balls of almond paste or marzipan - made to signify all the apostles except Judas. He betrayed Christ and lost his right to be counted among their number.

Traditionally these cakes were also decorated with fresh flowers, although these days most baker's use crystallised flowers - such as violets and primroses - or fluffy chicks and colored eggs. Some Simnel Cake recipes call for a layer of white glacé icing which is spread on top of the baked almond paste or marzipan when it has cooled. It is easy to make and certainly adds a sheen to the top of a cake recipe which can trace its history back through many centuries.

Source: Limited Edition, The Online Magazine for Oxfordshire.
Ingredients:

1 pound (450g) marzipan or almond paste
8 oz. (225g or 2 sticks) unsalted butter
8 oz. (225g or 1 1/2 cups) soft light brown sugar, OR granulated sugar
3 eggs
8 oz. (2 cups or 225g) all-purpose flour
1 tbsp. baking powder
1 tsp. ground allspice, OR mixed spice
Pinch of salt
2 tbsp. milk
1 pound (450g) mixed dried fruit, (such as raisins, currants and sultanas)
2 oz. (1/4 cup or 50g) glacé cherries, chopped
4 oz. (1/2 cup or 100g) walnuts, chopped
Grated zest of 1 orange
Grated zest of 1 lemon
1 egg white, to glaze marzipan (or almond paste) balls
1 egg yolk, for glazing top
Glacé Icing, (optional)
Confectioners' sugar, (optional)

For Decorating: (optional)
1) Wide ribbon, to wrap around the outside of the cake for decoration, (any color ribbon of your choice).

2) Crystalised flowers - such as violets and primroses - or fluffy chicks and colored eggs.


Instructions:
1). Heat oven to 325º F (180º C). Line the bottom and sides of a deep 8-inch (20cm) cake pan with a double layer of buttered parchment paper.

2). Roll out 1/3 of the marzipan (or almond paste, if using) to an 8 inch (20cm) round. Cover remainder of marzipan (or almond paste); set aside.

3). Cream the butter and sugar until light and fluffy; gradually beat in the eggs. Sift together the flour, baking powder, ground allspice (or mixed spice), and salt; Mix into butter and sugar mixture, stir in milk. Fold in the mixed dried fruit, glacé cherries, the grated orange and lemon zest, and the chopped walnuts.

4). In prepared cake pan, spoon in half of the cake mixture; level cake mixture and place marzipan (or almond paste) round on top. Spoon in the remaining cake mixture and bake in pre-heated 325º F (180º C) oven for 2 1/2 hours. Reduce oven temperature to 300º F (150º C) after 1 1/2 hours. Continue baking at 300ºF (150ºC) for 1 hour or until a knife inserted into the center of cake comes out clean. Cool cake in pan for about 15 minutes before turning out onto cooling rack.

5). Roll out the two-thirds ( 2/3 ) remaining marzipan (or almond paste) to fit the top of cake; brush lightly with egg yolk and place on top of cake. Roll remainder of marzipan (or almond paste) into 11 or 12 balls; arranging around edges of cake and securing balls with egg white. Place cake (about 4 inches from the heat) under broiler (or grill) for about 1 minute, watching closely so top doesn't get too brown or burnt. Remove from oven and let cool. If desired, once cake has cooled completely, spread with Glacé Icing, or dust with confectioners' sugar.

Glacé Icing: (optional)
Glacé icing is made by gradually stirring three tablespoons of hot water into 8oz. (225g) confectioners' sugar, to which a few drops of vanilla extract have been added. The mixture is beaten vigorously until it is smooth and thick enough to coat the back of a spoon.

Decoration: (optional)
If desired, use a pretty ribbon and wrap around cake for decoration.
AND/OR:
Decorate top of cake with crystalised flowers, such as violets and primroses or fluffy chicks and colored eggs.

Makes 1 (8 inch) cake, 8-10 servings.

Makes Ahead Tip: Make the cake in advance and store in an airtight container for up to 2 weeks or freeze without marzipan topping or decoration.


Source: DianasDesserts.com
Date: April 4, 2003
Reviews
Reviewer:
janice
Rating:
Review:
the best part of all your recipes is that you show a picture of the end result, absolutely the best!!! the pictures put the finishing touch on all your recipes, keep up with your web site
Reviewer:
Trish
Rating:
Review:
i like the way you have the cake explained how to make and the decorations!