Diana's Desserts - www.dianasdesserts.com
See more recipes in
Pies and Tarts
Fresh Lemon Meringue Pie
in Diana's Recipe Book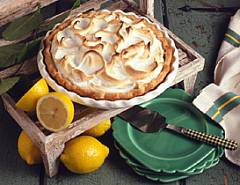 Average Rating:
(total ratings: 6)
[Read reviews]
[Post a review]
Servings: 8
Comments:
Lemon Meringue Pie has always been a very traditional pie served in American households, and it has been especially popular with African-American home baker's.

Fresh Lemon Meringue Pie, always a favorite for a family gathering or served for special occasions when guests are coming to dinner. A very delicious and appropriate dessert for Juneteenth Day.

Ingredients:

For the Pastry:
1 1/4 cups all-purpose flour
1/4 tsp. salt
1 tsp. granulated sugar
6 tbsp. (3/4 stick/3 oz/84 gm) cold unsalted butter, cut into 1-inch pieces
1/4 cup shortening
2 to 3 tbsp. ice water, or as needed

For the Lemon Curd:
3 eggs
5 egg yolks
1/2 cup granulated sugar
3 tbsp. milk
Pinch of salt
1/2 cup fresh lemon juice
8 tbsp. (1 stick/4 oz/113 gm) softened unsalted butter, cut into 1-inch pieces

For the Meringue:
4 egg whites
1/2 tsp. vanilla extract
1/4 tsp. cream of tartar
1/3 cup granulated sugar

Instructions:
To Make the Pastry:
In the bowl of food processor, combine the flour, salt and sugar and pulse once to mix. Add the butter and shortening and process short pulses to form pea-size crumbs, 20 to 25 seconds. While pulsing, gradually add the ice water to form larger, moist crumbs, 10 seconds more. Turn the dough out onto a lightly floured surface and, with floured hands, shape the mixture into a flat disk. Wrap tightly with plastic wrap and refrigerate until firm, at least 1 hour or as long as overnight.

To Make the Lemon Curd:
In the top pan of a double boiler or in a nonreactive saucepan, whisk together the eggs, egg yolks, sugar, milk and salt until blended. Then whisk in the lemon juice. Set the top pan over the bottom pan of simmering water but not touching the water, or set the saucepan ove medium-low heat. (If using a saucepan, take care not to heat the mixture too quickly.) Cook, stirring constantly with a wooden spatula or spoon, until the mixture is warmed through, 1 to 2 minutes.

Begin adding the butter a little at a time, stirring each addition until blended before adding more. Continue cooking, stirring constantly and scraping the bottom of the pan, until a finger drawn across the back of the spatula leaves a path, 8 to 10 minutes more. Immediately remove the pan from the heat. Pass the curd through a chinois set over a nonreactive bowl and cool to room temperature.

Position a rack in the center of an oven and preheat to 425°F (220°C). On a lightly floured surface, roll out the pastry into a 12-inch round, about 1/8 inch thick. Transfer the dough to a 9-inch pie dish, fit the dough into the dish and trim the edges, leaving a 1/2-inch overhang. Fold under the excess dough and, using your thumb, decoratively flute the edges.


To Make the Meringue:
In the bowl of an electric mixer fitted with the whisk attachment, beat the egg whites, vanilla and cream of tartar on medium speed until soft peaks form, about 1 minute. Gradually add the sugar, 1 tbsp. at a time, beating on high speed until stiff, glossy peaks form, about 4 minutes more.

Spread the meringue over the hot pie filling to the edges of the pastry to seal and prevent shrinkage. Bake until the top is golden, about 15 minutes. Transfer the pie to a wire rack and cool to room temperature, then refrigerate at least 4 hours before serving. Dip a knife in warm water to cut slices.

Makes 8 servings.

Source: DianasDesserts.com
Date: February 7, 2002-Revised on May 21, 2004
Reviews
Reviewer:
ASC
Rating:
Reviewer:
Debb
Rating:
Review:
The most difficult recipe in the world to understand, "until a finger drawn across the back of the spatula leaves a path". Hello, what kind of instruction is that? What is a chinois? What makes a bowl a nonreactive bowl? My bowls never react to anything, they just sit there with stuff in them.
Reviewer:
Sonia
Rating:
Review:
I have to agree with Debb. I was looking for a Southern recipe and was going to choose this one until I read those horrible instructions. Sometimes simple is sweeter.
Reviewer:
Shirley Brown
Rating:
Review:
Well yesterday was Easter. Growing up in East Texas my Mother made lemon meringue pie every Easter. She started out with milk, sugar and eggs, cooking it until it was thick. I have searched and searched for this recipe. This is the first Lemon pie in my search made the old fashion way with canned milk. I found it and your Lemom Pie was a big hit! I used my nonreactive (stainless steel) boiler and bowl. This pie did not need to be made overnight to set. It was great! Thank you.
Reviewer:
Christie
Rating:
Review:
I attempted to make this last night, but was instantly turned off because of the instructions. I mean seriously diana you usually produce such amazing work, but we are not all as experienced as you. This recipe is disgraceful, and i recommend you so it again. go sarah, love the outrageous comments, you go babe
Reviewer:
Shirley Brown
Rating:
Review:
A little FYI for Deb:
Nonreactive saucepan:
A nonreactive saucepan is one that is made from Stainless Steel, Glass, or Ceramic materials. They're called nonreactive because these materials don't react with acidic ingredients the way copper and aluminum do.
CHINOIS: [sheen-WAH] A metal conical sieve with an extremely fine mesh, used for puréeing or straining. The mesh is so fine that a spoon or pestle must be used to press the food through it. Well it's Easter weekend,I am back. There is a need to educate in less experienced bakers. Not all recipes are are one paragraph. Please take time out and look up terms and words you do not understand, this is the best pie ever! I have been cooking and baking since the 60's. I did not find any flaws. I do not agree with the Juneteenth statement. I AM from EAST TEXAS. Sweet Potato pie was served on Juneteenth,these celebrations took place in large open areas and Parks. It was SWEET POTATO PIE ON JUNETEENTH. Thanks for this lemon pie recipe!
Shirley