Diana's Desserts - www.dianasdesserts.com
See more recipes in
Pastry
Rugelach
in Diana's Recipe Book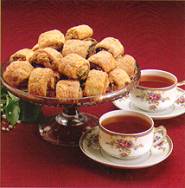 [Be the first to post a review!]
Servings: 48 rugelach
Comments:
Rugelach is a delicious old European pastry that everyone loves. A rich and flakey sour cream cookie filled with nuts, raisins, and cinnamon, offers the perfect light dessert with tea and reminds people of the type of foods eaten long ago.

Ingredients:

1 cup (2 sticks/8 oz/225g) unsalted butter or margarine
2 tablespoons granulated sugar
1 (8-ounce) container sour cream
1 large egg yolk
2 cups all-purpose flour
1/8 teaspoon salt
1/2 cup finely chopped raisins
1/2 cup finely chopped walnuts or pecans
1/2 cup granulated sugar
1/4 cup (1/2 stick/2 oz/56g) butter or margarine
1 1/2 teaspoons ground cinnamon
2-3 teaspoons confectioners' sugar

Instructions:
1. For Pastry:
In large bowl, beat 1 cup butter (or margarine, if using) for 30 seconds. Add 2 tablespoons granulated sugar; beat until light and fluffy. Add sour cream and egg yolk. Beat well. Stir in flour and salt with a wooden spoon until combined. Cover and chill 1 hour or until dough is easy to handle.

2. For Filling:
Combine nuts, raisins, 1/2 cup granulated sugar, 1/4 cup butter (or margarine, if using) and cinnamon; set aside.

3. To Assemble:
Divide dough into fourths. On lightly floured surface, roll 1/4 dough to 10-inch circle. Spread 1/4 nut mixture over circle. Cut dough into 12 wedges. Roll up each wedge,starting at wide end. Repeat. Place 2 inches apart on foil-lined cookie sheet. Bake in 350 degree F (180 C) oven for 25 minutes. Cool on sheet for 1 minute. Transfer to wire rack to cool. Sprinkle with confectioners' sugar.

Makes about 48 rugelach.
Date: March 17, 2003