Diana's Desserts - www.dianasdesserts.com
See more recipes in
Holidays and Celebrations
Tres Leches Cake
in Diana's Recipe Book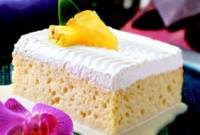 Average Rating:
(total ratings: 41)
[Read reviews]
[Post a review]
Servings: 12
Comments:
Tres Leches Cake, a perfect dessert for Cinco de Mayo.

Pastel Tres Leches ("three-milk cake") appeared in Mexico perhaps a generation ago. It swept through the social set and soon became the thing to serve at fancy parties. A butter cake soaked in three kinds of milk and most often topped with billows of meringue or a whipped cream frosting, it is sweet and insanely rich.

Nobody knows where this confection came from. Mexican cooking authority Maria Dolores Torres Yzabal (the co-author of The Mexican Gourmet cookbook) thinks it might have originated in a Mexico City bakery whose name is now lost. In her cookbook The Taste of Mexico, Patricia Quintana says that it first appeared in the state of Sinaloa. To complicate matters further, Mexico-born chef Roberto Santibañez has friends in Guatemala and Nicaragua who swear the cake is native to their countries. His pet theory is that it came from a promotional recipe once distributed in Latin America, perhaps on cans of evaporated milk or with a brand of electric mixer.

Wherever it started, Tres Leches Cake has now established itself all over the world. Its tres leches ("three milks") are evaporated milk, sweetened condensed milk, and heavy cream. This cake's definitely "Got Milk".

Ingredients:

For the Cake:
1 1/2 cups granulated sugar
9 large egg yolks
9 large egg whites
3/4 cup butter, at room temperature
2 cups all-purpose flour
1 1/2 teaspoons baking powder
1 cup whole milk
1 teaspoon cream of tartar
1 1/2 teaspoons vanilla extract

For the Glaze:
1 (12 oz.) can evaporated milk or use Fat-Free for a lighter version
1 can (14 ounces) sweetened condensed milk or use Fat-Free for a lighter version
2 cups heavy whipping cream or use Half and Half (Single Cream) or Whole Milk for a lighter version

For the Topping:
2 cups whipping cream
1 cup granulated sugar
1 teaspoon vanilla extract

Instructions:
Preheat oven to 350 degrees F (180 C). Lightly grease and flour a 13x9-inch rectangular cake pan. Set aside.

To Make Cake:
Combine the flour and baking powder in a medium bowl. Set aside.

In bowl of an electric mixer, cream together the butter and sugar. Add the egg yolks and beat well. Add the flour mixture and milk; beat well. Set batter aside.

In a metal bowl, whip the egg whites and cream of tartar until stiff peaks form. Gently fold into the cake batter. Stir in the vanilla. Pour batter into prepared cake pan. Bake at 350 degrees F (180 C) for 20 to 25 minutes or until a toothpick inserted into the middle of cake comes out clean and when cake springs back when touched lightly in center. Remove from oven and cool on rack for about 20 minutes.

To Make Glaze:
In a large bowl combine the evaporated milk, sweetened condensed milk and heavy cream. Mix well.

Pierce the entire top of cake with a fork or wooden skewer, then pour the glaze over the cake. If cake stops absorbing the glaze, it has had enough. If desired, save remaining glaze to drizzle over the top of cake as garnish. Refrigerate cake for at least 2 hours before frosting and serving*. Serve chilled. Refrigerate any leftover cake.


To Make Topping:
When ready to serve, combine the whipping cream, the vanilla and the sugar, whipping until thick. Spread over top of chilled cake.

*Note: Because of the milk in the cake, it is very important that you keep the cake refrigerated until ready to serve. Serve cake chilled.

Makes 12 servings.

Serving Suggestions:
Serve cake topped with chopped nuts, fresh berries or other sliced fruits.
OR:
Place 1 maraschino cherry on top of each slice and drizzle with chocolate or caramel syrup.

Topping Variation:
Tres Leches cake can be made with either a Whipped Cream Topping (as in above recipe) or made with a Meringue Topping.

Here is the Meringue Topping Recipe:

Meringue Topping
Ingredients:
1 cup granuated sugar
1/3 cup water
3 large egg whites
1 teaspoon vanilla extract

Instructions:
Once the cake is completely chilled, in a saucepan combine the 1/3 cup water and the 1 cup sugar. Bring to a boil. Reduce the heat and stir to dissolve the sugar. Cook until the mixture reaches the soft ball stage, 235-240 degrees F (112-115 degrees C). Remove from the heat. In a medium bowl, beat the egg whites to soft peaks, add the vanilla extract. While beating, add the hot syrup in a thin stream. Beat until all the syrup has been added, the mixture cools, and a glossy icing forms.

To Assemble:
Remove the cake from the refrigerator and spread the meringue topping evenly across the top.

TIP: The meringue will keep, covered, 2 days in the refrigerator.


Date: March 7, 2003
Reviews
Reviewer:
Rosa
Rating:
Review:
I happened to run into your tres leches recipe and it looks like it going to turn out delicious. Thank you.
Reviewer:
king
Rating:
Review:
This is amazing!
Reviewer:
Martiria
Rating:
Review:
I had this cake for my birthday party and it was so good, all my guests said it was delicious, Thanks
Reviewer:
Heather Vasquez
Rating:
Reviewer:
Nanette Opperman
Rating:
Review:
I don't care where its from it was delicious!
Reviewer:
Diana, Diana's Desserts
Rating:
Review:
Hi Mary,
What is the problem with this version of Tres Leches Cake? I am not trying to dishonor traditional latin culture. Please understand there are several variations on the traditional Tres Leches Cake and this recipe is one of them.....Diana, Diana's Desserts
Reviewer:
mary
Rating:
Review:
I am from a latina background, and it is a shame to have someone like you dis honor traditonal culture. This recipe is nothing like the traditional cake and should be removed!
Reviewer:
patty
Rating:
Review:
hi! i haven't tried your recipe yet, but based from the rave reviews it got, I'm sure it is a bomb! Can't wait to put my apron on and start whippin'!
Reviewer:
Eva
Rating:
Review:
Well, since I'm a latina I already know how to make tres leches, but the way you explain it on how to make it was excellent. I'm 13 year's old and it was so easy and it tasted delisioso!
Reviewer:
Herahh
Rating:
Review:
I have not tried it yet, but it sounds delicious, and i think no one should feel offended because probably it is better (trust me on this) than the traditional, and yes i am latino, and also its a free country.
Reviewer:
kelsey
Rating:
Review:
cake is good
Reviewer:
Hanna Gonzalez
Rating:
Review:
I am making this right now! I hope that it is a 5 cake dessert!
Reviewer:
cheyenne soto
Rating:
Review:
I've made this cake before with my grandmother and my mother, etc. and I tried this one. It's good, but I honestly have never heard of the use of cream of tartar in it. It's never been used in the traditional cakes, so I found it a little odd that it was in the recipe. I also tried the heavy cream, but I found that using the traditional media crema (a sort of table cream) makes for more of the traditional flavor that I'm used to. Media crema can usually be found next to the sweetened condesed milk in the supermarket. Otherwise it's a very excellent recipe!! It's a nice variation from the traditional cake...Thanks!
Reviewer:
Linda
Rating:
Review:
This cake is unlike any other. It is very rich but delicious and a nice change.
Reviewer:
Joanne Rotondo
Rating:
Review:
This has got to be one of the best cakes ever! I had it at an Anniversary Party and just had to have the recipe! I have made this wonderfully decatante cake and everyone loves it...I am just so grateful to your site for having sharing this with all of us. Thank you so much! Much luck and many blessings to all. Sincerely, Joanne
Reviewer:
Diana
Rating:
Review:
Myself and a friend were asked to take a couple of cakes to our club function. All my cakes were gone. She took part of hers home. Your recipe was, and in my opinion is, the best recipe. Thanks for making me and my cakes the talk of the party!!
Reviewer:
sylvia
Rating:
Review:
I BELIEVE THAT MARY SHOULD GIVE IT UP. IM ALSO A LATINA AND THIS CAKE WAS THE BOMB. IT MIGHT NOT BE THE "TRADITIONAL RECIPE" BUT IT WAS DARN GOOD ! ! ! ! ! ! ! ! ! ! !
Reviewer:
GAYROO
Rating:
Review:
GREAT RECIPE...I'M SO EXCITED TO TRY IT!
Reviewer:
Doreen
Rating:
Review:
I plan to make this cake, however, I was wondering if the cream of tartar is really necessary. Thank you!
Reviewer:
Marisol Juarez
Rating:
Review:
I lost My grandma's recipe,I am Mexican and may I say this is by far the closest Pastel de tres leches recipe I have ran into. Im baking this cake for my daughter and my son's birthday party. The recipe is fine the way it is. I just didnt have the portions right.
Thanks Diana
Reviewer:
itzel
Rating:
Reviewer:
MAYRA
Rating:
Review:
I TRIED IT TODAY, I DOUBLED THE RECIPE. IT SMELLS DELICIOUS BUT I HAVE A QUESTION. THE CAKE WAS TALL WHEN I TOOK IT OUT BUT AFTER COOLING IT SEEMS LIKE IT FELL. IS THIS NORMAL. DID I DO SOMETHING WRONG?
Reviewer:
maritza
Rating:
Review:
hello my mame is maritza and i love tres leches this is like a perfect recipe so thanks
Reviewer:
ANNA
Rating:
Review:
THIS IS A GREAT RECIPE BUT MY CAKE ALSO WAS NICE AND TALL WHEN I TOOK IT OUT BUT AS IT COOLED, IT BECAME SMALLER AND SMALLER. I WAS EXTREMELY CAREFUL TO MAKE SURE THAT NO YOLK GOT INTO THE WHITES AT ALL. HOW CAN I PREVENT THE CAKE FROM SHRINKING WHEN IT'S OUT OF THE OVEN? PLEASE HELP!!
Reviewer:
Dr.Cardenas
Rating:
Review:
Dear Diana, I'm here to inform you that the dessert is not a Mexican dessert. I must correct you on this fallacy. The dessert was invented in Nicaragua. Please check the history, historians note that it was discovered in Nicaragua and has European influence (i.e., Tiramisu). I hope that you will make the clarification.
Reviewer:
ligia
Rating:
Review:
The cake is Nicaraguan, not Mexican. Check your facts. A HUGE MISCONCEPTION! Go to a Nicaraguan, and or bakery and you will taste the difference. Simply paralleled.
Reviewer:
Lucy Alonso
Rating:
Review:
I made this for my dad's birthday and it was such a huge sucess that he is requesting it all the time...oh and not to mention my coworkers..they absolutely love it!!!!!
Reviewer:
Adriana
Rating:
Review:
The only good part was the mixures of the milks, the cake batter has way to much egg for this recipe. It tasted like an egg custard cake. the whipped frosting was also a little heavy with the sugar measurments, the milks in the cake are sweet enough already. I made sure i did everything right, step by step, but i figured the recipe was a little exaggerated with some of the ingredients.
Reviewer:
Sandra
Rating:
Review:
I loved this recipe! I'm latina and I approve.
Reviewer:
Tanya
Rating:
Review:
Who cares where this cake is from as long as its good. And this is one of the best ones I have tasted.
Reviewer:
LALA
Rating:
Review:
LOVE THIS CAKE!
Reviewer:
Jennifer M
Rating:
Review:
The history shows that the three leches first started in Mexico, not in Nicaragua, because Mexican Food has a trace of several ancient cakes recipes that are similar (soaked) to the Three Milk Cake. The cake is popular in different variations in Latin America. The Nestlé company also claims to have helped the tres leches recipe evolve, during World War II, in Mexico. The idea for creating a cake soaked in a liquid is probably of European origin, as similar cakes, such as rum cake, and tiramisu, use this method.
Reviewer:
Liz
Rating:
Review:
I love Pastel de Tres Leches, I haven't made this recipe yet, but look forward to it! I have Pastel de Tres Leches in Mexico and the US and it is fabulous, and this recipe looks very authentic!!
Reviewer:
denise
Rating:
Review:
IT'S greatttt!!! And who cares where it originated from, it's still good!
Reviewer:
Eloisa
Rating:
Review:
It was too eggy (therefore the cake failed to soak up any glaze even with the punch holes in it). It tasted like I was eating an egg loaf with icing.
Reviewer:
Cindalyn
Rating:
Review:
Terrible, too dense to soak up the milks.
Reviewer:
Denisse
Rating:
Review:
For an even better cake, prepare a store-bought cake mix then add the glaze & whipped icing on top.
Reviewer:
Rachel
Rating:
Review:
I was born and lived in Mexico 26 years before I moved to the U.S. I always thought the cake originated in Mexico but IT DOESN'T MATTER WHERE IT'S FROM, IT'S SEEMS MORE IMPORTANT TO ME THAT PEOPLE COME TOGETHER AND SHARE DELICIOUS THINGS LIKE THIS RECIPE. That being said, only God knows where it started so just enjoy. This is not the traditional recipe I grew up making but it was very GOOD and the directions were easy to follow. Thank you for sharing a bit of culture (wherever it started) and a yummy cake :)
Reviewer:
Angel
Rating:
Review:
This is going to be my first time making this. It sounds like its going to be awesome!
Reviewer:
nita
Rating:
Review:
Just like many other recipes and "traditional" foods, there will always be more than one origin,, what matters is how great this item is. really good!
Reviewer:
Phoebe
Rating: