Diana's Desserts - www.dianasdesserts.com
See more recipes in
Holidays and Celebrations
Lemon Filled Layer Cake with Meringue Topping
in Diana's Recipe Book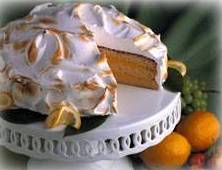 Average Rating:
(total ratings: 3)
[Read reviews]
[Post a review]
Servings: Makes one (9-inch) layer cake
Comments:
A light Sponge Cake Layered With Tangy Lemon Curd and Topped With a Sweet Billowy Meringue, oh so yummy!

Ingredients:

For the Yellow Sponge Cake:
6 eggs, large, separated
1 cup superfine sugar
1 cup cake flour
1/4 cup butter, melted and slightly cooled
2 tsp. vanilla extract

For the Lemon Filling:
3 eggs, large, separated
1 egg, large
1/2 cup superfine sugar (add more sugar, if desired)
1/2 cup lemon juice
Lemon rind from 1 lemon, finely grated
1/4 cup butter, cut into 1/4-inch cubes

For the Meringue Frosting:
3 egg whites
1 cup superfine sugar
1/2 cup water





Instructions:
For the Sponge Cake:
Preheat oven to 350°F (180°C). Position oven racks so cake bakes in middle of oven. Prepare 9-inch round cake pan with non-stick spray coating and line bottom with parchment paper. Mix egg yolks, butter and vanilla extract together in small bowl. In large bowl, whip egg whites together until foamy and then gradually sprinkle in sugar. Continue whipping until mixture forms firm and shiny peaks. Pour egg yolk mixture into whites. Sift 1/2 cup of cake flour into mixture and gently fold all ingredients together. Sift remaining flour over batter and fold in. Pour batter into pan and spread evenly. Bake until cake is golden, about 35-45 minutes, until cake is firm when touched and a tester inserted in center comes out clean.

For the Lemon Curd Filling:
Place a sieve over a clean bowl, set aside. In the top of double boiler, whisk together 1 large egg, egg yolks and sugar until smooth. Whisk in lemon juice and lemon rind. Add butter. Over medium heat, with water simmering, cook ingredients in top of double boiler until thick, stirring constantly, about 7-9 minutes. Do not boil. Strain through sieve into bowl. Cover surface with plastic wrap to prevent a film from forming. Place in refrigerator and cool completely, about 2 hours.

To Assemble Lemon Cake:
After cake layer is completely cooled, split in thirds with a serrated knife. Place bottom layer on a heat-proof plate. Spread with half of lemon filling. Place second cake layer over lemon filling. Spread remaining lemon filling on middle layer and top with remaining cake layer. Now prepare the meringue frosting.


For the Meringue Frosting:
Preheat oven to 400˚F (200°C). Combine egg whites, sugar and water in large bowl over pot of simmering water. Do not let bowl touch water. Whip on high speed with hand-held mixer until meringue quadruples in volume and becomes stiff and glossy (about 8-9 minutes). Immediately spread over assembled cake, making sure to cover entire cake around the sides with no gaps to prevent meringue from shrinking away from cake. Place in preheated 400°F (200°C) oven until golden brown, about 5 minutes.

Allow cake to set for at least 20 minutes before slicing.

Note: if desired, instead of putting cake in oven to brown meringue frosting, use a chef's small blowtorch to lightly toast meringue. Cake should be stored in an airtight container to keep meringue topping from absorbing humidity and becoming soft.

Makes one (9-inch) layer cake
Date: March 7, 2003
Reviews
Reviewer:
Elisabetta Sigga
Rating:
Reviewer:
Jeffrey h. shorey
Rating:
Review:
This is the greatest cake. If you like lemon you cannot go wrong with this, you cannot have just one slice of this.
Reviewer:
Ann Marie Valdibieso
Rating:
Review:
First time unhappy, my cake was like a rock, probably too much beating.....Today it is perfect and delicious.....Maman wanted more sugar in the lemon filling, she got her wish. Thank you for the great receipe