Diana's Desserts - www.dianasdesserts.com
See more recipes in
Passover
Passover Walnut Cake with a Light Custard Sauce
in Diana's Recipe Book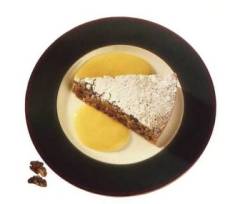 [Be the first to post a review!]
Servings: 12
Comments:
This wonderful walnut cake with a light custard sauce can be served at a dairy meal for Passover. If you choose not to make the custard, it can be served at a dairy or non-dairy Passover meal.
Ingredients:

Matzo Meal, for dusting (flouring) cake pan
350g (12 oz.) walnut pieces
4 eggs, separated
225g (8 oz. or 1 1/4 cups) granulated sugar
Zest of 1 lemon, finely grated
Confectioners' sugar (pareve-kosher for passover), for garnish

Optional:
Light Custard Sauce (see recipe below)

Instructions:
Preheat oven to 350 degrees F (180 C). Grease, flour (use matzo meal) and line a 9-inch (22.5cm) springform pan with parchment paper. Grind the walnuts in a blender or food processor until fine but not greasy.

With an electric beater, whisk the egg yolks and sugar together until pale and creamy. Fold in the lemon zest and the finely ground walnuts. Whisk egg whites until stiff and carefully fold into the nut mixture. Gently pour into prepared pan.


Bake in oven for 45-60 minutes until risen and firm. Cool in the pan. It will shrink away from the edges. Remove from the pan and dust cake with confectioners' sugar. Slice in thin wedges and serve with Light Custard Sauce, if desired.

Makes 12 servings.

Light Custard Sauce

Makes 2 cups

INGREDIENTS:
1/4 cup granulated sugar
1 tablespoon potato starch
1-3/4 cups 2% low-fat milk
1 large egg
2 teaspoons stick margarine or butter (pareve-kosher for passover), softened
1 teaspoon vanilla extract

INSTRUCTIONS:

Combine sugar and potato starch in top of a double boiler. Add milk and egg, and stir well with a whisk. Cook over simmering water until thick (about 15 minutes); stir constantly. Remove from heat; stir in margarine and vanilla extract. Place plastic wrap on surface; cool to room temperature. Chill thoroughly.

Makes 2 cups custard sauce.

Source: Walnut Cake recipe from: The Book of Light Italian Dishes, by Maxine Clark, Copyright Salamander Books Ltd, 1997.

Light Custard Sauce recipe by Diana's Desserts.
Date: March 5, 2003