Diana's Desserts - www.dianasdesserts.com
See more recipes in
Chocolate Sweets
Best Chocolate Cake with Fudge Frosting
in Diana's Recipe Book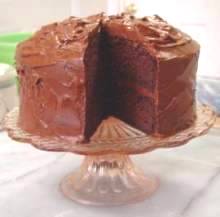 Average Rating:
(total ratings: 12)
[Read reviews]
[Post a review]
Servings: 12
Comments:
Get ready for cake that's a chocolate powerhouse and discover why its called the best!

Ingredients:

2 cups all-purpose flour
2 cups sugar
1/2 cup shortening
3/4 cup water
3/4 cup buttermilk
1 teaspoon baking soda
1 teaspoon salt
1 teaspoon vanilla
1/2 teaspoon baking powder
2 eggs
4 ounces unsweetened baking chocolate, melted and cooled
Fudge Frosting (see recipe below)


Instructions:
1. Heat oven to 350°F (175°C). Grease and flour bottom and sides of rectangular pan, 13x9x2 inches, 2 round pans, 9x1 1/2 inches or 3 round pans, 8x1 1/2 inches.

2. Beat all ingredients except Fudge Frosting in large bowl with electric mixer on low speed 30 seconds, scraping bowl constantly. Beat on high speed 3 minutes, scraping bowl occasionally. Pour into pan(s).

3. Bake rectangle 40 to 45 minutes, rounds 30 to 35 minutes or until toothpick inserted in center comes out clean. Cool rectangle in pan on wire rack. Cool rounds 10 minutes; remove from pans to wire rack. Cool completely.

4. Frost rectangle or fill and frost layers with Fudge Frosting.

Makes 12 servings.

Fudge Frosting

Ingredients:
2 cups sugar
1/2 cup shortening
3 ounces unsweetened baking chocolate
2/3 cup milk
1/2 teaspoon salt
2 teaspoons vanilla

Mix all ingredients except vanilla in 2 1/2-quart saucepan. Heat to rolling boil, stirring occasionally. Boil 1 minute without stirring. Place saucepan in bowl of ice and water. Beat until frosting is smooth and spreadable; stir in vanilla.


Photograph of cake taken by Diana Baker Woodall
Source: Betty Crocker
Date: February 25, 2003
Reviews
Reviewer:
amy foker
Rating:
Review:
it was pretty good but not for kids
Reviewer:
Sade
Rating:
Reviewer:
LOVE IT
Rating:
Review:
FABULOUS!!!!!!
Reviewer:
GREAT
Rating:
Reviewer:
Leena
Rating:
Review:
Love the cake, it doesn't have that floury taste that most cakes have, it's the only chocolate cake that holds the definition of "chocolate cake" not too heavy, not too floury, not too sweet, not too chewy, not too light, JUST PERFECT. it's sooooo good, I'm baking one today.
I had a little problem with the frosting, wasn't thick enough to hold. I tried to cool it in the fridge but didn't work! Maybe because I used butter instead of shortening. But it's still my TOP chocolate cake recipe.
Reviewer:
sanjana
Rating:
Review:
this is very nice .................ummmm.........
Reviewer:
laura
Rating:
Review:
i'm the biggest cake fan ever and this cake was scrumptious.
Reviewer:
hafsah
Rating:
Review:
Wonderful recipe! I loved it! Keep up the good work.
Reviewer:
Maria
Rating:
Review:
I made two recipes (in SEPERATE batches of course) of this chocolate cake with my 12 yr. old niece for her birthday this past summer. The first batch was made in a 9" x 13" pan for the base of her cake. The second batch was made in 3 (8") round cake pans. I only used 2 of the round cakes to top the rectangular base, so we gobbled up the 3rd round cake UNFROSTED! Would you know it was SO DELICIOUS WITHOUT THE FROSTING ON IT!!! This cake is not too cake-y, flour-y, fudge-y, nor too sweet. It's fluffy, moist, and chocolate-y. We didn't use the frosting recipe however; she requested vanilla buttercream frosting- which was great because we had a white background for piping decorations. *BTW, the top round cake had the face of a feminine version of Tweety Bird (her favorite). The base had personal messages written with icing on colored ribbon, red and yellow daisies, and some primary-colored sprinkles. Thanks, Diana!
Reviewer:
jessica
Rating:
Review:
Thank you for the recipe. Very simple to follow and very nice texture. But too sweet though. I have cut down by 1/2 cup of sugar but still as sweet, will try to cut down by another 1/4 the next round. Did not try to the frosting though. Use a very simple frosting of chocolate and butter melted.. taste as good.
Reviewer:
Anna
Rating:
Review:
Simply great!
Reviewer:
ann vick
Rating:
Review:
Make sure you cook the frosting very slow. Warm shortering then put in milk until hot. Then add the sugar. Your sugar WILL NOT DISSOLVE if you don't go slow and low.