Diana's Desserts - www.dianasdesserts.com
See more recipes in
Easter
Italian Ricotta Easter Pie
in Diana's Recipe Book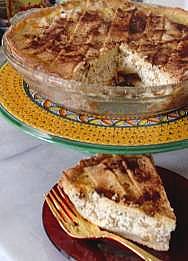 Average Rating:
(total ratings: 9)
[Read reviews]
[Post a review]
Servings: 8
Comments:
Italian Ricotta Easter Pie From Naples

If you can't find hulled whole-wheat kernels (sometimes sold as "pastry wheat"), substitute with barley or arborio rice, skip the soaking, and cook as described below, but for only about 30 minutes. Whole wheat kernels — grano in Italian — are used for this traditional Neapolitan Easter dessert that became a mainstay in Italian-American restaurants and bakeries. In Italy, cooked whole-wheat kernels can be found in cans; if you spot some, it will make this recipe a little simpler.
Ingredients:

1 recipe Pasta Frolla-Sweet Italian Pastry Dough: (see instructions below)
2 cups all-purpose flour
1/2 cup granulated sugar
3/4 teaspoon baking bowder
1/2 teaspoon salt
8 tablespoons cold (4 oz./1 stick) unsalted butter or shortening, cut in chunks
2 large eggs

For Preparing Hulled White Wheat Kernels For the Ricotta Filling, you will need:
1/2 cup Hulled White Wheat Kernels, or arborio rice or barley
1/2 teaspoon salt

For Ricotta Filling
1 pound whole milk ricotta cheese
1/2 cup granulated sugar
2 large eggs
1 teaspoon grated orange zest
1 teaspoon vanilla extract
1 teaspoon orange flower water, optional
1/4 cup diced candied orange peel
Cinnamon to sprinkle over ricotta filling
Instructions:
1) Prepare and chill the pasta frolla dough (See instructions below).

2) Soak wheat kernels in a covered bowl or pot in 3-4 inches of water overnight. (If using arborio rice or barley instead, there is no need to soak overnight.)

3) In a 4 quart saucepan, place the wheat kernels and salt and add 6 cups of water. Bring to a boil over medium heat, then lower to a simmer. Cook until the wheat is tender-up to 2 hours, adding water as necessary to keep them from drying out and scorching. When the wheat is cooked, drain in a strainer and rinse under running cold water. Cover with plastic wrap and refrigerate until ready to make the filling.

4) Set a rack in the lowest level of the oven and preheat to 350 degree F (180 C).

5) Prepare the Ricotta Filling:
In a large bowl, mix the ricotta and sugar together. Stir in the eggs one at a time, then stir in the orange zest, vanilla, orange flower water (optional) and orange peel. Stir in the cooled wheat kernels. Set aside.

6) To Assemble the Pie:
Butter a 9-inch glass pie pan. Turn out the pasta frolla onto a floured surface and knead until smooth and malleable. Divide into 2 equal pieces. Roll one piece into a disk to line the prepared pie pan. Fit the dough into the pan and trim it even with the edge of the pan. Scrape the filling into the lined pan and sprinkle with cinnamon.

7) To Make the Lattice Crust:
Roll the remaining dough to a 9-inch square and use a serrated pizza wheel to cut it into 10 strips. Place 5 strips on the filling about 1 inch apart, severing the dough at the edges of the pan. Place the second 5 strips on the filling at a 45 degree angle to the first ones and sever the ends.

8) Bake the pie until the dough is baked through and the filling is firm, about 45 minutes. Cool on a rack until pie has cooled, put in refrigerator and let set.

9) Remove from refrigerator and serve at room temperature.

Makes 1 (9-inch) pie

To Make the Pasta Frolla Dough:

To Make in Food Processor:
Place flour, sugar, baking powder and salt in work bowl fitted with steel blade. Pulse several times to mix. Add butter or shortening and pulse 8 to 10 times to mix. Add eggs and pulse until dough forms a ball.

To Make by Hand:
Place flour, sugar, baking powder and salt in a large bowl and stir well to mix. Add butter and rub mixture betwen the palm of your hands until it forms fine crumbs. Add eggs and stir with a fork until mixture leaves the sides of the bowl. Form dough into a ball.

Wrap dough in plastic wrap and chill until needed (at least one hour), or up to several days. When ready to use, unwrap it; place it on a lightly floured work surface and knead it until it is soft and malleable.

Makes enough dough for a double crust 9-inch pie.

Note:
You can find White Wheat Kernels (or berries) online at: www.kingarthurflour.com. Look under their Flour, Grains, and Grain Blends section on their site. You want to make sure you look for "White" Wheat Berries (which are for pastry, baking, etc.), not RED. The White Wheat Berries are the Soft Spring Wheat Berries, the Red are the Hard Winter Wheat Berries. You can also find these at Italian food stores or Italian specialty shops around Easter time.

Photograph taken by Diana Baker Woodall© 2002
Source: DianasDesserts.com
Date: January 27, 2002
Reviews
Reviewer:
Gisella
Rating:
Review:
At what point are the following ingredients incorporated into the pie?
1/2 cup hulled white wheat kernels, or arborio rice or barley 1/2 teaspoon salt
I't rating it excellent but I haven't tried the recipe yet - sounds great though!
Thank you. Gisella
Reviewer:
Margherita Vigliotti
Rating:
Review:
This recipe is very much like my mothers.
Reviewer:
Giuseppe Parisi
Rating:
Review:
I'm Italian and I'm from Naples. First this is a poor imitation of Pastiera which is the Easter Pie we make. I said poor because the recipe misses one fundamental ingredient: the boiled wheat! I'm sorry this is everything but the pie we make in Naples.
Reviewer:
Deborah Gonhar
Rating:
Review:
I don't know what Mr. Parisi is on about the wheat is in the recipe! This is just like the recipe I remember from years ago! Thank you!
Reviewer:
AG
Rating:
Review:
Giuseppe, this recipe DOES have boiled wheat. (see "white wheat kernels").
Reviewer:
Carmine A.
Rating:
Review:
Recipe is fine except for: ONLY Wheat berries are used, no substitutes. Orange Flower is a MUST. Butter ONLY, NO Shortening.
Reviewer:
Diana, Diana's Desserts
Rating:
Review:
Linda, the Italian word for pie is "torta". Hope this helps....Diana, Diana's Desserts
Reviewer:
Linda Steward
Rating:
Review:
What is the Italian word for this pie?
Reviewer:
Mary-Lou
Rating:
Review:
I made this last year for Easter. Was delicious, reminded me of my Grandmother's Pizza Grain,couldn't get her recipe. Will make it every year from now on. Thank you!