Diana's Desserts - www.dianasdesserts.com
See more recipes in
Pastry
Caramel Apple Dumplings
in Diana's Recipe Book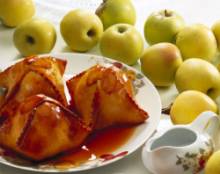 [Be the first to post a review!]
Servings: Makes 4 dumplings
Comments:
Serve these dumplings for brunch or for an afternoon tea. They also make a wonderful dessert on a brisk autumn or winter's evening. A definite "comfort food"........Diana, Diana's Desserts
Ingredients:

4 medium size baking apples (Granny Smith or Golden Delicious apples are good choices)
1 tablespoon lemon juice
1 sheet frozen puff pastry (half of a 17.3-oz. package), thawed
Chopped nuts, (such as pecans or walnuts), optional
1 large egg, beaten with 1 tbsp. water
Caramel Sauce * (see recipe below)

Vanilla Ice Cream (optional)
Instructions:
NOTE: You can prepare dumplings through step 5 up to 1 day ahead; chill sauce, dumplings, and egg mixture separately airtight. Bake chilled dumplings as directed.

Dumplings:
1. Make Caramel Sauce. (recipe follows)

2. Peel apples; core each, creating a 1-inch-wide hollow from top to bottom. Place apples in a bowl and coat with lemon juice.

3. On a lightly floured board, roll puff pastry into a 12-inch square. Cut into four equal squares and center an apple upright on each. Pour Caramel Sauce equally into apple hollows. Add chopped nuts at this time, if using.

4. Brush egg/water mixture over a 1/2-inch-wide border around each pastry.

5. To wrap each dumpling, with floured fingers bring two opposite pastry corners up over apple and pinch tips together. Repeat with remaining two corners. Firmly pinch all tips together; pinch each seam, then fold over about 1/8 inch along the seam and pinch again, leaving no holes. Space dumplings evenly on a buttered 12- by 15-inch baking sheet.

6. Bake in a 375° F (190 C) regular or convection oven for 20 minutes. Bake until pastry is deep golden, 10 to 15 minutes longer in a regular oven, about 5 minutes in a convection oven.

7. With a wide spatula, transfer dumplings to plates. Accompany with remaining caramel sauce and ice cream, if desired.

Makes 4 dumplings.

Caramel Sauce

NOTE:
This sauce is excellent over ice cream. You can make it up to 3 weeks ahead; chill airtight. To heat, cook, uncovered, in a microwave-safe bowl in a microwave oven at 30% power until warm and fluid, about 2 minutes.

Makes about 1 cup sauce.

Note: If desired, you can make the caramel sauce without the rum. Chopped nuts are also nice added to sauce.

1. In a 2- to 3-quart pan over medium heat, tilt and swirl 2/3 cup sugar often until melted and amber-colored, 5 to 7 minutes. Stir in 1 cup whipping cream; mixture will bubble and sugar will harden. Stir until sugar melts again and sauce boils, 6 to 8 minutes.

2. At once, pour sauce into a bowl. Stir in 1 teaspoon vanilla.

3. Let sauce cool for 10 minutes, then, if desired, stir in 3 tablespoons rum. Serve warm or cool.
Date: February 15, 2003