Diana's Desserts - www.dianasdesserts.com
See more recipes in
Chocolate Sweets
Devilishly Good Devil's Food Cake
in Diana's Recipe Book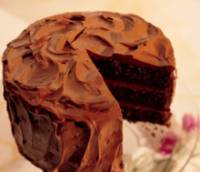 Average Rating:
(total ratings: 7)
[Read reviews]
[Post a review]
Servings: 12-16
Comments:
History of Devil's Food Cake

The term "deviled" for spicy foods dates back to the 18th century. Early 20th century cooks created a dense, chocolate cake that was so rich it was wicked, in a sinful, devilish sort of way. They appropriately named the cake, "devil's food." First appearing in 1905, it was probably named to contrast with the earlier, fluffy white angel's food cake. Devil's food cake was the favorite dessert of the early 1900s.

This cake probably goes back in history and existed in the southern states where the cake was originally made from beets and cocoa. Some people think that this cake originated in the 1950s at the Waldorf Astoria Hotel. The restaurant archives can't produce any evidence or records of this, buy because this version is so popular, the restaurant likes to take credit for it.

There are four words to describe this cake: dense, chocolaty, rich and filling. The brown sugar makes the cake a bit less sweet than many chocolate cakes.

Ingredients:

1/2 cup unsweetened cocoa powder
1 cup boiling water
2-1/4 cups unbleached flour or all-purpose flour
1 teaspoon baking powder
1/2 teaspoon baking soda
1/2 teaspoon salt
1/2 cup (1 stick) unsalted butter
1-1/2 cups packed light brown sugar
3 eggs
1 teaspoon vanilla extract
1/2 cup buttermilk or sour milk* (see note below)
1 recipe Milk Chocolate Sour Cream Icing (see recipe below)



Instructions:
1. Grease and flour two 8x1-1/2-inch or 9x1-1/2-inch round cake pans.

2. In a small bowl, stir boiling water into cocoa powder. Set aside.

3. In a medium bowl, mix flour, baking powder, baking soda and salt. Set aside.

4. In a large bowl, beat brown sugar and butter with an electric mixer on medium speed until well combined. Add eggs, one at a time, beating after each addition until smooth. Add vanilla; beat well. Combine the cocoa mixture and buttermilk. Add flour mixture alternately with cocoa-buttermilk mixture, beating on low speed until just combined.

5. Transfer batter to prepared pans. Bake in a 350 degree F. oven for 30 to 35 minutes for 8-inch pans or 25 minutes for 9-inch pans or until a toothpick inserted near centers comes out clean. Remove from oven. Cool for10 minutes in pans on wire racks. Remove from pans; cool.

6. Spread some Milk Chocolate Sour Cream Icing over one layer. Top with remaining layer. Spread sides and top with remaining icing. Store cake, covered, in the refrigerator.

Makes 12 to 16 servings.

Milk Chocolate Sour Cream Icing:
In a small, heavy saucepan, melt 6 ounces cut-up milk chocolate over low heat, stirring constantly. Set aside to cool.

In a medium bowl, beat together 1/2 cup dairy sour cream, 1/4 cup softened butter, 1 tablespoon brown sugar and 1 teaspoon vanilla until combined. Gradually beat in the cooled chocolate, beating until light and fluffy.

*Note:
To Make Sour Milk:
Place 1-1/2 teaspoons lemon juice or vinegar in a glass measuring cup. Add enough milk to make 1/2 cup liquid; stir. Let the mixture stand for 5 minutes before using it in a recipe.


Source: Better Homes and Gardens
Date: January 31, 2003
Reviews
Reviewer:
Chrisy
Rating:
Review:
ooh la la delicious
Reviewer:
Sabrina
Rating:
Review:
MMMMMMM..............Delicious
Reviewer:
ashly
Rating:
Review:
that was soooooooooo good!!!!!!!!!
Reviewer:
Jackie
Rating:
Review:
it was good but i dont think i made it the right way!!!
Reviewer:
alexis
Rating:
Review:
omg that was soooooooooooooo good!!!
Reviewer:
Danny
Rating:
Review:
excellent. a little too sweet for my taste buds but hey i'm only 25 so i like overly sweet things.
Reviewer:
ratheeshah ( Malaysia)
Rating:
Review:
It's the best cake i have ever made! My brother's were especially astonished with this cake i made.. As a teenager who loves to bake, this recipe really made me want to continue baking more. THANK YOU SOOOOO MUCH!!!!