Diana's Desserts - www.dianasdesserts.com
See more recipes in
Chinese New Year
Steamed Sponge Cake (Soy Zing Dan Gow)
in Diana's Recipe Book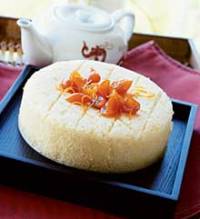 Average Rating:
(total ratings: 8)
[Read reviews]
[Post a review]
Servings: 8-9
Comments:
You can make the cake up to 2 days ahead; cool and store airtight at room temperature. Many Chinese prefer this pale, moist cake plain, but it can be embellished with candied kumquats or a citrus compote if desired.
Ingredients:

4 large eggs
1 large egg white
3/4 cup granulated sugar
1 teaspoon vanilla extract
1 cup sifted cake flour
1/2 teaspoon baking powder


Instructions:
1. Line the bottom of an 8-inch round cake pan (with 2 to 3-inch tall sides) with cooking parchment cut to fit. If pan has a removable rim, wrap outside with foil to prevent water from seeping in.

2. In a large bowl, with a mixer on high speed, beat whole eggs, egg white, and sugar until thick and pale yellow, 4 to 5 minutes. Stir in vanilla. In a small bowl, mix flour and baking powder until blended. With a whisk, fold flour mixture into egg mixture until evenly blended. Scrape batter into pan. Tap pan lightly on work surface to remove air pockets.

3. Set a round rack (cake rack, basket steamer, removable rim from a cake pan, or empty 2-in.-tall cans with both ends cut out) in a 12 to 14-inch steamer, 14-inch wok, or 12-inch frying pan (with at least 2-inch tall sides; steamer should be wide enough to hold cake pan without sides touching). Pour water into steamer to about 1/2 inch below top of rack. Cover steamer and bring water to a boil over high heat.

4. Place cake on rack and cover steamer (if cover doesn't fit over cake, tent steamer with a large piece of foil, sealing it around the edges so steam can't escape); reduce heat to medium and steam until a toothpick inserted in center of cake comes out clean, 20 to 25 minutes. If necessary, add more boiling water to maintain level. Remove cover quickly and carefully so condensed steam doesn't drip onto cake. Remove cake from steamer.

5. Run a knife between cake and pan rim to loosen sides. Invert onto a rack, remove pan and parchment, and invert again onto another rack. Let cake cool at least 10 minutes. With a serrated knife, cut cake into diamonds or wedges. Serve warm or cool.

Makes 8-9 servings.

Date: January 13, 2003
Reviews
Reviewer:
Gloria
Rating:
Review:
I tried it a few times but still not able to make it soft and spongy. Any tips to share?
Reviewer:
claudia
Rating:
Review:
I totally love this cake. My mom is always making them but they are not so spongy as the picture shown. Maybe because she doesn't add baking powder to it but still it's delicious..
Reviewer:
Kristen
Rating:
Review:
I LOVE Sui Zing Dan Gou!Especially from Eldo's and the Hidden place in China town (That place has Uber awesome pastries!) Thank you very much for sharing this recipe! It's the best one I've found!
Reviewer:
allele jones
Rating:
Review:
SO GOOD!!
Reviewer:
sandra
Rating:
Review:
Enjoy this simple steamed cake anytime, for breakfast or anytime. Thanks for sharing, keep up the good work!!! "Gong Hei Fatt Choy"
Reviewer:
NINA
Rating:
Review:
I have been searching for a good recipe for this chinese cake. It was easy to do and came out beautifully.. I think whisking in the flour mix helped to make it airy.
Reviewer:
Kit
Rating:
Review:
It is GOOD recipe!!!
Reviewer:
Zach
Rating:
Review:
This recipe is so delicious and i followed all of the steps exactly except i used traditional bamboo steamers over a pot of boiling water and after an appropriate amount of cooking time i took it out and cut into it and the center turned into gooey custard which was a nice surprise but im pretty sure it wasn't supossed to happen. lol