Diana's Desserts - www.dianasdesserts.com
See more recipes in
Valentine's Day
Decadent Dark Chocolate Mousse
in Diana's Recipe Book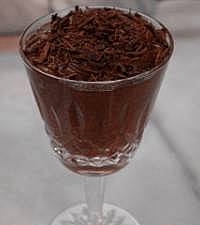 [Be the first to post a review!]
Servings: 8
Comments:
What is a Mousse?

Definition: [MOOS] 1. A French term meaning "froth" or "foam," mousse is a rich, airy dish that can be either sweet or savory and hot or cold. Cold dessert mousses are usually made with fruit puree or a flavoring such as chocolate. Their fluffiness is due to the addition of whipped cream or beaten egg whites and they're often fortified with gelatin. Savory mousses can be made from meat, fish, shellfish, foie gras, cheese or even vegetables. Hot mousses usually get their light texture from the addition of beaten egg whites. They're generally baked in a water bath to prevent the mixture from curdling.

Source: From The New Food Lover's Companion, Second Edition, by Sharon Tyler Herbst

A rich and very dark chocolate mousse that is creamy and so very yummy. A luscious Valentine's Day treat!
Ingredients:

1 envelope (1 1/2 tsp/7g) unflavored gelatin
1/4 cup cold water
1/3 cup boiling water
1 cup granulated sugar
2/3 cup Dutch Processed cocoa
2 cups (1 pint/16 oz/1/2 liter) cold whipping cream
2 teaspoons vanilla extract

Garnish (optional)
Dark Chocolate Shavings and Whipped Cream

Instructions:
1. Sprinkle gelatin over cold water in small bowl; let stand 2 minutes to soften. Add boiling water; stir until gelatin is completely dissolved and mixture is clear. Cool slightly.

2. Combine sugar and cocoa in large bowl; add whipping cream and vanilla. Beat on medium speed of mixer, scraping bottom of bowl occasionally, until mixture is stiff. Pour in gelatin mixture; beat until well blended. Spoon into dessert dishes.

3. Refrigerate at least 30 minutes. Garnish with whipped cream or sprinkle with chocolate shavings. Store covered in refrigerator.

Makes 8 servings.

Photograph taken by Diana Baker Woodall© 2003
Source: DianasDesserts.com
Date: January 8, 2003