Diana's Desserts - www.dianasdesserts.com
See more recipes in
Valentine's Day
Heavenly Heart Cake
in Diana's Recipe Book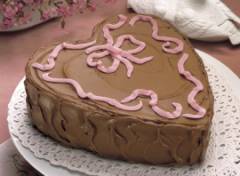 [Be the first to post a review!]
Servings: 10-12
Ingredients:

3/4 cup cocoa
2/3 cup boiling water
3/4 cup (1-1/2 sticks) butter or margarine, softened
2 cups sugar
1 teaspoon vanilla extract
2 eggs
2 cups cake flour or 1-3/4 cups all-purpose flour
1-1/4 teaspoons baking soda
1/4 teaspoon salt
3/4 cup buttermilk or sour milk*
Glossy Chocolate Sour Cream Frosting (see recipe below)
Creamy Buttercream Frosting (see recipe below)


Instructions:
1. Heat oven to 350°F. Grease and flour 2 heart-shaped pans or two 9-inch round baking pans.

2. Stir together cocoa and boiling water in small bowl until smooth; set aside. Beat butter, sugar and vanilla in large bowl until fluffy; beat in eggs and cocoa mixture. Stir together flour, baking soda and salt; add alternately with buttermilk to butter mixture. Pour batter into prepared pans.

3. Bake 30 to 35 minutes or until wooden pick inserted in center comes out clean. Cool 10 minutes; remove from pans to wire racks. Cool completely.

Frost with GLOSSY CHOCOLATE SOUR CREAM FROSTING. Pipe border around top edge and base of cake with CREAMY BUTTERCREAM FROSTING. Garnish as desired.

Makes: 10 to 12 servings.

* To sour milk: Use 2 teaspoons white vinegar plus milk to equal 3/4 cup.

GLOSSY CHOCOLATE SOUR CREAM FROSTING

Ingredients:
1-1/2 cups mini semi-sweet chocolate chips
2 cups powdered sugar
3/4 cup dairy sour cream
1 teaspoon vanilla extract
Milk

Instructions:
Place small chocolate chips in medium microwave-safe bowl. Microwave at HIGH (100%) 1 minute; stir. If necessary, microwave at HIGH an additional 15 seconds at a time, stirring after each heating, just until chips are melted when stirred. Add powdered sugar, sour cream and vanilla; beat until smooth. Add milk, 1/2 teaspoon at a time, for a thinner consistency. About 2-1/2 cups frosting.

CREAMY BUTTERCREAM FROSTING:
Combine 2 cups powdered sugar, 1/4 cup (1/2 stick) softened butter or margarine, 2 to 3 tablespoons milk and 1/2 teaspoon vanilla extract in small bowl; beat until smooth and creamy. About 1 cup frosting.

Cake makes 10-12 servings.
Source: Hershey's
Date: January 8, 2003