Diana's Desserts - www.dianasdesserts.com
See more recipes in
Spoon Desserts - Gelatins - Puddings
White Chocolate and Peach Bread Pudding
in Diana's Recipe Book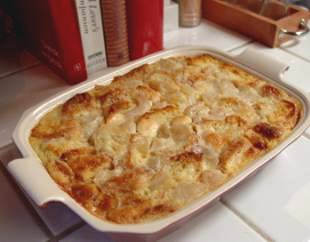 Average Rating:
(total ratings: 1)
[Read reviews]
[Post a review]
Servings: 6-9
Comments:
What a rich and very tasty bread pudding, just right for dessert on a chilly fall or winter's evening.

Your servings don't need to be too large, as this dessert is quite rich with the cream cheese, the cream, the white chocolate and the orange liqueur.

Gives a "rustic flavor" to a simple but elegant meal. A definite "comfort food".............Diana's Desserts
Ingredients:

3-4 fresh medium to large size peaches (or you can use canned peaches, drained), peeled, pitted and chopped into bite-size pieces
1 tsp. lemon juice
2 tbsp. granulated sugar
3 tbsp. butter
8 ounces cream cheese, at room temperature
1 cup milk
2 cups cream
2-3 tbsp. Grand Marnier (or other orange flavored liqueur or brandy) Optional
1 tsp. vanilla extract
1/8 tsp. ground nutmeg
1/2 tsp. grated orange zest
1 1/4 cups granulated sugar
1/2 tsp. Five Spice Powder (Optional, see note below)
4 large eggs
1/2 cup White Chocolate Chip morsels, cut into small pieces
6 large croissants (day old), cut into 1 inch cubes

Instructions:
Preheat oven to 350 degrees F. Grease a two-quart baking dish with one tablespoon of butter.

To Prepare the Peach Mixture:
In a medium size mixing bowl, combine the peaches with the lemon juice and 2 tablespoons of sugar and gently toss. Set aside while you prepare the bread pudding.

To Prepare the Bread Pudding Sauce Mixture:
Place the cream cheese, the milk and the cream into a mixing bowl. With an electric mixer on low speed, beat in the Grand Marnier ( if using), vanilla, ground nutmeg, Five Spice Powder (or ground cinnamon if using), orange zest, the eggs, and all but 6 tablespoons of the remaining sugar. Stir in the white chocolate chip pieces.

To Assemble and Bake the Bread Pudding:
Make a layer of croissants in the bottom of the prepared baking dish, tearing them as necessary to make them fit. Sprinkle the layer with one-third of the peach mixture. Pour one-third of the pudding sauce mixture over the croissants. Let the croissants soak up a bit of the mixture before continuing. Repeat layering two more times, pushing the layers down as you go. Sprinkle the remaining 6 tablespoons of sugar over the top layer. Dot the top with the remaining 2 tablespoons of butter and bake until a knife inserted into the center comes out clean, about 45 minutes. Remove to cooling rack.

After the bread pudding has cooled at room temperature, cover with foil or plastic wrap and refrigerate it at least 6 hours or overnight. This gives the pudding time to "firm up".

Serve cold, and if desired top each slice with whipped cream, or a scoop of vanilla ice cream. Refrigerate any leftovers.

Notes and Tips:
1) During baking, occasionally push the croissants down into the pudding sauce mixture with a spatula.

2) I used canned "white peaches" and it turned out delicious. You may use canned or fresh peaches, or for a variation, canned or fresh pears can be substituted for the peaches.

3) I baked the bread pudding in a "water bath" so it would cook evenly. Use of the water bath was perfect for this.

4) If you are not using Five Spice Powder, substitiute it with 1/2 tsp. ground cinnamon. Five Spice Powder or Chinese Five Spice Powder can be purchased online at: http://www.penzeys.com or http://www.watkins.com and at other stores that sell spices.


Five-Spice Powder:
Definition: Used extensively in Chinese cooking, this pungent mixture of five ground spices usually consists of equal parts of cinnamon, cloves, fennel seed, star anise and Szechuan peppercorns. Prepackaged five-spice powder is available in Asian markets and most supermarkets.

Copyright (c) 1995 by Barron's Educational Series, from The New Food Lover's Companion, Second Edition, by Sharon Tyler Herbst


Source: DianasDesserts.com
Date: January 5, 2003
Reviews
Reviewer:
Barbara Gregory
Rating:
Review:
It was very good, smooth and creamy. We preferred it warm served with creme anglese. Next time I will add more peaches and a few chocolate bits and peacans for a knock-out dessert.