Diana's Desserts - www.dianasdesserts.com
See more recipes in
Chocolate Sweets
Five Spice Chocolate Cake
in Diana's Recipe Book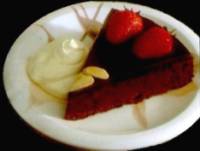 [Be the first to post a review!]
Servings: 10-12
Comments:
A delectable chocolate cake, made especially flavorful with two types of chocolate and creamy butter. Chinese Five Spice powder adds that extra zing to this flourless cake.

This cake is lovely served with whipped cream or creme fraiche, and topped with a few berries.
Ingredients:

7 oz. fine-quality unsweetened chocolate, finely chopped
6 oz. fine-quality bittersweet chocolate, finely chopped
1/2 cup water
1-1/4 cups granulated sugar
4 teaspoons Chinese Five-Spice powder
2-1/4 sticks unsalted butter, cut into pieces and softened
6 large eggs

For Garnish (optional)
Whipped cream, or Creme fraiche
Fresh Berries, such as raspberries or strawberries
Sliced almonds
Instructions:
Preheat oven to 350º. Butter a 10" by 2" round cake pan. Line bottom with a round of parchment paper and butter the paper.

Put chocolate in a large shallow bowl. Bring water, 1/2 cup sugar, and spice to a boil, stirring until sugar is dissolved, then pour through a fine sieve set over chocolate. Stir until smooth, then stir in butter until smooth.

Beat eggs with remaining 3/4 cup sugar until increased in volume and pale and beaters leave a distinct trail (4 to 5 minutes in a standing mixer or 15 to 20 with a handheld). Stir 1/4 of eggs into chocolate to lighten and fold in remainder gently but thoroughly (fold 1 to 2 minutes).

Pour batter into pan and smooth top. Put pan in a water bath and bake in middle of oven 40 to 45 minutes, or until a tester inserted in center comes out with moist crumbs adhering. Remove from water bath and cool 2 hours in pan on a rack.

Unmold cake by running a thin knife around edge, then heating pan 5 to 10 seconds on a burner set at moderately low. Invert cake plate over pan and flip cake pan over so cake comes out on plate. (If cake sticks, tap bottom of pan with a knife handle. If that doesn't work, heat pan again.) Peel off paper.

Serve cake in thin slices. If desired, serve with whipped cream or Creme Fraiche, and fresh berries, and scatter a few teaspoons of sliced almonds over the top of each slice.

Makes a 10 inch cake. Approximately 10-12 servings.
Date: January 2, 2003