Diana's Desserts - www.dianasdesserts.com
See more recipes in
Diabetic and Lower Carb Treats
Vanilla Bundt Cake
in Diana's Recipe Book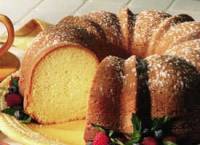 Average Rating:
(total ratings: 23)
[Read reviews]
[Post a review]
Servings: 16 servings
Ingredients:

1 cup granulated sugar
1/2 cup (1 stick) butter, softened
1 egg, at room temperature
2 egg whites, at room temperature
3/4 cup low-fat (1%) milk
2 teaspoons vanilla extract
2 cups all-purpose flour
1 tablespoon grated lemon peel, (optional)
2 teaspoons baking powder
1/4 teaspoon salt
4-1/2 teaspoons powdered sugar

Instructions:
Preheat oven to 350°F. Grease and flour Bundt pan; set aside.

Beat granulated sugar, butter, egg and egg whites in large bowl with electric mixer at medium speed until well blended. Add milk and vanilla; mix well. Add flour, lemon peel (if using), baking powder and salt; beat about 2 minutes or until smooth.

Pour into prepared pan. Bake 30 minutes or until toothpick inserted into center comes out clean. Gently loosen cake from pan with knife and turn out onto wire rack; cool completely. Sprinkle with powdered sugar. Garnish as desired.


Nutrients per Serving
Calories 178
% calories from fat 35%
Total Fat 7 g
Sat. Fat 1 g
Protein 3 g
Carbohydrates 26 g
Cholesterol 14 mg
Sodium 181 mg
Dietary Fiber 1 g
Dietary exchanges
1-1/2 Starch
1-1/2 Fat
Date: December 2, 2002
Reviews
Reviewer:
Christine
Rating:
Reviewer:
Sydney
Rating:
Review:
It was awesome
Reviewer:
Josephine Garcia
Rating:
Review:
It was very moist, and delicious,and plus it's low fat. It was a great cake..yum!!
Reviewer:
ching
Rating:
Review:
It was wonderful, Just wonderful. by far it was one of the best cakes i have ever made. king tut himself could'nt make a better cake
Reviewer:
Eleora
Rating:
Review:
It was one of the best bundt cakes I've had. It had a wonderful texture,not to mention spectacular taste.
Reviewer:
Chris
Rating:
Review:
i think it was a great cake!
Reviewer:
christie
Rating:
Review:
It was very bland. I didn't care for it at all.
Reviewer:
Karen
Rating:
Review:
Made this for my daughter's birthday party -- I have never seen children demolish a cake so quickly!
Reviewer:
Kira
Rating:
Review:
Very good after it cooled down. Easy to make recipe, too.
Reviewer:
C.J.
Rating:
Review:
Its pretty damn good...
Reviewer:
LadyKwake
Rating:
Review:
GREAT recipe. Made it with a brand new baker, so there was a bit too much flour. I compensated by adding some heavy whipping cream. I also used whole milk, and two eggs instead of the one and eggs whites. We added chocolate chips, and it looked and tasted like a gigantic chocolate chip cookie! Definetly going into my repetoir.
Reviewer:
Katrina
Rating:
Review:
Excellent. Will be making this again.
Reviewer:
bianca
Rating:
Review:
Oh, very nice. I haven't baked in ages. This turned out great.
Reviewer:
Angelica
Rating:
Review:
Excellent Cake, Nice and moist. And very tasty!
Reviewer:
MMR
Rating:
Review:
Good cake. I used 3 whole eggs instead of egg whites since I am at high altitude and the eggs help to bind the cake. My daughter an I turn it into a Rainbow Cake by dividing the batter into 6 cups and coloring each section a different color. We then layer the colors together in the pan, and it bakes in the shape of a rainbow with the bundt pan. Very colorful, and kids love it!
Reviewer:
Diane C
Rating:
Review:
This is delicious! We'll be having it with strawberries tonight. I used my new bundt duet pan. With the 2 smaller cakes you can give one away, except there won't be any left!!
Reviewer:
Samna
Rating:
Review:
Hi, I am planning to make this cake for my diabetic kid and was wondering if you can suggest low carb/low fat icing for this cake? Can you email me the recipe? Thanks Samna
Reviewer:
Carolyn
Rating:
Review:
Sooooo delicious! I added about a tbsp of lemon juice with the rind, and it was fantastic. Super moist and delicious. I even used non-fat milk, and 1/2 c sugar 1/2 c stevia in the raw in place of the sugar. @Samna, it would probably be delicious with some all fruit compote, preserves, or a scoop of low carb ice cream like Arctic Zero. Yum!
Reviewer:
Loretta
Rating:
Review:
The cake didn't turn out but it tasted fine.
Reviewer:
Sarita Sanmiguel
Rating:
Review:
Love this recipe! I made it for my family and they all enjoyed it. Thank you for sharing.
Reviewer:
jane
Rating:
Review:
Tasted okay but came out so small! Only half the size of a normal bundt cake, if I ever try this again I'll double the ingredients
Reviewer:
Tania S
Rating:
Review:
The cake turned out very dry and crumbly. I was hoping that it would be a moist cake. I baked for 30 minutes and used whole milk and 2 eggs instead of one egg and two egg whites. Would probably not make again.
Reviewer:
Doris H
Rating:
Review:
Very good and easy recipe; cake was very moist. Instead of powdered sugar, I made a quick lemon glaze icing (lemon juice, powdered sugar, and milk).