Diana's Desserts - www.dianasdesserts.com
See more recipes in
Cookies
Rolled and Shaped Shortbread Cookies
in Diana's Recipe Book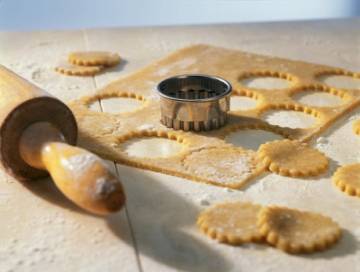 Average Rating:
(total ratings: 4)
[Read reviews]
[Post a review]
Servings: Makes 30 to 40 (2 1/2 to 3-inch) cookies
Comments:
It's surprising that a cookie this good isn't in every modern American cookie baker's repertoire. It is rolled and cut out like an ordinary sugar cookie but is richer and more tender, with an outstanding buttery shortbread taste. And although the mixing method is not typical for either sugar cookies or classic shortbread, the recipe is just as undemanding to make.

The cookie comes from an 1832 work, The Cook's Own Book, a 2,500 recipe tome by "A Boston Housekeeper" named Mrs. N..K. Lee. As she noted on her title page, Mrs. Lee collected most of the recipes from several other cookbooks of the time.

The original dough for these "sugar cakes" was too rich, although removing just 2 tablespoons of butter solved this problem. As was typical in that era, the original recipe relied on rose water for flavouring. I've substituted vanilla extract, which is readily available and more appealing to modern tastes.
Ingredients:

2 cups all-purpose flour
2/3 cup graulated sugar
3/4 cup plus 2 tablespoons (1 3/4 sticks/7 oz./198g) cold unsalted butter, cut into chunks
1 large egg yolks
1 1/2 tablespoons light cream
2 teaspoons vanilla extract
1/4 teaspoon salt
Instructions:
In a large bowl, thoroughly mix together the flour and sugar. Using forks, a pastry blender or your fingertips, cut the butter into the flour mixture until the mixture is the consistency of coarse meal. In a small bowl, beat together the egg yolk, cream, vanilla and salt with a fork until well blended and smooth. Stir, then knead, the egg-yolk mixture into the flour mixture until evenly incorporated.

Divide the dough in half. Place each portion between large sheets of wax paper. Roll out each portion 1/4 inch thick; check the underside of the dough and smooth out any wrinkles that form. Stack the rolled portions (paper still attached) on a baking sheet. Refrigerate for 30 minutes, or until chilled and firm, or freeze for about 15 minutes to speed chilling.

Preheat the oven to 325 degrees F/160 degrees C. Grease several baking sheets or coat with nonstick spray.

Working with one portion at a time and leaving the remaining chilled, gently peel away, then pat one sheet of wax paper back into place. Flip the dough over, then peel off and discard the second sheet. Using a 2 1/2 inch fluted round cutter or other desired shape, cut out the cookies. (If at any point the dough softens too much to handle easily, transfer the paper and cookies to a baking sheet and refrigerate or freeze until firm again.) Using a spatula, carefully transfer the cookies to the baking sheet, spacing about 1 1/4 inches apart. Reroll any dough scraps. Continue cutting until all the dough is used.

Bake the cookies, one sheet at a time, in the middle third of the oven for 9 to 13 minutes, or until just lightly browned on the edges. Reverse the sheet from front to back halfway through baking to ensure even browning. Using a spatula, immediately transfer the cookies to wire racks. Let stand until completely cooled.
Store in an airtight container for up to 2 weeks or freeze for up to 2 months.

Makes 30 to 40 (2 1/2 to 3-inch) cookies.
Source: The All-American Cookie Book by Nancy Baggett
Date: November 27, 2002-Revised October 23, 2006
Reviews
Reviewer:
Diana, Diana's Desserts
Rating:
Review:
Emma, I have totally changed this recipe and now I think you'll like them. Please try them again.....Diana, Diana's Desserts
Reviewer:
Emma
Rating:
Review:
When I tried the dough it tasted like a mix of butter and flour. It was so gross.
Reviewer:
Alix Wilson
Rating:
Review:
I made these cookies as favors for my wedding- people went crazy over them and have been asking for the recipe ever since!
Reviewer:
Sally
Rating:
Review:
AWESOME......and can I use a different cookie cutter?