Diana's Desserts - www.dianasdesserts.com
See more recipes in
Cookies
Double Chocolate Chip Cookies
in Diana's Recipe Book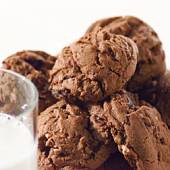 Average Rating:
(total ratings: 9)
[Read reviews]
[Post a review]
Servings: Makes about 2 1/2 dozen
Comments:
If you like chocolate chip cookies, you will love these, made with bittersweet chocolate, semisweet chocolate chips, and chopped pecans.


Ingredients:

1 3/4 cups all-purpose flour
1/2 cup unsweetened cocoa
3/4 teaspoon baking soda
1/4 teaspoon salt
8 ounces (2 sticks/1 cup/226g) unsalted butter, at room temperature, cut into small pieces
1 cup light brown sugar
3/4 cup granulated sugar
2 large eggs
1 1/2 teaspoons vanilla extract
1 1/2 ounces bittersweet chocolate, melted in a double boiler, or in microwave.
2 cups coarsely chopped pecans or walnuts, OR toasted and cooled unsalted peanuts, coarsely chopped
1 3/4 cups semi-sweet chocolate chips



Instructions:
1. Sift together the flour, cocoa, baking soda, and salt. Set aside.

2. In a large bowl of an electric mixer and on medium speed, beat the butter until very creamy. Add the brown and granulated sugars, raising the speed to high when the sugar is incorporated, and continue to mix until fluffy, stopping machine and scraping down sides of bowl and under beaters as necessary. Lower speed to medium, add the eggs, one at a time, and the vanilla. Stop machine, scrape in the melted chocolate, and beat until thoroughly combined. Reduce speed to low, gradually add in the flour mixture, and beat just until combined. Add nuts and chocolate chips, and again beat just until combined. If the dough is soft, wrap in plastic wrap and refrigerate until firm, for 1 to 2 hours.

3. Position rack in center of oven and preheat oven to 350 degrees F. Line 2 baking trays with parchment paper.

4. Using a small ice cream scoop, divide the dough into mounds, about 2 tablespoons each, forming small balls of dough. (Dough can be rolled, placed on trays, and refrigerated until needed.) Arrange the rolled balls on the prepared baking trays, about 2 inches apart. Bake until slightly firm to the touch, about 15 minutes, reversing trays front to back after 7 to 8 minutes. Remove cookies from trays with a wide metal spatula and cool on wire rack. If reusing a baking tray, cool slightly before arranging balls of dough on it.

Makes about 2 1/2 dozen cookies.

Notes:
Mix the butter and sugars until fluffy.

Beat until all ingredients are combined. If the dough is soft, wrap in plastic wrap and refrigerate until firm.

Divide the dough into mounds, and use your hands to form them into balls.
Date: November 18, 2002-Revised on Oct. 30, 2004
Reviews
Reviewer:
zip
Rating:
Review:
delicous!!! i absoultley love them!! i think i ate so many batches that i gauined like 5 pounds....BUT IT WAS SOOOOOO WORTH IT!!!
Reviewer:
Siti Nurain
Rating:
Review:
Indeed the BEST Chocolate Cookies's recipe that I had ever tried! All the way from SINGAPORE...
Reviewer:
me
Rating:
Review:
yummy!
Reviewer:
Mollie S.
Rating:
Review:
I followed the recipe to the letter and the cookies went flat and spread out over the cookie sheet, so, i added in about 3/4 cup of additional flour and now, they came out looking like the photo above (normal). i don't know what i did wrong, but it worked fine with the additional flour. hope this helps someone else!
Reviewer:
annika
Rating:
Review:
tasty and excellent.. yum!!
Reviewer:
miss flawless
Rating:
Review:
Fantastic! But is it Jewish?
Reviewer:
your mum
Rating:
Reviewer:
Luluk
Rating:
Review:
Yup! I agree with Mollie.. The cookie went flat and spread (I followed the recipe but everything was just disappointing). In my opinion, it's probably because we use mixer too much. Next time i'll only use mixer to cream and incorporated the sugars.
Reviewer:
Aman
Rating:
Review:
We had a fund raising fair and I sold your cookie recipes and got first.