Diana's Desserts - www.dianasdesserts.com
See more recipes in
Spoon Desserts - Gelatins - Puddings
Chocolate Souffle-Like Bread Pudding
in Diana's Recipe Book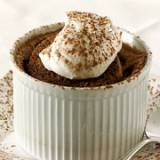 [Be the first to post a review!]
Servings: 8
Comments:
If the thought of serving chocolate soufflé makes you nervous for fear that it might not be perfect, try this Chocolate Bread Pudding. It is as delicious as any soufflé and can be prepared in advance.

Ingredients:

For The Custard:
6 ounces bittersweet chocolate
1 1/2 ounces unsweetened chocolate
3 whole eggs
3 egg yolks
2 cups half-and-half (half milk-half cream)
1/4 cup granulated sugar

For The Soaking Liquid:
1 1/2 cups half and half (half milk-half cream)
1 cup plus 2 tablespoons granulated sugar
1/3 cup unsweetened cocoa
8 1/2-inch thick slices brioche or challah bread (egg bread)




Instructions:
1. Prepare the Custard:
In a stainless steel bowl or double boiler placed over simmering water, melt the two chocolates.

2. In a large stainless steel bowl, beat the whole eggs and the egg yolks. Gradually whisk in the sugar and beat until fluffy.

3. Meanwhile, in a small saucepan bring the half-and-half to a rolling boil. Slowly whisk into the egg mixture. Then, whisk in the melted chocolate. Chill over ice and refrigerate, covered, until needed. (This should be prepared the day before so that the custard will thicken.)

4. When ready to prepare the pudding, combine the soaking liquid ingredients in a saucepan and heat until the cocoa is completely dissolved. With a 2-inch cookie cutter cut each slice of bread into two 2 inch circles (16 circles). Arrange the circles of bread in 1 or 2 dishes large enough to hold the circles in one layer. Pour the soaking liquid over and soak well, turning so that the bread absorbs as much liquid as possible.

5. Preheat the oven to 350 degrees F. Butter 8 1-cup molds or custard cups.

6. Prepare the Pudding:
Spoon a layer of custard (about 1/4 cup) into the bottom of each of the 8 cups. Using a slotted spoon remove a circle of bread and set in the custard. Spoon over a second layer of custard, a second circle of bread and top with a final layer of custard. Repeat this procedure, filling the remaining cups with custard and bread, and then arrange the cups in a large baking pan. Fill the pan with boiling water, halfway up the sides of the cups. Bake 30 minutes. Cool and refrigerate until needed.

Dust the puddings with sifted powdered sugar and pass a bowl of unsweetened whipped cream around the table.

Makes 8 servings.



Date: November 18, 2002